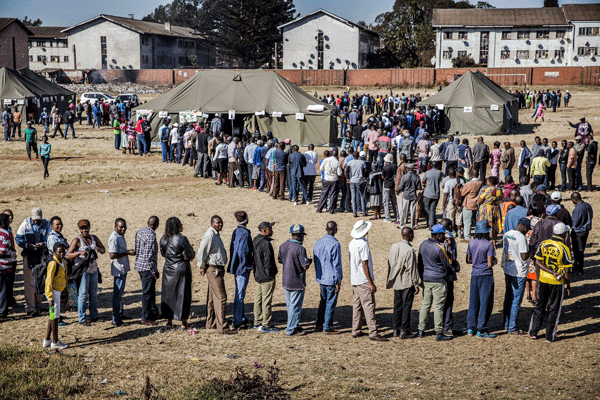 The recent by-elections and the results coming therefrom have thrust Zimbabwe firmly on the road to the 2023 general elections — to decide the future of our country.
There is no doubt that victors of this by-election, the newly-born Citizens Coalition for Change (CCC) party, are determined to plough forward to bigger victory while the vanquished Zanu PF gird their loins for the battle ahead.
This period leading to election day next year is critical to the determination of our destiny.
We should, therefore, as a nation, work together to ensure that we bring hope and not despair; fruit and not harm; prosperity and not more poverty to our country.
Politicians have wantonly abused people's constitutional right to choose leaders of their choice and the country has endured the painful consequences of disputed polls. The consequences have come in the form of violence and bloodshed; economic decay and debilitating poverty; restlessness and hatred pervading the nation.
The recent by-election has also brought out a frightful reality of the attitude of Zimbabweans towards the importance of elections. Despite massive political gatherings where the key message was voter registration, it turned out that Zimbabweans, especially the youth, do not care about voting.
They either did not bother to go to vote, or they have not registered to vote. Politicians are still trying to come to terms with this shocking reality and should be seized with this issue ahead of next year's polls.
The other ugly fact coming out of the just ended election is political violence. At least one person lost their life in a direct case of political violence. The young man was stabbed to death with a spear at a rally held by the opposition CCC in Kwekwe in broad daylight.
This is one problem that Zimbabwe should strive to eliminate — find a way to make sure political violence does not rear its ugly head before, during and after the 2023 elections.
Politicians should agree on ways to deal with this, including of course bringing neutral observers who would document and put together evidence of such electoral malpractices.
We should all go out to vote without fear — only favour of political leaders of our choice. We need to put in place requisite conditions that allow us to exercise our constitutional right to vote. We need a peaceful environment.
Politicians that threaten you in order to make you vote for them do not have your interests at heart and certainly do not deserve your vote.
Over the years the major electoral disputes have been around issues of electoral reforms. In many cases, the ruling Zanu PF party has resisted or refused outright to implement even agreed reforms.
These are the issues that electoral contestants complain about. Even if they eventually were to be beaten through fair vote, these contestants would dispute the results citing uneven electoral playing field.
It is difficult to understand why President Emmerson Mnangagwa and his party should, for instance, expect their political opponents to accept a situation where the ruling party must be allowed to use national security forces and public media outlets to openly fight in their corner in political contests.
Related Topics