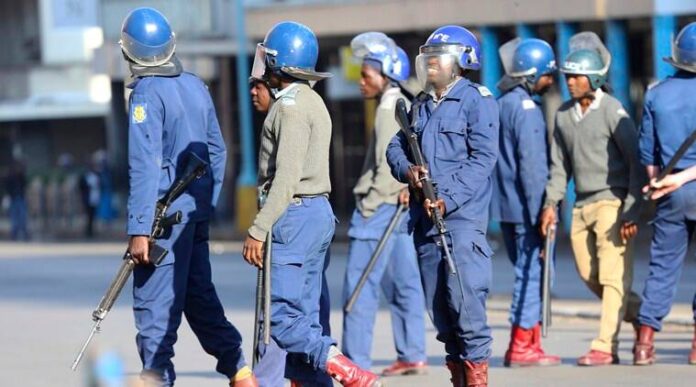 The arrest on Friday of 34 people who were attending a prayer meeting in Harare was another demonstration of the government's lack of respect for freedom of assembly, which is a right that is enshrined in the constitution.
Overzealous police officers stormed the Reformed Church in Zimbabwe offices in the city centre and arrested the 34, who included the church leader Bishop Ancelimo Magaya.
The prayer meeting was organised to reflect on Zimbabwe's deteriorating economic situation characterised by skyrocketing prices of basic commodities and services as well as a worsening currency crisis.
They were accused of "unlawful gathering" after they met under "The Zimbabwe We Want Campaign" banner.
Those charges were later changed to "disorderly conduct" and 24 of those arrested opted to pay fines while the remainder were granted bail by the courts yesterday.
President Emmerson Mnangagwa's government appears unable to proffer any solutions to the problems facing the economy and citizens are growing increasingly disillusioned by the state of affairs.
Zanu PF governments have a history of disrupting peaceful meetings and protests, but the current regime has to be reminded that under section 58 of the constitution every citizen has the right to freedom of assembly.
These rights are also guaranteed under international laws and conventions that Zimbabwe subscribes to.
Every citizen, whether they are members of the ruling Zanu PF party or they are part of the opposition, must enjoy these rights and when they have to be restricted, the country's laws must be applied without fear or favour.
Besides disrupting the prayer meeting, police in Harare rejected an application by Heal Zimbabwe to hold a candlelight vigil for the late law lecturer and legal commentator Alex Magaisa, who died in the United Kingdom last weekend.
There are also many other instances where the opposition and civil society organisations have been denied the right to assembly by the police while on the other hand members of the ruling Zanu PF can meet and protest whenever they want.
In March the opposition Citizens Coalition for Change led by Nelson Chamisa was barred from holding rallies in some areas ahead of the by-elections in what was a clear abuse of the law by the police.
Such conduct does not pass the democracy test and needs to be stopped forthwith.
Zimbabweans are supposed to be equal before the law.
The government must be seen facilitating the enjoyment of rights rather than hindering them.
For Zimbabwe to discard its pariah status, the police have to stop behaving like an affiliate of a political party.
Related Topics