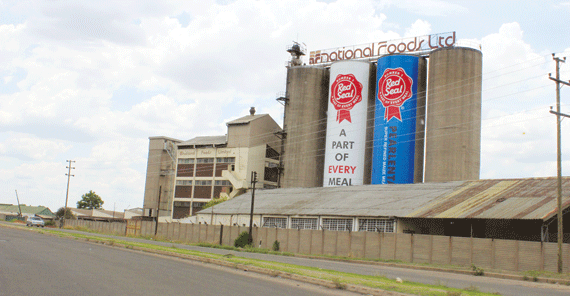 RESEARCHERS at Inter Horizon Securities predict that revenue at the Victoria Falls Stock Exchange-listed National Foods Limited will increase by 17% year-on-year to US$302, 48 million in the fiscal year 2023.
Revenue grew by 8% to US$166, 96 million for the half year ended December 31, 2022 despite negative volume growth.
"We estimate that National Foods's top line will grow 17% year-on-year to US$302,48million at FY23 (fiscal year 2023).
Revenue in FY24 in our view will then slow down as pricing pressure from wheat inputs subsides," researchers said in their analysis of the National Foods' financial results for the half year ended December 31, 2022.
"We forecast an earnings before interest, taxes, depreciation, and amortiation of US$25, 71 million to FY23 representing a margin of 8, 5%."
The first half of National Foods's financial year was characterised by tight monetary conditions put in place to reign in an inflationary environment.
Amongst key measures was the introduction of the 200% key policy rate which exacerbated costs of Zimbabwe dollar debt.
Demand was consequently impacted by the illiquid conditions with volumes narrowing 9% year-on-year to 275 000 tonnes. Volumes in the flour division fell 20% year-on-year as wheat prices soared to US$600 per tonne on the back off the Ukraine-Russia war.
Bread consumption was consequently impacted as consumers switched to better priced starches such as rice.
Maize volumes to the first half of 2023 declined in an aggregate of 6% year-on-year due to pricing distortions within the first quarter.
Volumes declined 26% in the first quarter before recovering 13% in the second quarter as the local stockpile dried up increasing demand.
Stockfeed volumes declined 4% impacted by pricing distortions in formal channels. The down-packed segment continued to do well, growing 12% with rice volumes performing exceptionally well in the informal sector as consumers switched from bread.
Snacks division grew 18% as both hard snacks and soft snacks saw improved sales. Biscuit volumes however slid 15% versus the same period last year due to pricing pressures of flour.
Cereals volumes in the market grew 42% whilst the traded goods segment declined 44% from supply challenges experienced in the pasta category despite demand remaining strong.
"Monetary authorities have gradually been easing the contractionary measures as inflationary pressures dissipate.
"Interest rates have since been reviewed downwards twice since the beginning of the year going into alleviating liquidity challenges in the market," IH said.
"Civil servants have also been granted a 100% salary increment going into the second quarter of the year whilst the summer crop marketing season has also kicked off increasing liquidity in consumer hands.
"It is on this backdrop that we expect partial recovery in volume performance for National Foods within its second half."
The research firm stated that the raw material pipeline for National Foods from the domestic market was looking promising as the company has invested US$12 million into the summer crop contract scheme lessening its import bill.
During the half year ending December 2022, National Foods continued with its ongoing capacity expansion initiatives providing volumes upside.
Near term projects include the commissioning of a new flour mill in Bulawayo that is expected to increase wheat milling capacity by an additional 2 000 tonnes, a breakfast cereal plant and a new biscuit line.
The board approved a US$5, 3 million upgrade of the Harare rice plant, a further investment of US$1,5 million in the hard snacks category and investment into a domestic pasta plant.
"The lowered margins at half year are still above historical averages so we anticipate further correction and normalisation as we head to FY23," researchers said.
Researchers said strategic focus for management would be on optimising trading performance and implementation of projects to transform National Foods from a producer of basic food commodities into a more diversified fast-moving consumer goods player with a larger basket of products.
Related Topics