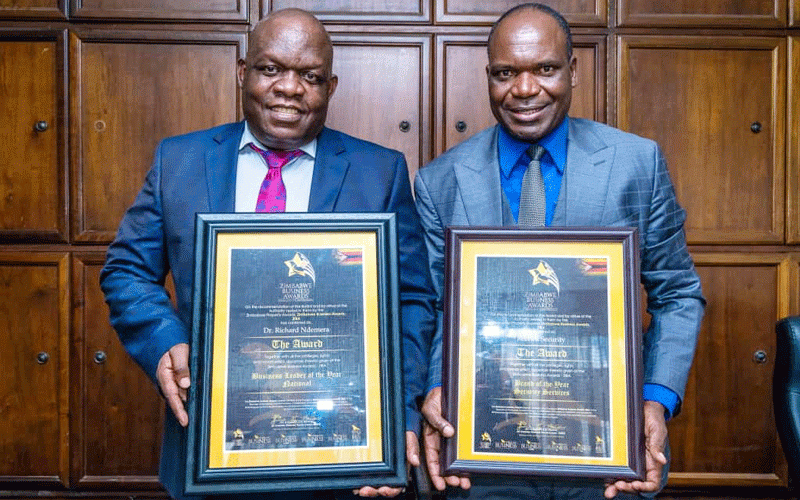 Professionalism, consistency and hard work has paid off for Rebnek Security Services after they were named brand of the year security services while their managing Director Richard Ndemera was named Businessman of the year Security Services at the recently held Zimbabwe Business Awards (ZIBA).
Ndemera said he is elated that the company has gained meaningful traction since inception in 2009.
"We believe in giving the best guarding services, VIP escorts, private investigations, undercover operations , security audits and internal security training.
"We are an ISO certified security company and we have become one of the most sought after security services company in Zimbabwe. We are humbled by the continued support and we thank all our clients and partners for the show of confidence,"Ndemera said.
Ndemera, who was recently conferred with an Honorary Doctor of Humane Letters from the International Institute of Philanthropy (IIP) in partnership with the International Women's University, said they are fully invested in their business and also spare a thought for the less privileged through their corporate social investment initiatives.
"We embrace professionalism and ensure quality service for all our clients," he said.
"We boast of over decade experience with presence across Zimbabwe.
"Our nationwide operations have made us one of the most respected security company in Zimbabwe.
"We are paying school fees and buying uniforms for about 57 primary and secondary students in rural Mutoko, we have also made several donations to various charity homes in Harare.
"The company has also partnered Ministry of Youth in its stop drug abuse campaigns with the recent partnership being the Marondera outreach."
According to the International Standards Organisation (ISO) certified company's general manager Alec Bhamu, the award is a big challenge for them and they hope to ride on the honour to continue excelling.
"It has not been an easy journey for us," Bhamu said.
"A lot of our work went into brand visibility and enhancing our services so that we gain market confidence.
"We are grateful to our staff, the security personnel who are doing the work in the field as well as our co-directors Dr Richard Ndemera and Mr Togara Tombotiya who as the visionaries continue to push us to do more and better.
"We thank our shareholders and stakeholders, the clients as well as the government of Zimbabwe for giving us the space and platform to showcase our capacity as a company of repute.
"We want to exhibit more security expertise in Zimbabwe and do more for our clients and the nation as whole."
One of the company's co-directors and founders Tombotiya said it was a big honour for them as visionaries to achieve what they have achieved to date including the awards that came their way.
"We started operations during a difficult period and we are happy that the company has grown in leaps and bounds," he said.
"Everyone in the team has played an important role from management down to the security guards.
"The people's security is our priority.
"We have spread out tentacles across Zimbabwe and we are encouraged by how the various clients have accepted our services and brand.
"Various companies and government have continued to give us business and we are grateful for that.
"We believe beyond business we should continue doing more."
"The company prides itself in professionalism in terms of operations, management and giving proper updates to clients.
"In the event of incidences we respond in record time to ensure security for our clients
"We share security audit reports, our service is of high quality and we give tailor made and personalised security services to our clients.
He added: "When the need arises, our directors also make those important visits to the field and ensure that our clients get the best service possible."
"Beyond personnel, our systems are water tight and we are available 24/7 including the directors."
Related Topics