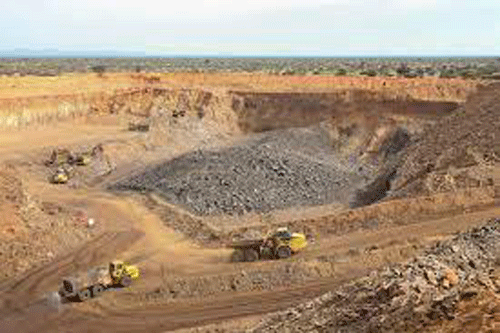 BY MTHANDAZO NYONI
LONDON-listed resources outfit Premier African Minerals has resolved not to commit further funding to RHA Tungsten, apart from the basic care and maintenance costs, saying the new funding should be provided by the National Indigenisation and Economic Empowerment Fund (NIEEF) or another party.
Premier holds 49% interest in the Zimbabwe-based RHA Tungsten Mine, while the government of Zimbabwe, through NIEEF, controls the remaining 51%.
In May 2019, Premier announced that it had signed a new agreement with NIEEF that includes a funding undertaking of US$6 million for RHA.
The use and application of these funds was expected to see RHA back into production later that year.
"Separately, we are pleased to be able to provide a preliminary update on the process test work and analysis of bringing RHA back to production based on that part of the underground mineral resources which we believe can be cost effectively included in the mine plan at the current proposed 6 000 tonne per month," Premier chief executive officer George Roach said.
"The next steps for RHA include negotiations with our 51% shareholder, NIEEF, to explore alternatives to bring this mine back to production.
"It is worth noting that there remains continued interest from off-take partners in RHA supported by the current ammonium paratungstate (APT) price.
"Premier's historic commitment to RHA needs to be matched by NIEEF or another funding option will need to be sourced given there will be no further financial commitment from Premier apart from the basic care and maintenance costs," he said.
Premier said it had completed a new underground conceptual mine plan for RHA in conjunction with technical assistance from independent South African mine planning consultants, Bara Consulting, geological consultants Shango Solutions and metallurgy and process engineer Multotec Process Equipment.
Roach said the conceptual mine plan was based on an underground production rate of 6 000 tonnes per month and indicates a peak funding requirement of US$2,5 million and a payback within 16 months.
"In the context of this announcement, it is important to note that RHA is a developed mine with existing surface plant and infrastructure already paid for in full by Premier.
"Recovery of wolframite from the deposit at RHA has already occurred and historically, concentrate produced through the plant at the mine has all been sold and remains in strong demand," Roach said.
However, the Premier boss noted that surging Covid-19 cases in the southern African region has not helped progress at Zulu Lithium, its lithium asset near Bulawayo, where travel and other restrictions have affected progress in its drilling programme.
Despite these hurdles, Roach noted that rigs were continuing to operate and equipment were now only awaiting import clearance before shipment into Zimbabwe.
"The drilling is underway at Zulu and is just one component of the definitive feasibility study.
"In the background important other work is underway including that associated with environment, water management, tailings management, geotechnical assessment, preparation for additional metallurgical studies, logistics route planning and cost estimates," he said.
"At this time, Premier still expects to complete the study within the anticipated timelines and a variation to that will be communicated if necessary.
"In the light of surging spodumene concentrate prices, we have also commissioned a review of the Zulu scoping study with the intention of both better understanding the overall potential value of Zulu and to assess potentially reversing the current impairment of this project."
One of only a few big foreign mines that have pursued their projects in Zimbabwe in the country, the company holds a diverse portfolio of projects, which include tungsten, rare earth elements, lithium and tantalum in Zimbabwe, encompassing brownfield projects with near-term production potential to grass-roots exploration.
Related Topics