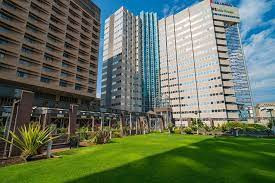 ZIMBABWE Stock Exchange listed property market dealer, Mashonaland Holdings Limited (Masholds) says it has budgeted US$45 million for the purchase of land banks.
In an interview with businessdigest this week, Masholds managing director, Gibson Mapfidza said the budget was part of its portfolio restructuring process as one of Zimbabwe's biggest real estate firms.
Across domestic markets, investors have been targeting properties as a value-preservation strategy, in the wake of the rapid depreciation of the domestic currency.
Mapfidza said the company had already acquired key land banks.
"The total cost of our portfolio restructuring is in the region of US$45 million," Mapfidza said.
"We have identified the geographies we want to occupy and have acquired some of the key sites we require to achieve the targeted portfolio composition. Our focus going forward will be on development of the acquired sites."
The Masholds MD said most of the acquisitions were made through internally generated funds earned after the disposal of non-core assets.
He said Masholds would also be seeking funding from capital markets to finance the construction of properties on acquired land.
Mapfidza said the coming in of the Victoria Falls Stock Exchange gave an additional 'exciting' platform for companies to raise United States dollar-denominated capital.
He said such capital would come in handy for the development of a hotel in Victoria Falls.
The firms' strategy has been to grow its United States dollar denominated revenue.
In the financial year ended December 31 2022, Masholds' US dollar indexed rental revenues grew to 52% of total turnover, from 25% during the comparable period in 2021.
"If you add the development revenue, our US dollar revenue was at 71% for the full year," Mapfidza said.
"Our thrust is to grow those numbers; bearing in mind we have (a) certain (number) of our tenants who get budgetary support from the government. These allocations come in Zimbabwean dollars."
He added that the firm would deliberately further increase its United States dollar revenue from the property development side of the business, as freehold sales transact primarily in foreign currency.
However, during the period, total collections dropped from 94% to 92% with Mapfidza saying these were undesired consequences of growth.
"We have been aggressive in growing our occupancies, which grew from 81% to 87%. I think that thrust divided our attention between increasing sales and converting those sales into cash flows," he said.
"Going forward, we need to significantly improve on our collections. We have also been a bit more understanding to those of our tenants who needed more time to recover from the effects of Covid-19 pandemic. Admittedly, economic sectors recovered at a different pace."
Mapfidza also revealed that in the short term, performance optimisation would result in the reconfiguring of traditionally corporate designed space, offering it to the small-to-medium enterprises on flexible leasing terms.
Two buildings, ZB Life Towers and Chiyedza House, were earmarked for this, he said.
Related Topics