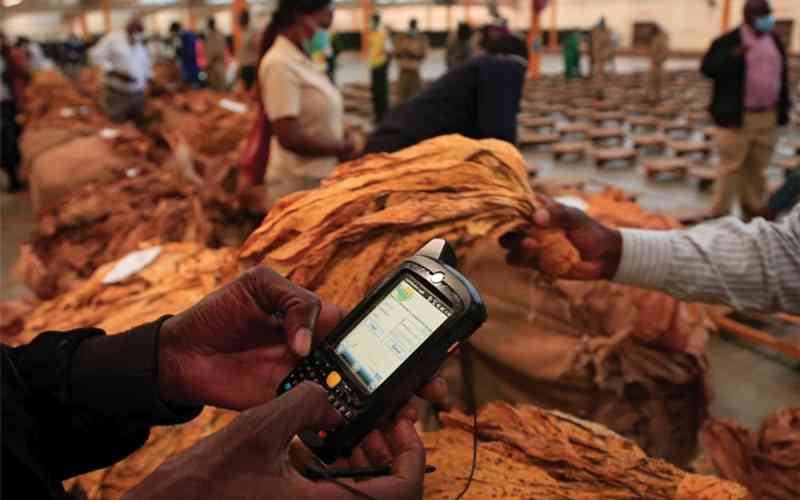 TOBACCO sales have reached US$19, 4 million in the first week of the 2023 selling season, which is a 11, 83% drop from the comparable period in 2022 when sales stood at US$22 million.
According to Tobacco Industry and Marketing Board (TIMB) statistics for March 15, a total of 6 648,261 kilogrammes of tobacco valued at US$19 474,002 went under the hammer within the first six days of the selling season.
More than 230 million kilogrammes of tobacco are expected to be delivered by farmers this season.
The growth in output expectations are coming on the back of good rains and increased hectarage.
According to TIMB, contract sales fetched US$15 944,890 after the sale of 5 328,923 kgs of tobacco during the period.
Auction sales recorded US$3 529,112 for 1 319,338 kgs of tobacco that was sold during the period.
Total mass sold during this period was 6 648,261 kgs, which was an 18,8% drop from 8,187,547 sold during the same period in 2022.
TIMB spokesperson Chelesani Tsarwe said the marketing season opened earlier this year, some growers are still reaping and others are grading and bailing
"As of March 15, day 6 of the 2023 tobacco marketing season, we recorded 6 648,261 kilograms of tobacco valued at US$19 474,002. The marketing season opened earlier this year, some growers are still reaping and others are grading and bailing. We are happy that growers have received our message and are bringing tobacco to the right points of sale. We continually encourage them to book their tobacco at least a day before the intended day of sale," she said
The area put under tobacco during the current cropping season increased to 117 000ha from 110 000 hectares in 2022 while the number of growers increased to 148 527 from 123 000 in the same period last year.
The average selling price this week for both auction and contract was US$2,93.
Low prices and unfavourable disbursement of funds after sales over the years has threatened the viability of formal auctioning of tobacco, leading to side marketing.
While TIMB has from last year been making concerted efforts to stop side marketing, tobacco buyers have often offered more to attract the farmers.
Tsarwe said in the past tobacco marketing season , the regulator collected US$10 020 and $131 55 463 in side marketing fines.
However the figure is expected to decline this season due to the measures TIMB has put in place .
"This season we are armed with SI 77 of 2022 as well as the Contractors' Compliance Administration Framework as our main tools to fight side marketing. These two guide contractors' operations from production up to marketing. All tobacco stakeholders are mandated to fully utilise the TIMB booking system. A grower should book their tobacco a day before the intended selling day. This helps us detect side marketing and stop it.
"We have also extended the arm of our inspectorate department, they will be conducting random inspections on farms, sales floors and warehouses throughout the season."
Tsarwe added that TIMB inspectors will also conduct intelligence-led operations in partnership with law enforcement agencies which includes surveillance patrols and stops and search at roadblocks.
"As a board, we continue to educate and carry awareness campaigns targeted at all tobacco industry stakeholders so that they know the implications and negative effects of side marketing," she said.
There have been calls for the regulator to deal with unscrupulous tobacco merchants and contractors.
A number of farmers in Karoi were last year arrested and had their assets attached after they failed to own up to their contractual agreements.
During the 2023 tobacco selling season, growers are expected to be paid 85% of their earnings in foreign currency and the remainder in local currency.
Tobacco is the major foreign currency earner and last year contributed more than US$1 billion to foreign receipts.
Follow us on Twitter @NewsDayZimbabwe
Related Topics