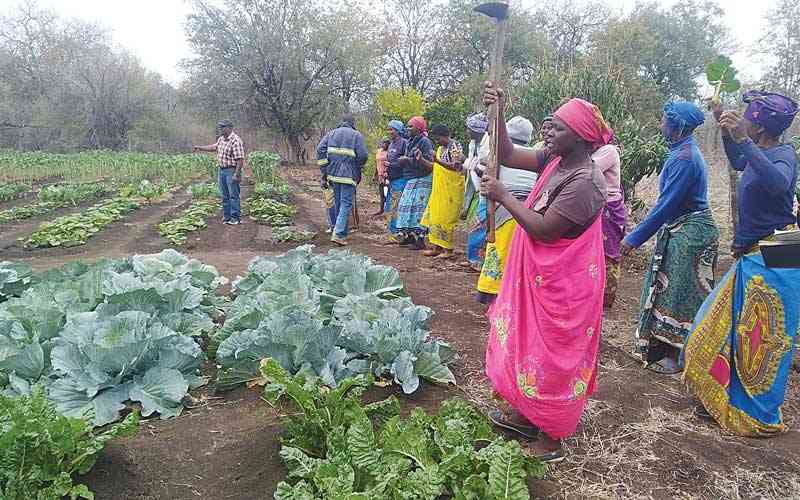 BY MTHANDAZO NYONI RECENTLY IN GULUJI, CHIREDZI
R
OSE Farai, a villager in Guluji, Chiredzi district in Masvingo province, never thought that one day she would be able to break the cycles of poverty and food insecurity that had ensnared her family for decades.
Like other villagers in her area, she kept on growing maize even though the crop generally failed due to poor rains.
As a result, her family has been perennially food insecure.
But following government and non-governmental organisations intervention through the Zimbabwe Resilience Building Fund-Enhancing Community Resilience and Sustainability (ZRBF-ECRAS) project, Farai can now produce enough food for the entire family.
"I never thought my family would be food secure and free from poverty," the 45-year-old mother told NewsDay Farming.
"Now, we eat nutritious food, thanks to the ZRBF-ECRAS project."
Farai, together with other villagers in Chiredzi and Mwenezi, are beneficiaries of the ZRBF-ECRAS project, launched in 2016.
The project, funded by the United Nations Development Programme, European Union, Swedish embassy, Foreign, Commonwealth and Development Office and the government of Zimbabwe, is being implemented through a consortium of development partners.
These are CARE International, International Crops Research Institute for the Semi-Arid Tropics and Plan International.
The project is set to end this month.
Over the years, the project has rolled out several resilience building interventions towards enhancing absorptive, adaptive and transformative capacities of at-risk households in the face of disasters, risks and shocks that threaten livelihoods.
Disasters that have affected households in the region include drought, unemployment and income generating opportunities, limited access to finance and resources, poor water availability and limited markets.
Resilience building interventions so far rolled out under the project include climate smart agriculture, village savings and lending, social enterprise development, livestock interventions and community water points.
These have benefited over 49 000 villagers across Mwenezi and Chiredzi, according to ZRBF-ECRAS project team leader, Fungai Gutusa.
Farai, whose homestead was used as a model, is practising climate smart agriculture, growing small grains such as millet and sorghum.
She is also part of a group of women running a thriving horticultural project, livestock and fish production.
"I have used the proceeds from these projects to build for ourselves a beautiful house, a toilet, buy a car and a motorbike. We are now able to take our children to school," Farai said.
Lizzynet Masokote, a 24-year-old lady from Guluji village, said: "I used to be a commercial sex worker in South Africa, but I realised that it was not sustainable. So, I came back in 2017 and joined other youths and started doing various projects, including goat production, fish farming, baking and soap making. So far, we have 60 goats and we sell them each for US$40."
Another youth from the same ward, Officer Mashamba, said this year, together with his wife, they were expecting to realise a profit of US$6 000 from their horticulture project.
The couple is producing green vegetables, including cabbages, carrots and tomatoes, among others.
In Mwenezi district, some farmers are harvesting water during the rainy season using plastic tanks connected to the roof of their houses.
They use water for various purposes including watering their gardens.
Cornwell Ndlera, from ward 1 in Mwenezi, said he was into black soldier fly maggot farming.
He wants to venture into fish and poultry projects.
Maggots are highly nutritious. They consist of an average of 65% protein and 25% fat, compared with 35% protein in soya-based feed.
Commenting on the ZRBF-ECRAS project, Gutusa said: "We thought of implementing this project here in Chiredzi and Mwenezi as we realised that people in Chiredzi and Mwenezi were suffering from recurrent droughts and. Given that their livelihoods depend on livestock, they also faced livestock diseases and deaths. We wanted to assist them to be resilient so that they are able to cater for their well-being."
Masvingo province has been seriously affected by climate change, which has resulted in poor yields.
Chiredzi assistant district development co-ordinator Gift Machukele said the project played a pivotal role in improving livelihoods.
For Farai, the project has been a life-saver.
"With the skills which we have acquired, we can confidently face tomorrow," she added.
Related Topics