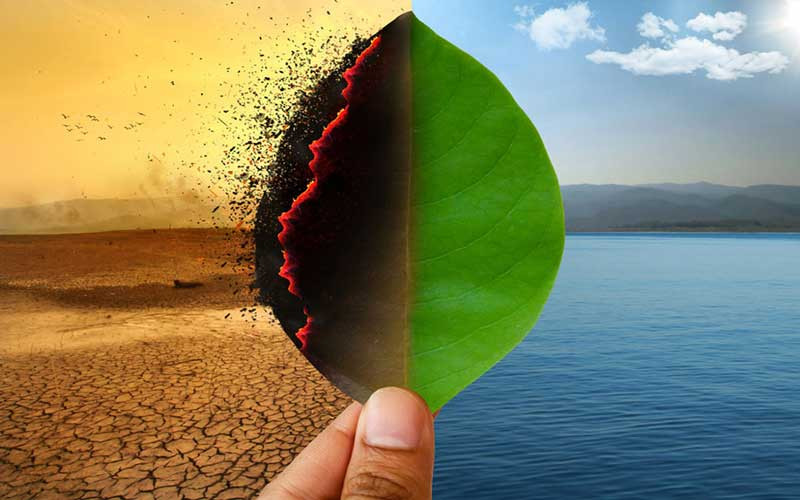 THE African Development Bank (AfDB) group acting chief economist and vice president Kevin Urama says Africa has been losing between 5% and 15% of its gross domestic product (GDP) per capita growth due to climate change and its related impacts.
As a result of these losses, the bank found that the continent needs about US$1,6 trillion between 2022 and 2030 to meet its nationally determined contributions.
Urama was speaking during a panel discussion titled African Countries Ownership in Determining Climate Agenda on the side-lines of the Egypt International Cooperation Forum in Cairo, held last Wednesday.
"Collectively, African countries received only US$18,3 billion in climate finance between 2016 and 2019" This results in a climate finance gap of up US$1 288,2 billion annually from 2020 to 2030," Urama said.
"These sums reflect how the crisis is. Climate change affects Africa severely, while the continent contributes to only 3% of global emissions. The global community must meet its $100 billion commitment to help the developing countries and African economies to mitigate the impacts of the climate change and to adapt to it."
He continued: "Investing in climate adaptation in the context of sustainable development is the best way to cope with the climate change impacts, adding that gas must remain included in the continent's plan for the gradual transition to clean energy".
Urama said Africa had great potential in terms of green investment opportunities that the private sector, including banks, could tap into.
The effect of climate change has, for example, caused erratic rainfall during Zimbabwe's 2021/22 agricultural season with indications that the upcoming season may be similar.
The food security arm of the United States Agency for International Development recently reported that there was below level normal crop production from the 2021/22 agricultural season owing to the erratic rainfall.
This is why farmers are being encouraged to continually adapt anti-climate change mechanisms into their grain productions.
"Southern Africa is already experiencing rainfall variability and higher temperatures. Currently, the countries most at risk of climate stress are Madagascar, Mozambique, Mauritius, Malawi, Zimbabwe, Botswana and parts of Namibia, Angola, Zambia and Swaziland. Thus, the greatest exposure to climate risk is broadly between 12°S and 25°S latitudinal band," reads a recent report from Climate Diplomacy, a department of the German Federal Foreign Office that promotes climate change awareness.
"The eastern seaboard of southern Africa and the island states are exposed to cyclones and floods. Arid and semi-arid regions in the west are prone to climate risk, mainly periodic droughts and the risk of flash floods. The northern Democratic Republic of the Congo, southern and south-eastern South Africa and part of south-east Tanzania, north-west Tanzania and the south-east corner of Madagascar are least exposed to climate risk."
The World Bank is currently encouraging the most prone climate change nations to adopt more climate smart agriculture (CSA).
According to the bank, CSA is an integrated approach to managing landscapes — cropland, livestock, forests and fisheries — that address the interlinked challenges of food security and climate change.
Related Topics