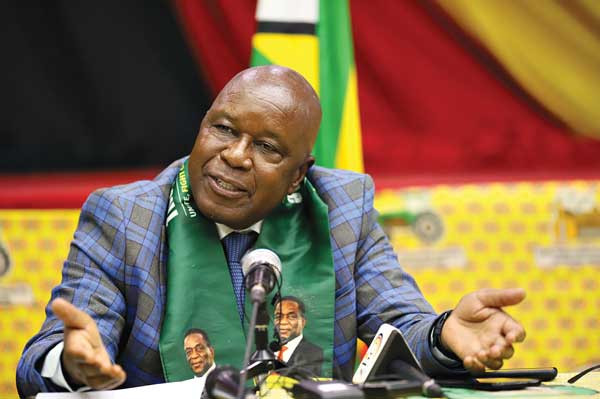 ZANU PF yesterday railed against the United States and non-governmental organisations (NGOs) saying they can "go to hell" for seeking to effect regime change in Zimbabwe.
Addressing a Zanu PF Press conference in Harare, party spokesperson Christopher Mutsvangwa accused Washington of sneaking secret agents to destabilise Zimbabwe ahead of the 2023 elections.
"A couple of weeks ago when the Americans saw that William Ruto had trounced Raila Odinga their favourite in Kenya, they were jaded. They decided to pass through Zimbabwe surreptitiously to see and assess what are the dimming prospects of the opposition party, they did not seek a meeting with official government of the Republic of Zimbabwe," Mutsvangwa claimed.
He was referring to an incident whereby security personnel tried to arrest some Americans who were having a meeting with members of the civil society in Harare.
"They sneaked into the country because they wanted to strengthen the back of the opposition, which is floundering. It was not long before the Americans were identified, that there were in the country and when that happened they hurriedly left the battle for Zambia and later explained that the government had refused to meet them," he said.
Turning to civic groups, Mutsvangwa said the latter had nothing to offer towards Zimbabwe's development agenda.
"To hell with those NGOs who have nothing to offer in Zimbabwe. There is no role played by NGOs in terms of Zimbabwe's development and nothing can be credited to them," Mutsvangwa said.
"There is no traceable study where NGOs have delivered production in Zimbabwe, like car manufacturing companies. What is their role if they don't give food handouts?"
The attack on the NGOs and civil society organisations (CSOs) come in the wake of a major Zanu PF push to have the Private Voluntary Amendment Bill (PVO) Bill enacted to regulate the operations of these organisations.
The Bill has been condemned as undemocratic by many.
Zanu PF has defended the Bill as necessary to whip into line the NGOs and CSOs that it accuses of pushing a regime change agenda.
Zimbabwe Human Rights NGO Forum executive director Musa Kika said Mutsvangwa was offside in his attacks.
"I am afraid to say he does not understand what development is, particularly sustainable development, which is impossible without civil society. Human development, the most important development, has people at the centre, and one cannot wish away civil society in that matrix," said Kika.
Amalgamated Rural Teachers Union of Zimbabwe spokesperson Obert Masaraure said: "It is sad that they are now accusing NGOs for their failures."
Related Topics