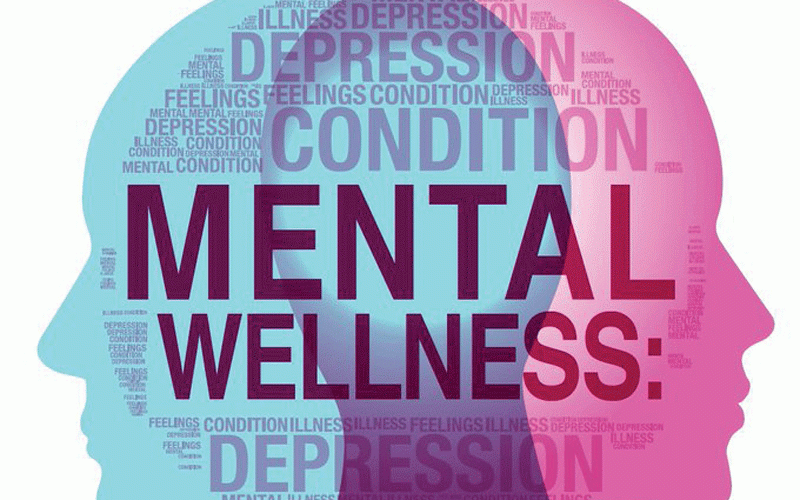 The World Health Organisation (WHO) defines mental health as a state of mental well-being that enables people to cope with stress, while realising their potential and contributing to the community.
People need to demonstrate their resilience as they experience stressful and challenging environments.
The ability to bounce back and manage one's emotions, behaviour mental health as a state of mental well-being s and thoughts is imperative.
In society, people experiencing mental health conditions, psychosocial, intellectual and cognitive disabilities suffer from discrimination and are excluded in decision-making.
More often, they experience abuse, neglect, harmful practices, violence and denied access to social services.
As families try to confront the challenges associated with mental health conditions, a number of mental health patients are detained and treated without their informed consent, disempowering them to make their own decisions.
Even though mental health services are available, they are inadequate and not responding to the health needs of the majority.
On the other hand, guardianship and other laws prevent people from making decisions in their lives.
Due to the increase in substance abuse and exposure to adversity by young people in Zimbabwe, the issue of mental health and access to mental health services cannot be undermined.
Other vulnerable groups and individuals are at higher risk of experiencing mental health conditions due to factors such as poverty, substance abuse, chronic conditions and disasters.
However, the need for mental health services and increase in the demand is a reality that we have to face and the health system has to respond to the demand.
In 2019, Zimbabwe launched the Mental Health Strategy (2019-2023) with the aim of strengthening mental health services.
Mental health services are a priority in the National Health Strategy and the achievement of the Universal Health Coverage.
The government of Zimbabwe has put in place laws, strategies and services that prioritise the needs around mental health and psychosocial support and these include the Mental Health Act (1996), Mental Health Policy (1999), Guidelines and Treatment Protocols for the Management of Common Mental Health Disorders in Primary Care (2012) and more recent the National Disability Policy (2021).
According to the WHO Comprehensive Mental Health Plan (2013 -2030), good mental health and well-being is essential for all in realising potential and contributes towards productive communities and the achievement of the Sustainable Development Goals.
Mental health services need to be prioritised for the achievement of the Universal Health Coverage.
An estimated one billion people are affected by mental health conditions globally.
Rights-based approach in mental health services
The Convention on the Rights of Persons with Disabilities (CRPD) defines persons with disabilities as those who have long-term physical, mental, intellectual or sensory impairments, which in interaction with various barriers may hinder their full and effective participation in society on an equal basis with others.
Therefore, people with mental health conditions need to be supported to realise their full potential.
The WHO Quality Rights Initiative launched in 2012 focused on improving the quality of care for people with mental health conditions and providing other services to promote the rights of people with intellectual, psychosocial and cognitive disabilities.
The introduction of people-centred and rights-based approaches to recovery for people with mental health conditions needs to be adopted and takes into account the following priority areas: freedom from coercive interventions; involuntary detention; restraint; seclusion and forcible treatment; and actual threats to instil fear have been universal experiences in mental health care. In some cases, coercive practices are legitimised in health facilities and communities as part of the mental health services.
However, coercive practices in mental health care should be minimised as they interfere with the therapy and may cause significant adverse effects on satisfaction and quality of life including human rights violations.
Research shows that many who have been exposed to coercive interventions do not feel it is beneficial or justified and narrate the experiences as distressing and traumatic, increasing the risk of non-adherence to treatment.
Respect for the right to informed consent; mental health conditions usually affect the ability of a person to manage their daily activities and make important decisions.
It is a fundamental right for a person to accept or reject health care.
Hence, patients have the right to give informed consent before they receive mental health services, except in emergencies that may cause harm to the client.
Service providers and health facilities have an ethical duty to provide clear communication in writing for patients clarifying their right to make health decisions and providing available alternative treatment services.
This may include the right to accept or deny treatment, documenting any concerns and wishes that the patient may have regarding their treatment.
Promotion of autonomy and choice; the ability to for a patient to make a choice on treatment options and decide on their mental health is important.
The Convention on the Rights of Persons with disabilities (CRPD) emphasises the need for people with disabilities including those with mental health conditions to participate and enjoy their human rights on an equal basis with others.
The use of coercive practices and laws that give guardians decision-making powers have affected the choice and autonomy of mental health patients.
There is need to raise awareness and build capacity in society to address stigma and discrimination in order to change the mindsets of society through promoting the rights of people with psychosocial, cognitive and intellectual disabilities.
It is important to respect people's autonomy by involving them in their health care planning and decision-making.
The ability to make choices aligns to recovery-oriented and person-centred care.
Community inclusion; society should actively participate and support people with mental health conditions through various roles that may include providing employment, involving them in social activities and supporting them in their areas of interest.
Community inclusion will counter stigma, exclusion and isolation, which is consistent with the concept of addressing social determinants for health.
The community should be a pillar of support to give hope into the future, developing strengths and capabilities of people with mental health conditions.
Community participation can enhance a person's identity leading to positive outcomes during the treatment journey. The design of mental health policies and programmes should take into account the environment that people live in with a focus of enhancing social determinants in health care.
Recovery-oriented; whenever a patient is accessing health services and getting treatment they want to achieve optimal physical and emotional well-being.
Recovery-oriented approach entails the need to understand that every person is different, and their choices and decisions should be respected.
Mental health conditions vary significantly and each patient's journey will be a combination of achievements and setbacks.
Thus, a person should be supported with their decisions regardless of their emotional state and communities need to be optimistic in order to support the person on their choices and capabilities.
Appreciating the person first before the condition makes a difference.
*Deborah Tigere is a development practitioner and writes in her personal capacity.
These weekly articles are coordinated by Lovemore Kadenge an independent consultant, managing consultant of Zawale Consultants (Private) Limited, past president of the Zimbabwe Economics Society and past president of the Chartered Governance & Accountancy Institute in Zimbabwe. Email: +263 772 382 852 and Email- [email protected]
Related Topics