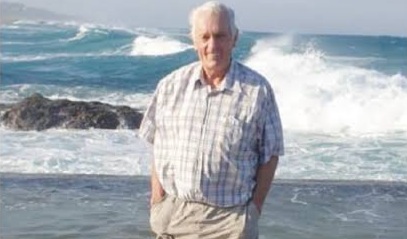 BULAWAYO abattoir owner, Noel Eric York, popularly known as Mbokodo, died last Sunday at his Burnside home in Bulawayo at the age of 72 after a long battle with cancer.
Mbokodo, also known as Boetie, who was running Mbokodo Butchery situated along Bulawayo-Plumtree Highway, a stone's throw from the city, was popular for his fluency in IsiNdebele.
Former Senator David Coltart reflects on Mbokodo's life.
By David Coltart
In January 1982 Boetie and Alan were arrested separately on spurious charges that they had an arms cache on one of the family farms.
Boetie was arrested down in the Lowveld.  Alan was arrested at the family farm and taken to Khami Maximum Prison not knowing where Boet was.  He thought that he was alone and was put in the Maximum Section of the prison.
Every evening inmates had to strip down to take a shower and to do so were let out of their individual cells and went into a corridor which could be seen by others both in higher floors and below.
A few days after his arrest one evening Alan was in the nude and having had his shower was coming back to get his sadza before being put back into his cell. Suddenly a voice boomed down from the floor above, "have you got a licence for that weapon?" As an aside having not been to Plumtree, I had no idea Alan was so well endowed.
Allan recounts how this suddenly transformed his gloom, his rock was there. There was no sympathy expressed by Boetie but through his humour, it encouraged Allan and he had the first decent night's sleep since his detention.
Boetie and Alan were discharged by the Courts but were warned that they would be re-detained.  Shortly after their discharge, they met in their lawyer's office and the late Strippy Goddard came to meet with them and told them that he had arranged for a flight for them to be able to leave the country immediately.  Boetie's response was emphatic. "We are not going to leave the country.  We will face the music".
They went back to Fairview and had a huge party that evening only to be detained at 6.00 a.m. the following morning by the Police on a 90-day detention order.  They ended up in Chikurubi with Boetie being put in death row and Allan being put in the penal block.
They were detained for a couple of months before being released again and on their way back to Bulawayo they were stopped at a Police roadblock outside Kwekwe and re-detained.  A police Superintendent had come down from Harare with handcuffs and leg irons to arrest them and transport them back to Harare.  Whilst they were being interviewed by the Superintendent in a Police office, Boetie refused to be handcuffed and pretended to lunge for an FN rifle which was in the room.  He said to the Superintendent "I could easily have grabbed this FN rifle which I am well used to, but I  didn't and am not dangerous.  I refuse to go back in handcuffs and leg irons".
The Superintendent relented. Then followed the curious spectacle of Boetie and Allan being driven back to Chikurubi by this solitary Superintendent with Boet in the front seat with the Superintendent and Alan in the back seat.
Their circumstances got even harder after that they were taken to Goromonzi Detention Centre which was designed as an Interrogation Centre with totally independent soundproof cells with no natural light.  They were in solitary confinement and the artificial light would be left on for 28 hours and left off for 6 without them being able to hear anything outside.  Boetie's humour and determination never wavered. His insisted that they be given water and buckets to clean up the filthy cells.
From there they were transferred to Chikurubi again where Boetie ended up in a cell with Dumiso Dabengwa and Alan in a cell with Lookout Masuku.  During the months that they were together with Dabengwa and Masuku, they developed a close friendship.  The best story of this period is that Allan taught Masuku to play chess and Boetie taught Dabengwa to play chess. But to their deep frustration, within a week of them teaching Masuku and Dabengwa to play chess both Masuku and Dabengwa started thrashing the Yorks and it was no contest.
However, as a result of that common trial that Boet and Dabengwa went through, they developed a close friendship.  It was a truly remarkable friendship given that they were both warriors and had fought on opposite sides.
Finally, after over 7 months of detention early on the morning of  August 20, 1982 Boetie and Allan were released from Chikurubi and taken to Mugabe's office in the centre of Harare.  What they didn't know is that their father, Eric, had managed to get in to see Mugabe.
Eric had told Mugabe that they needed to take their political hats off and as old men agree that his sons should be released, given that the Courts had acquitted them.  Eric, who was half-blind at the time was persuasive and Mugabe agreed to release them.  Boetie and Allan were brought into Mugabe's office where Eric and Mugabe were seated.  All Eric said when he saw the two of them was "you two"!.
They had a short meeting and Mugabe said: "Let us put this matter to rest, you have asked for your boys, here they are, now take them home".
One footnote – the day after they were released, Police Figtree Member in-Charge brought all Boet's firearms back to him.  Boetie said,"but hey I am the arms cache guy." For which the ZRP M/I/C said, "you have never been taken off our list of reservists!" Such is Zimbabwe.
Matabeleland disturbances
Boetie's release from detention in August 1982 cast him into the vortex of the Gukurahundi which followed.  Despite all that he had suffered in prison, he became the go-to person for many farmers in the Matabeleland region.  These farmers faced more trauma during this period from 1982 onwards than they had faced even in the 1970s.  They often found themselves alone and defenceless.  Boetie became one of the principal go-to people.  He was selfless and utterly brave.  He went on countless follow-ups putting his life on the line in a most remarkable way.
Personal reflections
During the last two decades of political turmoil in Zimbabwe, Boetie continued to demonstrate his deeply held principles, courage, bravery and thoughtfulness.  When Robert Mugabe threatened me and Catholic Commission for Justice and Peace director, Mike Auret on television in 1999 saying that we were enemies of the State, it was Boetie who was the first person at my door to offer help.  A bit like Strippy Goddard had offered Boetie way back in 1982, he offered to get me out of the country as well.  Like Boetie, I refused to go but I always knew that Boetie was one person I could turn to during the darkest days.  Boetie demonstrated similar support for many others.
On Independence Day in 2000 when Martin Olds home was surrounded it was Boetie once again who, with others of course, was most anxious to go to his assistance.  I met with him early that morning and remember how anguished Boetie was that Martin was surrounded and needed assistance.
Jen had Boetie as one of two people on her speed dial knowing that he could be relied upon to help. When a determined effort was made in March 2003 to take me out, it was Boetie who bravely broke the siege over the safe house were I was trapped.
Time does not allow me to recount all the other people he helped.  No doubt many of you here today have your own stories of how Boetie stood by you and helped you.  He was indeed a legend.
Land
Any reflection on Boetie's life would not be complete if mention was not made of his principled attitude towards his own assets.  At one stage E.R. York & Co. was arguably the largest single landowner in Zimbabwe.  E.R. York (Pvt) Limited at one stage had over 300 000 acres of land and ran over 30 000 head of cattle.   On his death, Boetie was left with a few hundred acres.
As so many other people have done, he could have used his wealth to buy his way back onto the land.  However, Boetie on principle was not prepared to do that.  Boetie believed that the manner of the Land Reform Programme was wrong and illegal, and that poor people had in particular suffered and so was not prepared to use his standing, his wealth, his contacts with Dabengwa and the likes to secure land just for himself.  Tied into that was the way Boetie lived his life.  As we all know he always just drove a bakkie.  He had no airs or pretentions. He was generous to a fault.
Death
I have been privileged to be able to speak and pray with Boetie over the last few months, in particular in the last few weeks as his life ebbed away.  What has struck me is that despite this illness, which he fought so bravely, he remained calm and at peace.  Even last Friday, two days before his death, the last time I saw him, the first thing he did on seeing me was to ask after my family.
As he faced so many battles and trials before in his life, so he faced this battle; always thinking of others, never complaining.
Lessons learned
So, what do we learn from all of this?  What I take away is the following:
Boetie was courageous in the face of tyranny and in the face of great trials.
Boetie stood by the principles his parents and grandparents taught him and never wavered from them.
Boetie was thoughtful of others.  He was selfless and put others before his own interests.
Boetie did all he could to use the strength of his position to encourage others, often using humour to do so.
Boetie did all of these things.  As we reflect on his memory, I hope it will encourage us all to aspire to higher standards in our own lives.
A closing thought Boetie was always deeply committed to Zimbabwe.
If ever there was a genuine patriot, a genuine hero of Zimbabwe, it was Boetie.  He had a deep belief in this country but believed that it would only reach its potential if we returned the country to the principles that he tried to live his own life by.  My hope is that his life will inspire us to emulate him in future so that his vision for a new bright dawn in Zimbabwe can ultimately be attained.
I would be grateful if you would all stand briefly to honour Boetie and reflect on what he stood for.
Related Topics