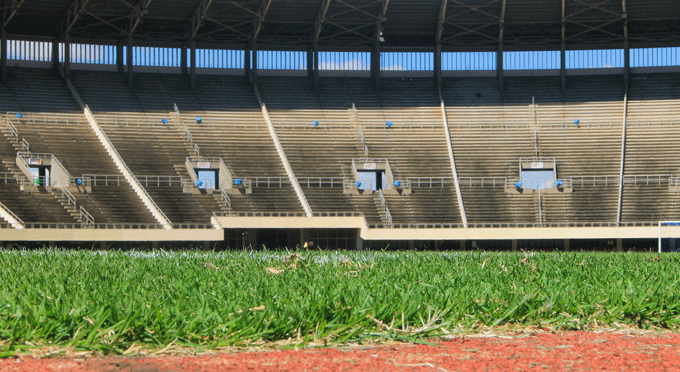 BY MICHAEL KARIATI
A PICTURE from last week's Mighty Warriors match against Eswatini, taken at the National Sports Stadium which has been doing rounds reveals bucket seats being installed in the background at the facility.
Zimbabweans have been joking around this picture, not because of the Mighty Warriors, but because they saw something funny in the sudden emergence of the fixed seats.
Surely, there is nothing to joke about a Mighty Warriors team that plundered three goals in a 3-1 win over Eswatini. but there is surely something funny about the emergence of the bucket seats a few days after Caf banned the use of the NSS over the same fixed seats.
The question is: Why start work on the facility when the damage has already been done? What was Zimbabwe doing all along when Caf cancelled Afcon and World Cup matches due to Covid-19?
We were made to believe that work was in progress during the serious Covid-19 days and what happened to the promise by the Sports and Recreation Commission that the upgrade of the stadium would be complete by July 2020?
It is now a year and three months and that promise has not yet been fulfilled and the same problems which were highlighted by a Caf inspection team in April 2020 still remain.
Surely, did we have to wait for another Caf sanction to push us into action to upgrade a stadium that belongs to us and for that matter, which will be used by us and not by Caf?
Are we waiting for outsiders to come — for a fee — to do a job which we should have done long back without too much finances involved?
The latest decision by the African football controlling body does not only affect the Warriors, but clubs that will represent Zimbabwe in the Caf Champions League and the Caf Confederation Cup.
Fine, the Warriors do not have home international engagements after the World Cup qualifier against Ethiopia but what happens to Black Rhinos, Cranbourne Bullets, Dynamos, FC Platinum, Highlanders or Chicken Inn should they qualify to play in Pan-African football in 2022?
Will they afford to play their home games in foreign countries, for example, in South Africa? Even if they can, what happens to the home advantage notion?
Football analyst Admire Muhimeke reveals how far the implications could go. "We might end up seeing our teams failing to fulfil their own home fixtures because of the costs involved. In the end, we might not have clubs representing Zimbabwe in Africa," says Muhimeke.
Surely, we do not have anyone to blame but ourselves to be in this situation, but it's something we can get over as long as we do not wait to be told to get into action.
If we are really serious — by the time Ethiopia comes for that dead rubber World Cup qualifier — we should be able to stand up and tell Caf to have a re-look at their decision to ban the National Sports Stadium.
This should come when our National Sports Stadium is 99% perfect and ready to host, not only the playing teams, but also the thousands of spectators post the Covid-19 ban.
After all, Caf have done us a favour to push us to upgrade a stadium that is decades behind what the rest of the world has at the moment.
We are probably the only country the world over that has spectators sitting on cement blocks when watching their own national football team in action.
Some might laugh but this is not a joke but the truth on the ground – This is reality.
For your comments, views and suggestions email mkariati@gmail.com or WhatsApp on 0773 266 779.
Related Topics