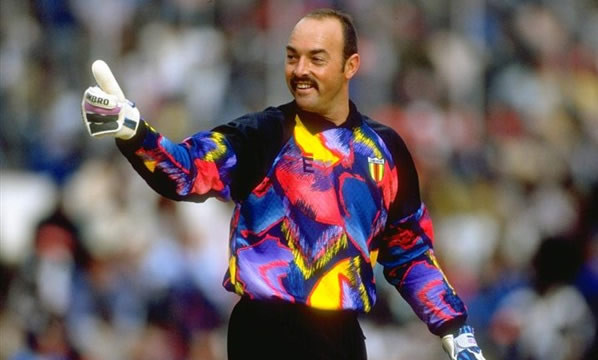 Retired professional footballer, consultant and coach, Bruce Grobbelaar says when he starts conversations with people all over the world, they think he will be fabricating how started his football journey playing for the all-white team, Salisbury Callies.
Grobbelaar (BG) told Alpha Media Holdings chairman, Trevor Ncube (TN) on the programme In Conversation with Trevor that he enjoyed playing for Highlanders Football Club where he was taught a lot off the field as well as on the field.
Below are excerpts from the interview
TN: Well you know you have no idea the honour that you have given us Bruce, agreeing to talk to us. So let me start with something that you will not remember.
So, Highlanders has won a football tournament, and I am in Bulawayo, and I think I am about six years old or seven years old and you guys get driven by posh cars to Marisha Cocktail Bar in Magwegwe, and some of us are running bare-footed to go and see Bruce Grobbelaar.
Bruce, that is the effect that you had on young Zimbabweans. What goes through your mind when you look back to where you started and where you are right now Bruce?
BG: Trevor, when I look back at my journey and where I first started with Salisbury Callies, now I have conversations with people all over the world and they think that I am just fabricating my journey and when I tell them that Salisbury Callies was an all-white team and they did not play in an all-white league, they played in an African league.
It was revolutionary in Africa because the club Salisbury Callies wanted to know how the African people work, so they decided to go into that league to find out and to integrate with the Africans of Zimbabwe.
When I left, I went to Matabeleland Highlanders. I did not know that I was going to be in my debut the only white person in the stadium.
Yes, and the funny thing is the week before my debut at Barbourfields, I was training there at Barbourfields for three times that week, and on the third time of that week leading up to my debut I was riding my bicycle and I got over that river going into Mzilikazi.
The policeman, a white policeman, stopped me and said excuse me young man you cannot go in there it is too dangerous for you. I then said well where were you two days ago when I was coming this way again, when I was training here?
So, he followed me and when he saw all the little African pickenings running after me shouting "jungle man, jungle man" he turned the car around and went back.
TN: So you were already jungle man at that time Bruce?
BG: The Ndebele people gave me that nickname when I played for Salisbury Callies against Matabeleland Highlanders when Callies beat Highlanders 3-1 in the rain. They said ah this is not a white boy, this is a black boy in a white man's skin.
TN: What did that make you feel like? I mean what went through your mind when these black people say this is a black boy in a white skin?
BG: Listen, for me it was an honour. You must understand that when I went and joined Matabeleland Highlanders, my mother and my stepfather made me read the history of the African people.
So I knew what type of people these people are, and they said never ever think of them as something lower than you. If you talk to them as if they are just human beings you will be okay.
And that is what I have done in all my career, whenever you go to other countries you do not rubbish their religion and their colour or the culture, you actually embrace their culture, embrace the human spirit.
TN: The fascinating thing about you Bruce is that you were actually very good, you were a talented cricketer, and you actually got a baseball scholarship? What made you stick with football and not do cricket and the baseball scholarship?
BG: Well, you see the thing is Trevor when you go to school and then you get conscripted in the Army and then you are doing things in the army that you are told to do, it is very difficult when you come out of the army, go to South Africa and start playing baseball again to get a scholarship.
Which means you have to go back to college. Now I should have actually gone back to college because maybe I would have been in a better position than I am today, but in hindsight I thought football would be my out in the world so to speak.
Funny things happened, I came out of the Rhodesian Bush and went to South Africa and I was only there 18 months and I was playing football for Durban City and Amazulu in the Mainstay, and I got my call-up papers in South Africa.
TN: Wow.
BG: I said to someone that I was living with no, I have done my two years in the Bush War, I do not want any other war. They said no in six months' time I am going to have to go to Angola.
So, a friend of mine Harry Weir, he got me a scholarship, well not a scholarship, he got me a trial to go to West Bromwich Albion. So I immediately jumped on the airplane and got came over to the UK. Unfortunately, I could not get a work permit.
TN: Let us go to being conscripted to serve in the army? What memories do you have of that Bruce? Anything that you can share? And what scars do you have that have remained with you?
BG: Trevor, you know when you say to your mother, when you come when you have done your 'O' Levels, I said to my mother I'm going to become a goalkeeper. And she said okay which team and I said Matabeleland Highlanders, and she said no you better phone the Salisbury Callies to see where you have been sold to.
So I phoned him up and they told me that I was being sold to Chibuku Shumba. I did not want to go to Chibuku Shumba, But Jack Meagher was there and he bought me and I was there for about six months.
In the season for Posani Sibanda was playing, I was playing, we were both Rhodesian International footballers and he played Sibanda more times than he played me.
When we lost while I was in goal they switched to Posani, when they lost with him, they gave him another chance instead of switching again. So I told him I do not want to play for him anymore.
I went back to Bulawayo walked into my mother's shop and she said what are you going to do? I said I am going to go to Durban now, she said no you are going to go to the barracks to find out when you are going to get called up.
TN: Wow.
BG: I then walked in there (the barracks) and I gave my name and they said in six weeks' time your call-up will be. I looked at my mother and I said in six weeks I will be serving in Durban, and to which the sergeant major turned to my mother and said, but there is one going in tomorrow morning.
TN: Wow.
BG: Then she made me sign it.
TN: How old were you?
BG: I was 17 years old
TN: So you got signed into the army?
BG: Into the army at 17 years old to 19 years old, and then I came out when I was 19.
TN: And my question there Bruce is any scars? Any memories that you have that you are at liberty to share at all?
BG: Yes. I suffered from PTSD many times, and friends and army colleagues that have perished, I still go through those memories. Also, you must understand, we had a house boy called Ramika, he had two sons Fanuel and Gordon. When I came home once from the bush, Gordon told me that he had joined the Freedom Fighters, and we sat and we ate lunch.
TN: Wow.
BG: And when I was ready to go back to the bush, I said to him if we meet in the bush you know we might not be as friendly? And he said yes I might have to shoot you if we see each other. We shook hands and we went different ways.
When I came back from the bush the next time I found out that Gordon had been killed in the Rhodesian War. And you know what? We played together since I was six years old. You think that is a difficult journey to go through.
TN: Absolutely. Wow. Bruce, so you become a hero to some of us, playing for Highlanders Football Club. Your antics, being jungle man, being like a gorilla in front of that goal? Walk us through what were the highlights for you as you were playing for Highlanders Football Club?
BG: Highlanders Football Club taught me a lot off the field as well as on the field. Silas Ndlovu was a great manager. We had the likes of Tyman Mabaleka, we had the Lofty Phiri and we had Zenzo Ndlovu. We had some great players.
TN: Bruce as you are talking like that I am having goose bumps because these are people that we hero worshipped in the townships, and for you to be walking me down memory lane like this is absolutely precious, and I am sure a lot of our viewers all over the world will be having the same response. Please go on Bruce.
BG: These players that helped me blend in and nurtured me, they were absolutely fantastic people. You know you look at life today, and how the world has actually changed and in all those years back there in the 1970's when I played in Barbourfields and Mzilikazi.
TN: Barbourfields and Mzilikazi yes.
BG: It was just a beautiful time, and I used to ride my bike all the way to Morningside, you know after games.
Sometimes it was said put your bike away, you know you have done a good job today, let us go and he used to take me home.
Silas Ndlovu, he says right let us go, we are going to go to the Marisha Cocktail Bar because we have done a good job. It was a fantastic time.
TN: We loved it Bruce that as we were young like I said, and when you won and you guys came to Marisha, we loved the fact that here is this white man who was not scared of coming to the township and you mingled with people. Walk with me what went through your mind as you were doing that stuff?
BG: Well you see the thing is, as my mother said, you know treat people as people. Not of colour. If you are compassionate to others, be compassionate to others, and that means every person.
You know we are all on this earth together, and we have to live together, so be compassionate to everybody that you see.
Unless someone does something to you, then you can stand back and say and hold on a minute he is not a good man. That is how my mother brought me up.
TN: Wow. That is a solid way of being brought up. So when you left Highlanders had you already started playing for the national squad or what? Talk to me about that?
BG: Yes, the national squad was picked by Jack Meagher, he was the national coach, and I remember he was the national coach for about two years. I was in the military then, and I was called-up for the national team in the game against South Africa.
"In Conversation With Trevor" is a weekly show broadcast on YouTube.com//InConversationWithTrevor. The conversations are broadcast to you by Heart and Soul Broadcasting Services
Related Topics