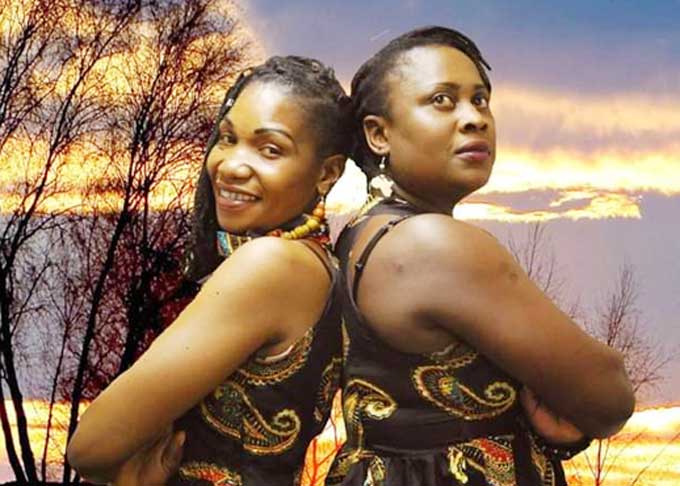 By Raymond Millagre Langa FROM time immemorial music has remained an apparatus of enhancing the sense of cultural identity and the promotion of unity.
With a multiplicity of cultures in Zimbabwe, musicians have the challenge of using music as a tool of enhancing a sense of cultural identity and pride, as well as the promotion of cultural pluralism which plays a very central role in the instigation of development.
For afro-jazz artists Sharon Nyambuya and Fiola Ncube, they have used the art of music and dance in the enhancement of people's ability to communicate and celebrate the Zimbabwean identity with an array of Afrocentric and jazzy sounds.
They comprise the Afro fusion duet known as African Tribe from Bulawayo who have been multi-Chibuku Road to Fame and Music Crossroads finalists.
"In our Zimbabwean context, music has played a very central role in the promotion of a sense of cultural identity as it is a social activity. As the African Tribe band, we believe in the power of music as something that highlights the potency of our Afrocentric values and traditions as it is used in the many significant events such as marriage, lobola, birth and ceremonial rites of passage," Ncube said.
Music by African Tribe goes beyond the entertainment factor and has a deeper significance for everyday social and spiritual activities. The afro fusion or Jazz beat that the African Tribe duo plays centers on lyrics that praise or criticize various social ills; especially advocacy for marginalised groups such as the girl child and women.  Their music also recounts history as they do renditions of traditional Ndebele and Shona folk songs.
"In our music we use a variety of African sounds, and in our performances we make sure that we shift and climax in terms of intonation and vocal control.  We shift from an open and relaxed tone to one that is tighter and more constricted. There are times when we ululate, hum or grunt and even mimic the noises made by animals in our songs. We fuse this unique sound with energetic cultural dances like Shangara, Mbakumba, Dinhe, Isitshikitsha, Chinyobera and Ingungu while adding a modern sound to the beat," she said.
In the context of Zimbabwean music rhythm, percussive sounds remain something that is highly emphasised.  These sounds have also become part of the modern day curriculum where students at some schools are taught how to play the traditional African music instruments.
The rise of digital music has seen a gradual decline in the quality of live music which has seen a sharp increase in the production of a deeper sound that does not really touch the soul. For the African Tribe, their music is something that fuses aspects that interweave into issues of the social fabric of life.
Their music uses live performances and instruments.  It shows several forms of expression, storytelling and enjoyment which become the communicative experience between the performer and the audience.
Live music is good in that it is something that is highly exportable outside Zimbabwe as exemplified in the cases of bands like Mokoomba who are flying Zimbabwe's flag high internationally.
African music also combines aspects of dance and playing instruments that are Afrocentric.
Dance and music, as in the case of the African Tribe, has many forms of expression like storytelling.  It is impractical to separate music from dance or from bodily movement. The human body itself is often used as a tapping instrument. Hand claps, foot stamps and thigh or chest slaps are also common in African music.
The duo also explained the challenges they face in the music sector.
"Afro-jazz music is hard to finance as we need to pay our band crew. As female musicians, we have also faced the challenge of bogus promoters and managers who have tried to take advantage of us because we are women operating in a male dominated field.
"The Covid-19 pandemic affected the live music scene especially the Afro jazz circuit; particularly in Bulawayo where many people have been taken by the digital music craze. Ever since the closure of Cape to Cairo, which is a joint that promoted local jazz acts,  there is no significant place in Bulawayo  where one can go and watch a live jazz band playing original music. We face the challenge of the copyright culture where bands perform cover songs by international artists for a meagre fee.  In many cases, this affects the originality of our sound," Nyambuya said.
African Tribe has engaged in collaborative experiences with different groups and bands in Bulawayo in the revival of the local jazz culture.  On August 27, they will join other Afro-jazz groups in live performances at the Bulawayo Art gallery during the Bulawayo Afro-jazz Festival. It is certainly not a show to miss.
"With the relaxation of the Covid-19 related regulations, I believe it is about time that the afro jazz music scene; especially for the younger and upcoming talent, is revived. We believe in the power of collaboration as music has a unifying factor.
At the Afro-jazz Festival in Bulawayo, different artists like Ash Bass, Adrian Kaputen, Ramsy K, Sekunjalo Ma-Africa, Siza Mdlongwa and Afro Cosecadora among several others will perform. Attending the show will cost US$5, but for afro-jazz lovers, it is definitely something to look forward to.
Through the revival of the afro jazz circuit in Bulawayo, Sharon and Fiola are striving to promote the revival of African pride and identity of different musicians and also to provide a platform for exposure of musicians to a bigger audience to the different musicians in the locale. These platforms will also be effective tools with regards to the use of music as an edutainment tool of advocacy through the deep lyrical and instrumental progeniture of the different afro jazz musicians.
If you are in Bulawayo I hope to see you at the Art gallery on August 27 from 5pm as we bask in the ambience of the sounds of jazz.
Female artists need support, and art also needs to be looked at with a gender lens in order to break the incorrect stereotypes that females cannot make good art.  In fact, a lot of good music that is being churned out on the radio is by female artists.  Let's support them.
Raymond Millagre Langa is a musician, poet, writer, orator and founder of Indebo Edutainment Trust.  Please follow Raymond Millagre Langa on Facebook, Instagram @Millagre Ray L.  You can e-mail Raymond Millagre Langa on [email protected] and [email protected]
Related Topics