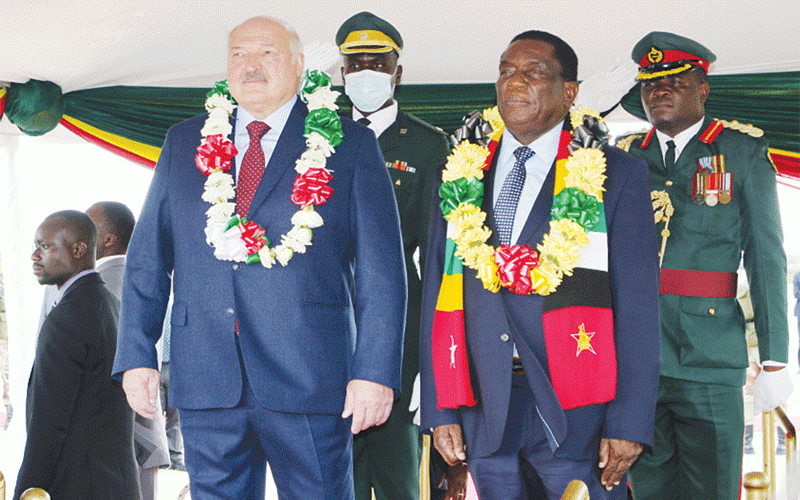 BELARUS has taken advantage of sanctions imposed on Zimbabwe and the Russia-Ukrain war's negative impact on global agriculture to secure multi-million bilateral agreements with Zimbabwe.
Last week, Belarusian President Alexander Lukashenko secured eight bilateral agreements in agriculture, education and economic co-operation with Zimbabwe.
Zanu PF party spokesperson Christopher Mutsvangwa said this was a move to bust sanctions imposed on Zimbabwe by the United States and the United Kingdom.
"Belarus is one of the top wealthiest countries in the world; it is in the top 50 for a population of nine million. They are in Central Europe ... they have done very well in agriculture and mechanisation," Mutsvangwa said during a Press conference.
"There is a perverse aspect about sanctions which affect business interests of those who host them. If you ask Zimbabweans about the tractor they would ideally have in their fields, they will probably say they want a John Deere, Massey Ferguson or a New Holland.
"Now because of sanctions, there are other countries which also handle the business of agriculture and machinery which have since seen an opportunity forfeited by the sanctioning countries. Belarus has moved to fill in the void in agricultural machinery. We probably need between 30 000 to 40 000 tractors for Zimbabwe to operate as an agro-industrial country."
Lukashenko on Tuesday offered Zimbabwe a total of 1 635 tractors, 16 combine harvesters, as well as boom sprayers as part of the agricultural mechanisation programme worth around US$66 million.
Analysts view the deals as shady, given their secrecy, especially after recent allegations that government had reportedly directed local authorities to purchase fire engines from Belarus at inflated prices.
Political analyst Effie Ncube said Zimbabwe is too weak politically and economically to negotiate meaningful contracts with developed countries to its advantage. "As a result, too many of the so-called mega deals are lopsided in favour of other countries. The same is true with regards to its deals with Belarus. By now we all know that we need every country on earth," Ncube said.
"The idea that you can look east, west, north or south to the exclusion of other countries is politically and economically unsound. Our troubles are too deep to be saved by Belarus without other countries."
Another political commentator Vivid Gwede said: "In the bigger scheme of things on the international stage, or even in Europe, Belarus is not a key player. Thus the relationship with Zimbabwe will simply score some symbolic points against the Western bloc, which treats both regimes as pariahs."
Related Topics