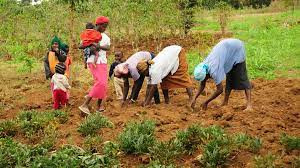 There are approximately 3,9 billion women worldwide. That's just under 50% of the global population. They also make up 50,1% of 48 countries in sub-Saharan Africa. The 7 889 421 women in Zimbabwe represent 52% of the country's population.
So what's it like to be a woman in Zimbabwe? If we make up more than 50% of the country's population, then surely that should translate into economic participation, political representation and social power.
True, we have our own Ministry of Women Affairs, although we do share that portfolio with Community, Small and Medium Enterprises Development (this ministry isn't listed as an official ministry on the government's website).
There are also a host of organisations aimed at women affairs, such as the Zimbabwe Women's Microfinance Bank, the Women's Coalition of Zimbabwe and the Zimbabwe Women Lawyers Association.
There are legal frameworks and policies specifically for women too. Zimbabwe acceeded to the Convention on the Elimination of Discrimination Against Women (CEDAW).
Adopted by the United Nations General Assembly, CEDAW focuses on sex trafficking, political, economic and social rights, education, rural women and equality in marriage.
There is also the Protocol to the African Charter on Human and People's Rights on the Rights of Women in Africa, adopted by the African Union in 2003 and ratified by the Zimbabwe government.
The Protocol mandates that state parties are to "combat all forms of discrimination against women", with 23 articles that cover marriage rights, protection during armed conflicts, the right to peace, dignity, life and integrity.
As of 2019, all 55 member states of the African Union have ratified the Protocol. In 2008, then president Robert Mugabe joined 13 other heads of state in the Southern African Development Community (Sadc) in signing the Sadc Protocol on Gender and Development.
On a policy level, the then Ministry of Women Affairs, Gender and Community Development has implemented two National Gender Policies. The first was launched in 2004, with the second in 2012.
The first policy had four thematic areas: women in politics and decision-making, women and the economy, education and training, and the mechanisms for the advancement of women.
Lasting from 2012 to 2017, the Second National Gender Policy aimed to achieve a "just society where men and women enjoy equality and equity and participate as equal partners in the development process of the country."
It covered eight priorities and policy strategies for seven thematic areas on gender: violence, legal rights, health, education and training, environment and climate change, politics and media, information communication and technology.
There's also the Zimbabwe Gender Commission, established by the country's Constitution and the Zimbabwe Gender Commission Act.
Its main goal is the promotion and protection of gender equality, with a mandate taken from Section 246 of the Constitution. The commissioners are appointed by the President, with the current seven-person team of commissioners having begun their duties in 2015. In addition to establishing the Gender Commission, Chapter Four of the Constitution officially recognises the right to equal treatment and opportunity in political, social and economic spheres for men and women.
The Constitution also stipulates that the State must ensure gender balance in Zimbabwe, specifically in state institutions and government agencies.
It sounds like women in Zimbabwe have equal rights, the protection of the law, and equal access to resources and opportunities.
So far so good, at least on paper. However, what looks good on paper doesn't always translate into practice.
Let's start with political representation. The number of women in the National Assembly has increased from nine representatives in 1980, to 85 women in 2018. The Constitution also put in place a quota in local government, designating 30% of seats for women.
Despite this progress and policy, women's participation in politics and local government has declined and stagnated over the years.
In the March 2022 by-elections, only 16 of the 118 candidates were women.
Calls from figures across the political spectrum for more women to get actively involved in governance seem to have largely gone unheard.
As of 2022, women make up less than 50% of political representation in Zimbabwe. When it comes to the economy, the situation is a little more complex.
A 2021 research paper by the Southern African Trust shows that women make up 65% of trade in Zimbabwe's informal economy. Rural women make up 70% of agricultural labour and food production.
Women's labour is a crucial part of the country's economic activity.
However, these same women do not have easy access to social security or insurance services due to the informal nature of their work.
They do not have easy access to markets for their goods, or to financial services that aren't predatory or exploitative.
When it comes to commercial farming, women only make up 36,6% of small-scale farms, and 19,4% of large-scale farms.
Women contribute much, but aren't getting their fair share of economic opportunity and ownership.
There are also elements which are hard to reduce into facts and figures such as the domestic labour that women are often expected to fulfil and the seemingly inconsequential acts of discrimination that affect women's confidence and ability to progress in their careers and studies. The ways in which increasingly hotter temperatures and dwindling water supplies affect the women who rely on their produce to feed and support their families.
The effects that the Covid-19 lockdown in 2020 and 2021 had on education, safety and income. Girls and women who were already in vulnerable positions had to (and still do) endure violence, deepening poverty and abuse in silence.
Whilst the law clearly states women's rights to safety, dignity and equal opportunity, it's easier said than done to enforce the laws behind closed doors.
Issues affecting women can so easily be dismissed as unimportant or secondary to more "pressing" issues.
What that position fails to realise is that the position of women has an effect on society as a whole. Why is the situation of women in Zimbabwe important?
Firstly and most importantly, ensuring the dignity, freedom and equality of all Zimbabweans is something we should all strive for.
After all, we fought for the dream of a free and equal nation.
On a political, social and economic level, it simply makes sense to ensure that over half of the population gets equal representation, investment and protection. Women make up 52% of Zimbabwe.
How much could we achieve if there was a concerted effort to actively include that 52% in planning and strategising for national development and future planning?
For a group that already contributes so much to economic, social and political development, giving women what they've earned simply makes sense.
The conversation about the 2023 general elections has already started. As campaigns start to warm up and the voting public starts to reflect more on who will get that X next to their name, it's also worth having a critical look at the current position of women.
Fifty-two percent of the population deserve to live and work in a truly equal society, for their benefit and for the country's benefit as a whole.
Maybe it's time to put women's issues and concerns at the forefront this time round.
Muzenda is a writer and analyst. These weekly New Horizon articles published in the Zimbabwe Independent are coordinated by Lovemore Kadenge, an independent consultant, past president of the Zimbabwe Economics Society (ZES) and past president of the Chartered Governance & Accountancy Institute in Zimbabwe (CGI Zimbabwe). — [email protected] and mobile No. +263 772 382 852.
Related Topics