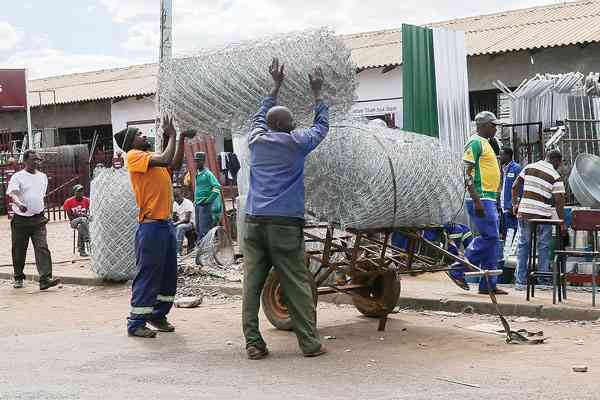 AFRICAN Micro Small and Medium Enterprises' (MSMEs) predominantly face business stagnancy and regression due to their informal nature.About 52% of MSMEs belong to the informal sector.
A myriad of challenges surrounding informality include limited development, entrepreneurial, management and marketing skills; limited access to finance and lack of collateral security and infrastructure; limited research;poor business structures, environment, and location; as well as limited legal and regulatory compliance frameworks.
Absorbing over 80% of jobs in Africa, the informal economy dominates the business, trade, foreign revenue, and economic growth potential for the continent and as such maximising on this potential requires a regional approach to the sector's development.
The main purpose of regional integration is to increase Africa's visibility in the global market and enhancing domestic economies.
Sources
Capital resources largely determine the stability and sustainability of MSMEs.However, due to limited access to sufficient capital, lines of credit and business formalisation requirements, most MSMEs endure the pitfalls of informalisation, such as stagnancy and disregard.
The lack of proficient bookkeeping and regulatory compliance practices excludes most MSMEs from access to working capital from established financial institutionsas well as support from the government.
While many policies have been established to increase formalisation in the informal sector, binding formalisation with forced registration, collection of taxes, and castigation of informal businesses and vending has had opposite effects on MSMEs and economic development. Such processes as registering businesses, opening business bank accounts, and accessing funding are exclusionary, long and anti-poor. The cost of compliance often outweighs income generated and advantages of formalisation.
Free trade offers a wider market for exporting businesses and in order to leverage the growth and development of the country's MSME sector through free trade, accessible and concessional funding must supersede cost of business compliance.
Financial and policy support from government and financial institutions should focus on developing local small businesses into regionally competitive and lucrative players.
De-risking environment
The Zimbabwean Ministry of Women Affairs, Community, Small and Medium Enterprise Development was allocated 0,55%of the total budget revenues, which is significantly insufficient compared to other local ministries as well as other SME related ministries in Africa,such as Zambia allocating 1,04%.
Strengthen cross-border trading
Informal cross-border trading (ICBT) in Africa has increasingly gained prominence in Africa with speculation that the value of informal trade now exceeds that of formal trade.
However, the volatility of the sector, despite its size, inhibits realisation of the economic potential that stems from it. ICBT, while having contributed income opportunities and sources, employment and women empowerment, especially in the most fragile and impoverished communities, has been faced with numerous opposing challenges such as VISA restrictions, illegality of trade goods, lack of education and capital for business, varied types and quality of goods (especially counterfeit products), cost of clearance due to regressive duty structures and complex clearance processes, vulnerability to corruption, and the recent Covid-19 related losses ranging from closed borders to different health restrictions.
Of late, policy-makers have begun to implement simplified trade regimes, which stand to be amplified by free trade (AfCFTA).
The free trade agreement gives African governments the opportunity of regulating the ICBT sector for the purpose of generating revenue from the estimated potential US$3,4 trillion GDP business sector.
The agreement can tap into lenient travel regulations with no Visa restrictions, formalisation of the sector with just tax policies, harness gender equality and women empowerment tenets through efficient and effective participation of women in regional trade, affordable operations through formal channels by reducing tariffs and clearance processes, and an overall introduction of the Continental Simplified Trade Regime.
Boosting forex revenue sectors
Majority of Zimbabwe's population largely depends on MSME economic activities for survival. Frequent businesses transactions between MSMEs and other entities as well as MSMEs and consumers have boosted the circulation of foreign currency in the local market.
While financial policies around foreign currency and the banking system in the country limits participation of financial institutions in the MSME trading market and vice versa, there is great untapped potential for linking MSME economic activity with foreign exchange and development of financial institutions.
Access to finance remains a critical challenge for MSMEs, which compromises ability to capitalise, recapitalise, and formalise. Key issues to address in leveraging on the MSME sector for sustainable fiscal development include support of microfinance sector financially and technically, access to financial services by MSMEs, as well as capacity building of the sector.
The free trade agreement's elimination of inhibitive regulations will allow capital and information flow, attract greater foreign and intra continental investments, and provide a larger customer base for financial institutions.
African member countries will no longer have to individually struggle to mobilise funds and allocate capital but rather benefit from collective regulatory and resource frameworks that promote foreign currency exchange and revenues.
Employment opportunities
Sectors such as agriculture, manufacturing, and services are critical in sustainable development of many African countries.
These sectors also possess a significant employment potential, which currently sits under a blanket of poor financial, governance, and technical support and as such shrinking resources do not allow for employment.
In Zimbabwe, agriculture, manufacturing and services revenues contribute less that half of the country's total GDP and as a backbone of economic growth, require boosting.
The MSME sector employs over 60% of the country's productive workforce and contributes to over 50% of the country's GDP. However, employment, market productivity and revenue collected are suboptimal due to the high informality nature of the sector.
Free trade participation requires and promotes formalisation as well as allows the emergence of new markets coupled with subsequent increase in consumer base and job creation.
Reciprocally, the inclusion of MSMEs in the real economy should increase knowledge and technology transfer and revenue collection from both corporate and individual taxes.
Value chain opportunities
The MSME sector suffers from knowledge and skill deficiency which, when exacerbated by insufficient funding, results in homogeneity in markets, products and services.
The cost of value addition of products and services requires financial and policy support, which many businesses do not qualify to receive.
The business either sells raw products or imports end products.
Financing the processing of raw products not only increase the value of the products but also opens the value addition markets and industries thus increasing the value chain.
Free trade allows for access to investment that promotes innovative markets emergence, capacity and skills building, as well as provides strategies that better integration of local and regional chains into the global economy.
The implementation of the Africa's free trade has been met with ambivalence and cynicism as participating economies differ in capacity, power, growth potential and political will.
However, the MSME sector across the region stand to benefit from the agreement and as such policy makers ought to prioritise benefits of formalisation, access to finance and investment, knowledge and information transfer, employment and emerging market and revenues that accompany leveraging MSME development through this agreement.
Jaravaza is a policy analyst and writes in her personal capacity. These weekly New Horizon articles are coordinated by Lovemore Kadenge, an independent consultant, past president of the Zimbabwe Economics Society and the Chartered Governance & Accountancy Institute in Zimbabwe (CGI Zimbabwe). — [email protected] or mobile: +263 772 382 852.
Related Topics