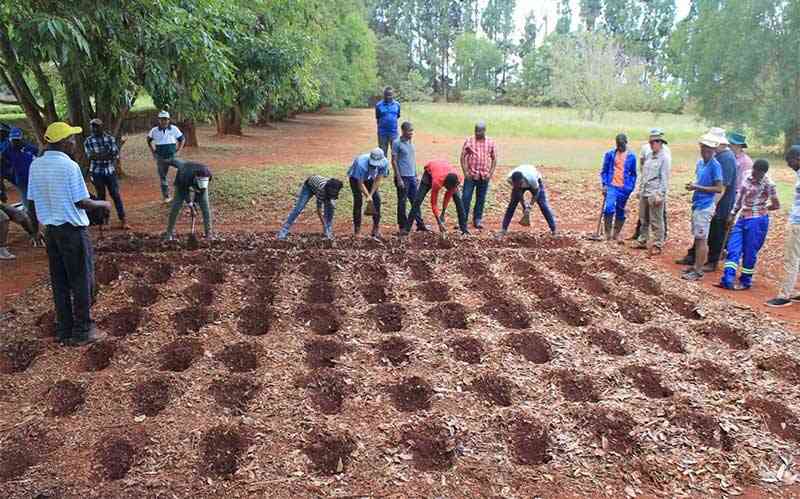 Government has implemented various farming preservation methods which include the Pfumvudza programme to mitigate the impact of climate change.
Pfumvudza is a concept of conservation agriculture that is designed to meet food security needs for an average household of six members over one year.
Speaking at a Zimbabwe Environmental Law Association (ZELA) training programme for journalists held in Mutare last week, Lawrence Mashungu, the climate change mitigation expert from the Climate Change Management Department in the Environment, Climate, Tourism and Hospitality ministry said Zimbabwe as a nation was doing what it could in order to contain the impact of climate change as mandated by the Paris Agreement.
"Programmes that were introduced by the government, like Pfumvudza, ensure that we have minimum soil disturbances, which leads to minimum emission of carbon dioxide into the air. So this is a mitigation measure which is happening nationwide," Mashungu revealed.
The government has also included issues of climate change in its National Development Strategy (NDS-1)
"NDS1 also talks on prioritising the mainstreaming of climate change, strengthening early warning systems, promoting climate smart technology as is the nation's mandate to combat climate change," Zela legal associate Michelle Chitando said.
Zimbabwe will attend the 27th Conference of Parties to the United Nation Framework Convention on Climate Change (COP27) in Sharm El Sheikh, Egypt next month.
The convention, which will be held from 7 to 18 November, comes at a time when the vagaries of climate change is posing a major threat to the country's agricultural sector.
COP27 is one of the most important international meetings on climate change which brings together world leaders and other stakeholders to push climate action and encourage the implementation of the Paris Agreement.
This year's conference will be running with a view to building on previous success and paving way for the future ambition to effectively tackle the global challenge of climate change.
The previous Conference of Parties, which was COP26, resulted in the Glasgow Climate Pact which moved to end fossil fuel subsidies and to phase out coal.
The talks also included commitments to slash methane emissions, stop deforestation and end financing for overseas fossil fuels.
The developing countries are hopeful that the promise of US$100 billion every year in climate finance will be fulfilled because it remains only partially fulfilled.
Government has warned that the country's weather will become increasingly dry in the coming years as climate change continues to worsen in southern Africa.
According to a 2019 World Bank report on Zimbabwe's agricultural sector, the country loses US$126 million per annum due to production risks largely associated with drought and other weather-related events.
A recent report by financial services firm, IH Securities, said since sub-Saharan Africa's agriculture was predominantly rainfed it was highly susceptible to climate change.
Follow us on Twitter @NewsDayZimbabwe
Related Topics