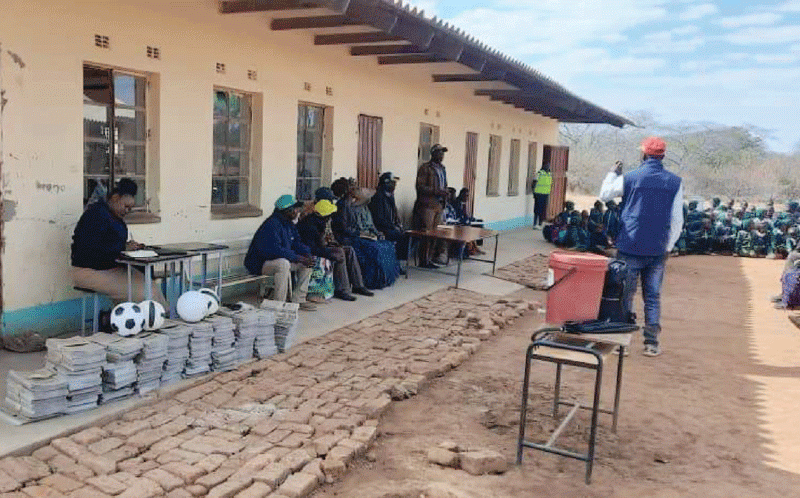 Fear pervades the peri-urban farming community of Matava in the Midlands Province's Redcliff Constituency on the eve of Zimbabwe's harmonised elections following a campaign allegedly anchored on coercion by one of the region's ruling party heavyweights.
Local Government minister July Moyo has been accused of using all tricks in the book to win the constituency he lost to former Redcliff undertaker Lloyd Mukapiko five years ago, including alleged vote buying.
Mukapiko was an MDC Alliance candidate when he defeated Moyo, a close ally of President Emmerson Mnangagwa and a Zanu PF 'Godfather' in the Midlands accused by corruption watchdogs of trying to use his financial muscle to win the constituency.
Moyo, who is a former Midlands governor and Zanu PF deputy secretary for administration, has a strong support base in Redcliff.
In his campaign poster for the failed 2018 election bid, the powerful minister boasted about dolling out money to fund over 12 projects, which he felt should give him an edge over his opponent.
He got 11 320 votes against his opponent's 11 739 in one of the election's biggest upsets.
Mukapiko and Moyo will square off again on August 23 for control of the constituency.
An investigation by The Standard in partnership with Information Development Trust, a non-profit organisation supporting investigative journalism in Zimbabwe and Southern Africa, revealed that coercion and intimidation have been added to the Zanu PF candidate's menu of unorthodox means to win votes.
The ruling party, with support from the shadowy Forever Associates Zimbabwe (FAZ), has created enclaves in the Redcliff Constituency, which is both urban and rural, that have become no go areas for the opposition such as Matava.
FAZ intimidates villagers
FAZ, an organisation linked to the Central Intelligence Organisation, has taken the lead in mobilising for Zanu PF ahead of Wednesday's elections with rural areas being its major targets.
The 'non-governmental organisation' has been accused of spreading false information that on voting day its agents would be at polling stations to register villagers' names before they vote.
Matava, which is located about barely two kilometres from Redcliff town centre in Ward 30, is a community of peri-urban farmers that were allocated agricultural plots following Zimbabwe's land reform programme two decades ago.
The majority of the beneficiaries are former liberation war fighters and retired members of the security forces.
At Matava 'shopping centre', an area dominated by brick and dagga tuckshops, menacing youths in Zanu PF regalia patrol the area.
"Most of the young men here are gold panners and they come from different areas across the province," said one of the shopkeepers.
"They identify themselves as Zanu PF.
"They have been recruited as Zanu PF agents to look out for enemies and they are very observant.
"Their duty is to identify any new faces in the area."
No go area for opposition
Matava has become a no-go area for the opposition, especially the Citizens Coalition for Change (CCC) whose candidate is Mukapiko.
Another villager also revealed that Zanu PF had made it clear to the voters that they should know where to cast their ballots.
The menacing youths at the shopping centre screen visitors and even try to recruit them to the ruling party.
A farmer in the area said there were brazen intimidation campaigns in the area with villagers being told that they would be monitored until voting day to ensure that they do not vote for the opposition.
"We have our village heads, who lead us and they will also be there when we go to vote on August 23," said the farmer, who requested to remain anonymous for fear of victimisation.
"The message is clear, especially for farmers and the miners, we are benefiting from government programmes (and, therefore, must for vote for the ruling party)."
Zanu PF officials in the area have set up WhatsApp groups to mobilise support for Moyo and Mnangagwa ahead of the polls.
Command rallies
Matava villagers are commandeered to attend Zanu PF campaign rallies with threats of unspecified action and they have also been warned that their activities will be closely monitored until they cast their ballots on August 23.
Villagers shared with this publication one of a chilling messages sent to the WhatsApp group by the Zanu PF secretary for administration in Ward 30 Elisha Jumo, who ordered people to attend Mnangagwa's rally over 100km away in Shurugwi that was scheduled for August 19.
Jumo ordered village heads to record names of people that were set to travel to the rally as a way of identifying those who would defy the order.
The villagers have been told that traditional leaders working with FAZ would do a roll call on election day and ensure that everyone votes for Zanu PF candidates, including Moyo and Mnangagwa.
"There is no reason for people not to travel to Shurugwi," Jumo wrote.
"I am asking all village heads to go back to the people and write all names of those who are going and send me the numbers.
"Send me the names of those who are not going including the reasons why (they are not attending the rally.
"Down with those who refuse to attend the rally because they are afraid to be identified by their friends from CCC."
Identifying enemies
A female farmer in Matava said the area was engulfed by fear because of the "terror" campaign by Moyo's teams and FAZ.
"This is a Zanu PF area and you can't dare speak of the CCC because the village heads keep records of ruling party supporters," she said.
"They know who comes in and goes out every day.
"These are resettlement areas and most of our leaders are ex-soldiers and they know how to track and identify enemies."
The Anti-Corruption Trust of Southern Africa (ACT-SA), an anti-graft lobby group based in the Midlands that is running an electoral corruption monitoring tracker for the 2023 polls, described the situation in Matava as deeply worrying.
"The villagers have been threatened with unspecified consequences if Zanu PF lost in the constituency," ACT-SA said in its latest monitoring report.
"The messages are also relayed through the village heads during community meetings.
"Village heads are also told to keep records of people coming in and going out of the area in case some of them may be from opposition parties."
Massive vote buying
In one of its reports on the election monitoring tracker, ACT-SA accused Moyo of massive vote buying.
"July Moyo is accused of massive vote buying through dishing out of church stands, cement, food, books and drilling boreholes.
"Moyo also launched a vote-buying programme through which he is giving books and food to schools," ACT-SA said.
"In addition to pictures, ACT-SA has a song sung by one of Moyo's supporters praising him for giving food, books, cement and drilling boreholes to the electorate in the Redcliff constituency."
Mukapiko said he had also been a victim of Zanu PF's aggressive campaign and was once forced to wear the ruling party's regalia.
"Redcliff Constituency is a peri-urban area with nine urban, two resettlement and three rural wards," the outgoing opposition MP said.
"Intimidation is common. Rural and resettlement areas are the most affected, but we have isolated cases in urban wards.
"Two weeks ago, a war veteran threatened to burn our branded vehicle and to harm me and my team.
"In another ward my personal assistant and I were forced to wear Zanu PF caps.
"In the rural wards, two of our agents were threatened with unspecified action.
"Some of our members are being denied entry into shops and bars especially in Ward 22 at Wozoli in Silobela."
Cameras in polling booths
Mukupiko said villagers were being misled that FAZ and traditional leaders would be able to monitor voters as they cast their ballots through cameras installed inside voting booths.
Zanu PF has also been accused of pasting their campaign posters at opposition supporters' homesteads and pulling down CCC posters.
"Voter intimidation has indeed affected our campaign in a big way," he said.
"We have failed to meet our people in Ward 30 where we were forced to wear Zanu PF caps.
"Some of our members and supporters have been told that their houses would be burnt down.
"Some agents were threatened with kidnapping before the elections."
Moyo denied accusations that he was engaging in vote buying activities and engineering violence against his opponents.
"We have never encountered any of them except when (Mukapiko) was found wearing a Zanu PF T-shirt and cap," the minister said.
"We do not denounce anyone in our campaigns.
"How can I buy 31 000 votes?
"(Mukapiko) was denounced by his president (Nelson Chamisa) recently when he was trying to denigrate President Mnangagwa and me during their rally.
"He was accused of failing to organise their rally and it went viral."
Moyo, however, confirmed that traditional leaders were actively involved in Zanu PF campaigns in violation of the law, which says they must be apolitical.
"We approach them as their children outlining our vision and a number of them are part of our structures," he said.
"But what I would not know is whether they threaten villagers to vote.
"We are preaching peace and non-violence in our campaign and that is what we are telling our supporters.
"So our traditional leaders are encouraged to report anyone who perpetrates violence."
Criminal abuse of office
Gift Ostallos Siziba, the deputy CCC spokesperson, said they were worried about increasing cases of violence and initimidation ahead of the elections.
"We have received these disturbing reports, particularly, these past few days before the elections that Zanu PF has been on a rampage, going door-to-door, to try and intimidate people, to get their details, illegally," Siziba said.
"Its clear intimidation, but it is also criminal abuse of office where people are using party or government institutions to try and get private information from the citizens."
In a recently released report titled: Political Violence and Compromised Institutions, the Zimbabwe Human Rights Monitors Platform said the environment across the country was not conducive for free fair elections.
"This reality is marked by a distressing prevalence of political violence and intimidation, which has become increasingly severe," the report said in part.
"Furthermore, there is a complete disregard for the rights to property, particularly in rural areas where individuals are subjected to violations without recourse."
Vivid Gwede, a Harare-based political analyst said villagers were being "forced, frog marched or bussed to attend rallies as has been the party's routine during elections."
Report to the police
Zimbabwe Electoral Commission (Zec) vice-chairman Rodney Kiwa said voter intimidation was a criminal offence.
"It is not in our purview to comment on such issues as they are of a criminal nature and should be reported to the police, but we have not received any complaints as Zec," Kiwa said.
"We would, however, urge people to report these acts to the police who have the constitutional obligation to act against such unlawful acts."
In a report released early this month, Human Rights Watch said Zimbabwe's elections were being held under a "seriously flawed electoral process" that does not meet global standards for freedom and fairness. The United States-based rights group said Mnangagwa's administration had adopted repressive laws to muffle dissent and was using intimidation and violence against the opposition.
Related Topics