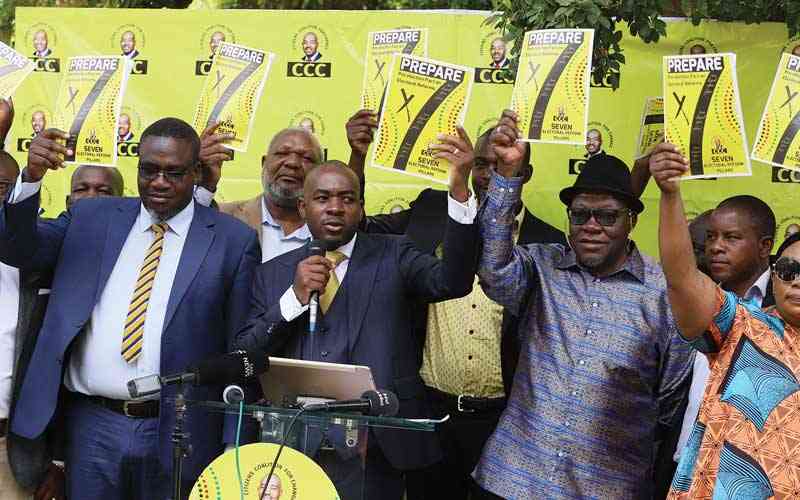 BY MIRIAM MANGWAYA/LORRAINE MUROMO
CITIZENS Coalition for Change (CCC) leader Nelson Chamisa claims his party has corrected past mistakes to ensure a clean sweep in this year's elections, but Zanu PF says the opposition leader is day dreaming.
President Emmerson Mnangagwa, who won the disputed 2018 election with a narrow margin has been endorsed as Zanu PF's presidential candidate and will likely square off against Chamisa in a second round of balloting.
Chamisa told The Standard in an interview that his time has finally come.
"The time is now. I am so excited about 2023. I am just so excited. I feel the energy, the change in the air. It's all over. It was delayed in 2018," Chamisa said.
"We did it but this time we're going to do it more and better. In 2018 we were under the (Morgan) Tsvangirai jacket. Now we have perfected our art.
"We are now standing strong and firmer. We have done very well; by-elections have proved that. We were just putting minimal effort but with that minimal effort we got maximum results."
Chamisa unveiled the CCC last year after his former ally Douglas Mwonzora snatched the MDC Alliance from him.
Chamisa has raised concerns over intimidation and physical attacks and arbitrary arrests of his supporters and senior party members and a ban of his rallies in what he said is a calculated move to frustrate the CCC.
In 2022, at least 20 CCC members were arrested on various charges with Zengeza West legislator Job Sikhala still behind bars more than 200 days after his arrest on charges of incitement to violence.
Responding to Chamisa's claims in a separate interview, Zanu PF spokesperson Christopher Mutsvangwa accused Chamisa and the CCC of being cry-babies, boasting that Mnangagwa had already won his re-election bid.
"President Mnangagwa is going to walk that election. CCC is delusional. I can't give advice to people that are delusional," Mutsvangwa said.
Since its formation, the CCC has been under criticism for its lack of party structures and methodology.
In August last year, CCC said it would not be goaded by critics calling on Chamisa to reveal his electoral strategies, party structures and policies ahead of the elections.
"All the towns have been run by the MDC since 2008, look at the mess they have created, the roads are nothing to talk about, and CCC is in charge of those towns for two decades," Mutsvangwa said.
"Have you seen Chamisa even for one day taking a picture with an investor or Mahere saying we have signed a contract for Harare City Council?
"Their job is to rant their mouths saying Zanu PF is bad while praising America. Finally, all they know is to get brown envelopes for them to denigrate their country."
Chamisa said his party would not boycott the election but was strategising behind the scenes to ensure that the poll was held under a level playing field.
"An election is like an exam and we need a syllabus and the voters' roll is like a political syllabus of an election. So you can't have an election where you do not know the syllabus, the prescribed text," Chamisa said.
"We know Zanu is so jittery and is in sixes and sevens but this is not about the party. It is about Zimbabwe. Zimbabwe must have credible elections and credible elections require a credible voters' roll."
Human rights defenders have red-flagged escalating political violence in the run-up to the polls and ruled out the possibility of holding this year's elections under a free and fair environment.
Zimbabwe Peace Project (ZPP) executive director Jestina Mukoko said all signs pointed to a violent election.
"There has been a lot of violence and hate language. Hate speech breeds political violence," Mukoko said.
"We have provisions in the Electoral Act that speak to the sanctioning of perpetrators of violence, but we have not seen that. As it is right now, there are some who are doing what they deem fit because they know there won't be any consequences."
Political analyst Vivid Gwede said democratic space was shrinking further as there was missing political will to implement the necessary reforms.
"There is still time to implement key reforms for the elections to be held in a free and fair environment," Gwede said.
"Unfortunately at the moment laws are being passed which have the effect of closing the democratic space. In addition to that, opposition voices are being silenced."
Zimbabwe has a history of disputed polls marred by polemical violence with the 2008 run-off election being cited as one of the worst.
Related Topics