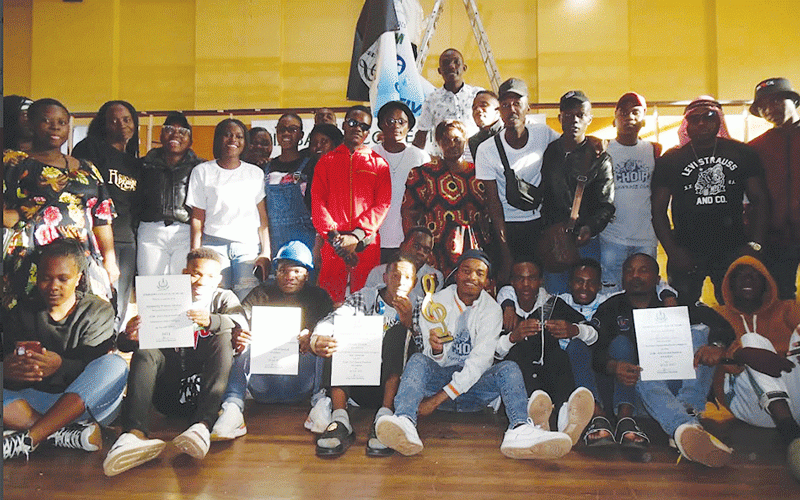 ZIMBABWE College of Music (ZCM) executive director Rachel Jera-Chigwanda said artistes and music have the potential to educate youths and play a critical role in the fight against drug and substance abuse.
Jera-Chigwanda made the remarks in an interview with NewsDay Life & Style on the sidelines of the choral music festival organised by ZCM under the theme Fighting Drug Abuse, Promoting Substance Use-Free Zimbabwe in an effort to fight drug abuse.
The festival that roared to life last week with performance from local primary and high schools before shifting focus to churches and communities and ending in style over the weekend.
"Drug abuse among the youths is a spreading cancer in our society and must be taken seriously. The youths are the future leaders so they must stay away from drug use if they are to be successful in pursuit of their different careers. Drug use has been noted to contribute to the downfall of quite a large number of youths," Jera-Chigwanda said.
"In appreciating that artistes can play a pivotal role in raising awareness against the practice (drug abuse) and to promote healthy habits among youths this year we aligned our festival's theme (Fighting Drug Abuse, Promoting Substance Use-Free Zimbabwe) bearing that in observance of the growing trend of drug and substance abuse among youths."
Jera-Chigwanda said drugs were killing many talents, even in the music industry.
"Music is empty if it does not impact society. Artistes across genres sing not just to entertain, but to inform and educate. If artistes and citizens at large join hands for awareness campaigns, I believe this will go a long way in the fight against rampant drug abuse within communities by the youths," she noted.
At the festival, a 60-member Heavenly Praises choir from Mufakose emerged winners under the Community Choirs category after scoring 95%, while Majestic Choral and Ruwa Choral came second and third with 90% and 86%, respectively.
Heavenly Praises choir pocketed US$500, a floating trophy and a certificate for their efforts, while Majestic Choral and Ruwa Choral received US$400 and US$300.
Thulani Zwana, the Heavenly Praises choir director, told NewsDay Life & Style that teamwork propelled them to victory.
"As Heavenly Praise choir it is all about teamwork, in everything we do this has been our strength and today it did the magic for us. Also as noted by the adjudicators, we had a good tone, even the interpretation of the song we performed made the magic for us," he said.
"In our technical team we have people with different knowledge and our executive is supportive as it avails funds for everything that we would want to do as the choir. This goes a long way for us."
Under the church category, Seke Bac Church choir proved its prowess against five other choirs to amass 88% and pocketed US$500, plus a trophy and a certificate.
For being adjudged second and third with 85% and 84,5% respectively, St Faith Budiriro Anglican and AFM in Zimbabwe Kuwadzana Central walked away US$400 and US$300 richer plus trophies and certificates.
For the ZCM's Directors Award, Heavenly Praises choir director Zwana was adjudged the Best Choir Conductor under the Community Church category while Seke Bac Church choir director Munashe Chidzambwa was the Best Choir Conductor under the Church Choirs category.
John Wesley Church choir and Seke Bac Church choir were adjudged the ZCM Director Awards winners for the performance of the own choice song.
According to the adjudicator's sheet, choirs were judged on ensemble technique that is choir cohesion, tempo adherence, rhythmic accuracy, ensemble diction (regarding the three languages, Ndebele, Shona and English) as well as breathing and support.
The choirs were also assessed for sound and tuning, that is balance and blending (choir sections, trio section),intonation, support and control, appropriateness of timbres, tone quality, consistency, vowel placement and unity.
Some marks were also awarded for musicality, which is mood divisions, phrasing and expression, dynamics, improvisation, artistry style and song interpretation as well as communication and involvement (performance).
The festival's head adjudicator Christopher Tamburai said although there were ultimate winners from the two categories, they were pleased that all the choirs (church and community) that performed at the festival sang in accordance with the notes.
He urged choir directors in all the categories to ensure there is a balanced approach rather than for them to only concentrate on their favourite note which can be soprano, alto or tenor.
Follow us on Twitter @NewsDayZimbabwe
Related Topics