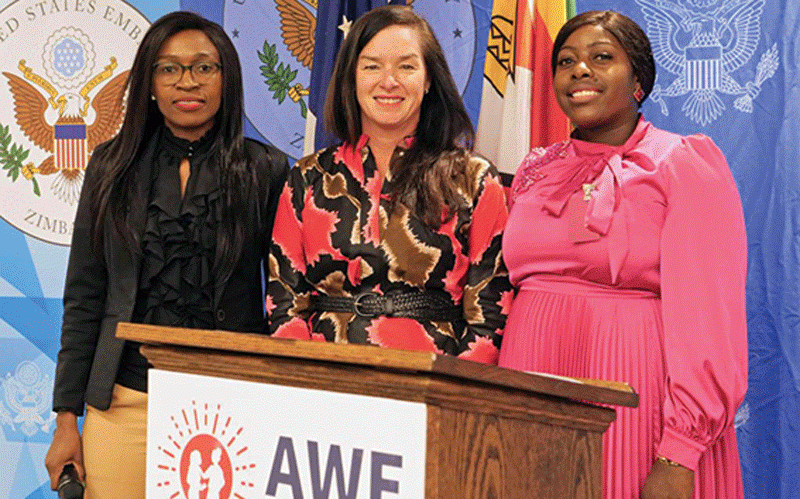 THE United States embassy in Zimbabwe says it is escalating efforts to improve women's skills to create an inclusive economy which benefits everyone.
This comes as its partnership with Purse on Point Africa saw close to 40 women from Academy for Women Entrepreneurs (AWE) graduating in Harare on Monday.
US embassy charge d'affairs Elaine French told delegates at the graduation ceremony that supporting women entrepreneurs in Zimbabwe was important because it paved the way for broadening and promoting equitable access to resources and opportunities.
"Women in business face a plethora of challenges. We are stepping up our efforts to strengthen their skills to be competitive, perform better and build an inclusive economy that works for everyone," French said.
"The mentorship under this programme along with interactions with US-based experts will help improve private sector relations with the people of Zimbabwe and in the long term lead to reforms necessary for a strong inclusive economy."
In 2023, 100 women were accepted into the programme.
Pointing out that the acquired knowledge will lead to business growth, increased income generation and job creation, French said: "Supporting women entrepreneurs in Zimbabwe is important to the US embassy in Zimbabwe to broaden and promote equitable access to resources and opportunities and facilitate economic reform."
AWE programme co-ordinator Thubelihle Ndlovu said the programme provided women with practical tools they needed for economic empowerment.
"The Academy for Women Entrepreneurs is an inclusive learning community that provides women with the practical tools they need for economic empowerment. AWE provides access to educational resources and helps women to form the necessary networks to achieve success," she said.
"In 2023, the AWE programme in Zimbabwe received over 900 applications and we only accepted 100 women from across Zimbabwe. Thirty-eight from Harare graduated today (Monday), and the rest who will graduate next week are from Bulawayo, Mutare and other smaller towns."
At the ceremony, Nyashadzashe Maphosa and Noreen Nyoni were awarded US$1 000 seed funding for exceptional pitch submissions.
Four winners from Bulawayo and Mutare will be announced next week.
The women are expected to compete for United States African Development Foundation funds which ranged from US$10 000 to US$25 000 in previous years.
Related Topics