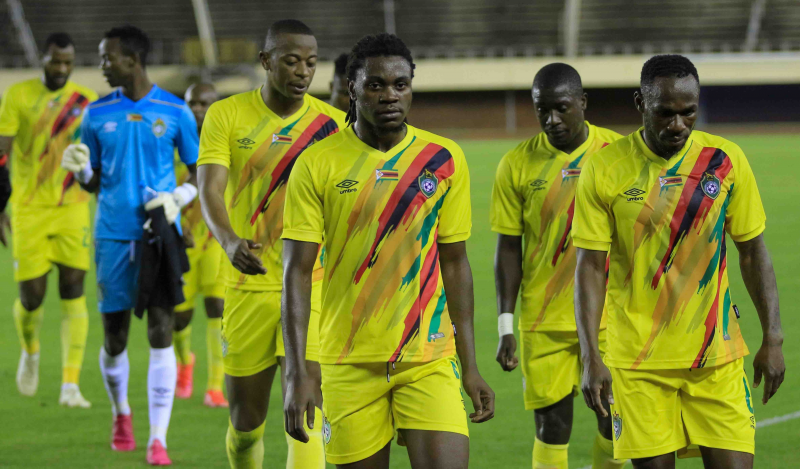 The Warriors are likely to host Nigeria in Botswana for their 2026 World Cup home qualifier after Zifa Normalisation Committee chairperson Lincoln Mutasa yesterday had "positive engagements" with Botswana Football Association officials.
Zimbabwe will be forced to play the game outside the country after local stadia were condemned by Caf.
This is despite assurances by Youth, Sport, Arts and Recreation minister Kirsty Coventry that renovations at the stadium would be fast-tracked to ensure that World Cup games are played at home.
Zimbabwe are in Group C of the 2026 Fifa World Cup African qualifiers together with Nigeria, South Africa, Benin, Rwanda and Lesotho.
Zimbabwe begin their campaign away in Rwanda on November 13. A week later, the Warriors host the Super Eagles of Nigeria in Botswana, according to Mutasa.
Speaking to NewsDay Sport yesterday, the former Dynamos chairperson said Botswana had agreed to offer Zimbabwe a facility to host Nigeria.
"We have spoken with Botswana and they are agreeable to helping us. It's quite near. I'm not sure if Beira (Mozambique) is available, we are still checking, but definitely we have spoken to Botswana and the engagements have been positive," Mutasa said.
Zifa have until today to provide Caf with the venue they will use for this match.
Caf last week released the list of stadiums across the African continent which will host the first two matches of the qualifiers.
Botswana has one facility approved by the continental football body — the Obed Itani Chilume Stadium in Francistown, while Mozambique also has one — the Estadio Nacional do Zimpeto in Maputo.
Mutasa, who surprisingly appears to be ignorant that all local stadiums are banned from hosting international matches for this match, is still hoping that Zimbabwe will be given a reprieve to host the match on home soil.
He said he was checking with the Sports and Recreation Commission, the Harare City Council as well as the Bulawayo City Council to see if the National Sports Stadium, Rufaro Stadium and Barbourfields Stadium, could host the Nigeria match.
All the three stadiums were condemned for failing to meet international standards.
"The letter from Caf says we are supposed to submit our choices by September 8, which is tomorrow (today), that is why we are enquiring whether the local stadiums would be ready. They want a name of a stadium we are going to use so we can put a local stadium as well as another outside the country.
"We have written to the SRC to try and see whether the National Sports Stadium will be ready. If it won't be, we are also looking at approaching the Harare and Bulawayo city councils to see whether Rufaro and Barbourfields will be ready. If all of those stadiums are not ready, then we will have to go to a neighbouring country," Mutasa said.
The National Sports Stadium was condemned in 2019, and is currently closed for use by local clubs due to water reticulation system failure.
Toilets and ablution facilities are a mess due to the unavailability of water, while the playing surface is also suffering from the effects of overuse.
Rufaro Stadium, closed in 2019 for renovations, is still to be opened.
Major works have been done to spruce up the facility, but it is not yet ready for use.
Barbourfields was also condemned some few years ago, and its owners never bothered to correct the areas that were flagged off by Caf and Fifa.
Caf have demanded installation of bucket seats made of unbreakable and non-inflammable material, modern electronic turnstiles and automated systems, and the setting up of a functional venue operations centre with a good overview of the stadium equipped with CCTV monitors for security purposes at the National Sports Stadium.
Caf also demanded the refurbishment of changing rooms and the upgrading of the B Arena in line with Caf training field infrastructure requirements.
But three years on, very little has been done by the government to renovate the stadium to meet the Caf and Fifa demands despite Coventry's assurances.
"There has been ongoing works (at the National Sports Stadium). The electronic ticketing system is now in the country waiting to be installed," said Coventry on July 11.
"We will continue to have the conversations with Fifa, the guarantees of what is happening, which has not been made public, will go to Fifa through the SRC and we remain fully committed to seeing and ensuring that we are playing our World Cup games at home."
After the Nigeria match, the Warriors' World Cup qualifying campaign will resume in June next year with another home match against Lesotho on June 3.
Related Topics