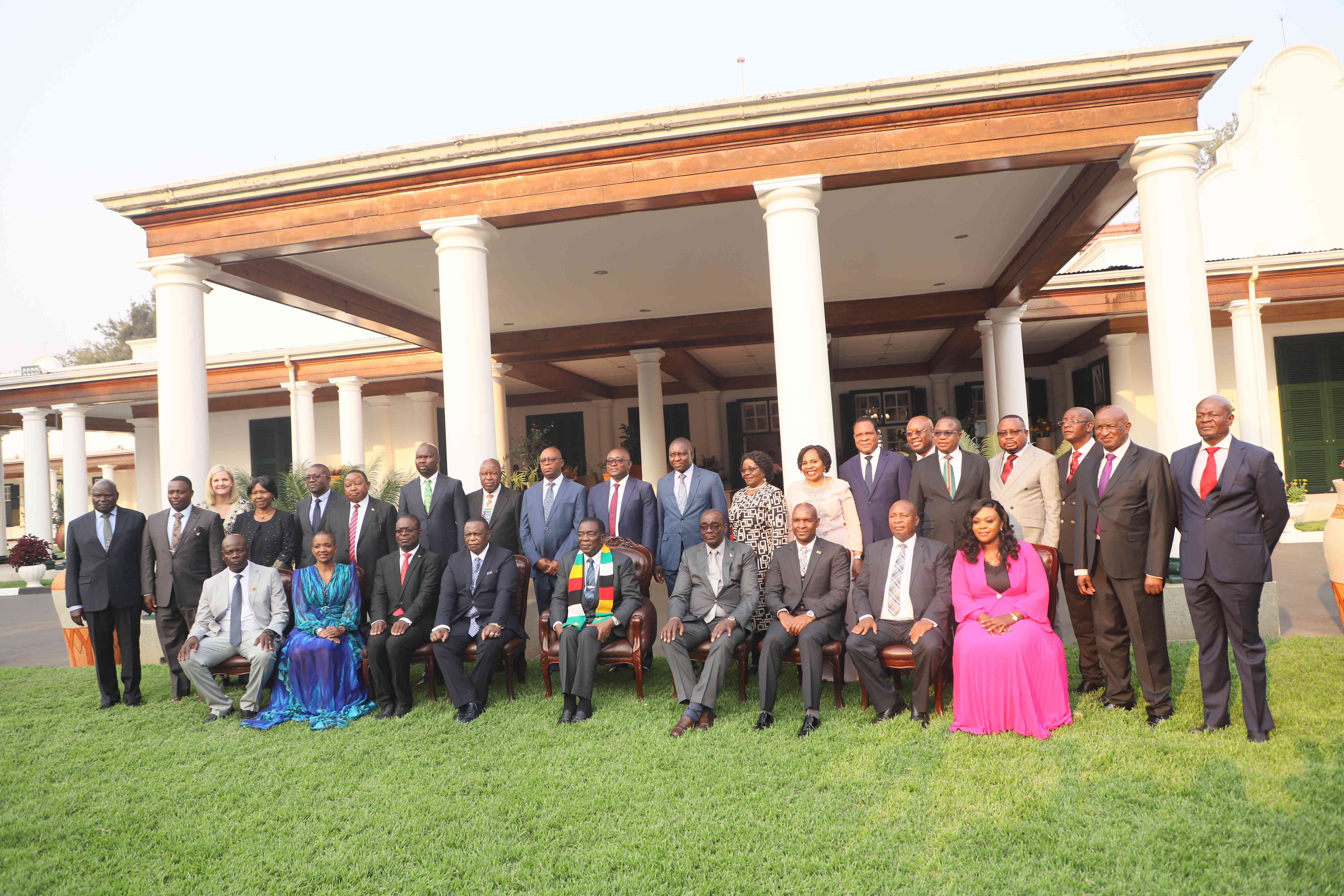 PRESIDENT Emmerson Mnangagwa this week appointed a 26-member bloated cabinet as he increased the number from 22. Some new ministries could have been made departments, especially the Skills and Audit and Veterans of Liberation Struggle Affairs portfolios.
Mnangagwa swore in 19 deputy ministers, including his son and nephew, drawing fierce criticism from some Zimbabweans and international media.
These positions come with awesome perks that include top-of-the-range vehicles and housing loans, all at the taxpayers' expense.
A local online publication described the cabinet as "more like a reshuffle, with a sprinkle of family and old failures".
Mnangagwa won the tightly-contested elections with 52,6%, beating his strongest rival, Citizens Coalition for Change's Nelson Chamisa, who got 44%.
Chamisa has rejected the presidential election results, which he described as a "gigantic fraud".
Mnangagwa is under pressure to rebuild an economy hit by high unemployment, currency volatility, high inflation and lack of foreign direct investment (FDI). To do this he must appoint competent permanent secretaries, who are the engines of the ministries.
The health system is in intensive care and the education system is in a state of emergency. A lot is expected from the ministers, as Mnangagwa serves his last term and aims to leave a legacy by which he wants to be remembered for.
The poor have been suffering, unable to receive basic health care because public hospitals and clinics have been run down. Many are dying at home, on the streets and in public hospitals, which have been described as "death traps".
The new Health minister, Douglas Mombeshora needs to prioritise provision of drugs, health care infrastructure and equipment, ensuring access to quality medical services for all Zimbabweans.
Quality health care must be affordable to the majority of Zimbabweans. We need refurbished hospitals, new beds, defibrillators, aesthesia machines, patient monitors, sterilisers, electrocardiogram machines, surgical tables, clean blankets, electrosurgical units, surgical lights, radiology equipment, dialysis machines, medical devices for cancer treatment, but to mention a few. But without the right medical staffing levels, the country is stuck in the problems. So, the issue of remuneration of medical staff is key.
The two education ministers, Torerayi Moyo and Amon Murwira, must focus equitable access to quality education, curriculum reform and investment in teacher training to empower the youth with the skills needed in a rapidly changing world. Finance and Investment minister Mthuli Ncube must chart a prudent fiscal path, fostering an environment conducive to both local and foreign investments.
The cumbersomeness of the registration process is no secret. So is the fact that the country needs to improve the ease of doing business if it is to be competitive on a global scale. Sithembiso Moyo must convince industry it has a new champion that will push for policies to resuscitate the ailing manufacturing sector and grow it. She must work towards promoting entrepreneurship, simplifying business regulations, and encouraging innovation to foster economic growth.
All this without sustainable energy sources will come to naught.
The ministers of Energy (Edgar Moyo), Transport (Felix Mhona) and Mining (Soda Zhemu) should collaborate on sustainable development strategies, prioritising renewable energy sources, improving transport infrastructure, and promoting responsible mining practices to harness Zimbabwe's vast natural resources.
July Moyo is not new to the Ministry of Public Service and Social Welfare.
Public service reforms are essential for efficient governance and he must also introduce social safety net programmes to protect vulnerable groups.
In the digital age, ICT minister Tatenda Mavetera should drive connectivity expansion, bridging the digital divide and promoting cybersecurity.
Agriculture minister Anxious Masuka must ensure food security through modernising agriculture practices. A1 is playing a critical role in many developed countries.
The National Housing minister, Daniel Garwe must prioritise affordable housing. He must explore innovative cheaper housing designs. Information, Publicity and Broadcasting Services minister Jenfan Muswere has said he will work closely with all media players — private and public just like his predecessor Monica Mutsvangwa did. Muswere has to honour his pledge.
In all this transparency, accountability and inclusivity is key.
Ministers must engage in open and constructive dialogue with stakeholders, including civil society, trade unions and the private sector. The cabinet must also prioritise social inclusion and address issues such as gender equality, youth unemployment and poverty alleviation.
Dealing effectively with corruption is paramount. Corruption saps resources, erodes trust and impedes progress. It's a cancer that keeps taking, making the people get poorer. Mnangagwa has to earn people's confidence and the only way of doing this is by delivering on his promises made in 2017 when he came into power.
Related Topics