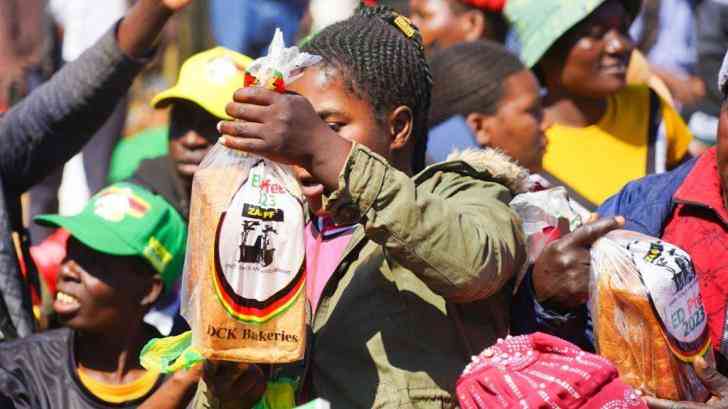 AS the most patriotic citizen in this country, Muckraker joins the world in celebrating Emmerson Mnangagwa for renewing his lease as the owner of the country for the next five years.
Speaking after his emphatic 52% win, he told detractors that he had won the election cleanly, a statement that was met with giggles across town at the Zanu PF Shake Shake headquarters.
"I did not conduct these elections. I was also a participant. I am so happy. The election was run transparently, fairly in broad daylight," he said.
This will surprise voters in areas such as Glen View, who had to wait until past midnight to cast their votes.
One was immediately reminded of a statement by Nelson Chamisa two years ago. He said: "That brother of mine who likes wearing a scarf [Mnangagwa]… Mugabe would at least confuse people with English, but this one, he can't. I can beat him in broad daylight".
Clearly, the scarfed one was listening and decided to do it by night.
Best cook!
Following the inauguration, it was naturally time to eat and drink on behalf of the nation. A dinner was announced at State House, where the who's who imbibed drinks and all sorts of grand cuisine.
According to the Herald, the paper that has been reporting nothing but facts for the last century, the best food on display was the stuff cooked by the Mother of the Nation.
Said the alleged newspaper: "Mouth-watering traditional dishes were prepared by 2023 provincial winners of the First Lady's traditional meal cookout competition. The women and men left guests, including foreign dignitaries, licking their fingers with their sumptuous meals".
We thank heavens for the purported election. Had the opposition somehow won this election, we were going to be denied five more years of being told about the kitchen expertise of our National Mother. We thank the Zimbabwe Electoral Commission (Zec) for making sure we are not denied such glorious news coverage.
Biggest winners
Still on the election, Muckraker wishes to congratulate the best winners of the poll; suppliers of fried chicken and fizzy drinks. During the campaign, everywhere you went, people left Zanu PF rallies with their bellies full of fried chicken and their throats well-watered by fizzy drinks. Congratulations to these companies for a good bit of business.
Also winning were the country's favourite revolutionaries, who have spent the last couple of weeks posting their celebrations on Instagram and rubbing it into the faces of losers who were hoping to see the back of them. Watching ZBC, what a wonderful scene it was to see revolutionaries like Passion Java, Mike Chimombe and Scott Sakupwanya dancing themselves into a standstill at the ancient stadium.
The likes of Java and other such jesters are now the recognised owners of the party, and not those 'unwashed' war vets and cotton farmers.
Did the entire nation not cheer loudly after it was announced that "Mbavha 4 ED" (Thieves 4 ED) were in attendance at rallies?
Which self-respecting thief would not celebrate if it has been announced to the nation that we have another five years of clownery and looting?
Surprise!
Speaking at a dinner to celebrate a resounding 52% win, Vice-President Constantino Chiwenga shocked even himself when he made a surprise announcement.
"Under (President Mnangagwa's) leadership Zimbabwe is far more united despite political differences fomented by our detractors, we thank him for this spirit of oneness he has thrust upon us," said VP Chiwenga.
Even Mnangagwa himself was shocked to learn that he is a unifier.
Just a few hours before Chiwenga's claims, Mnangagwa had delivered a speech that read like it had been written by a prehistoric relic. Besides, why preach unity when it is far easier to taunt and mock your opposition?
Kembo Mohadi, who has been on temporary leave as the State VP to give him time to make a few calls to local beauties, would not be outdone. He said: "For the first time in the history of our nation, Zimbabwe has become a mature democracy."
At that point, laughs echoed all around the tent.
Of foreigners
We see Fikile Mbalula, the secretary-general of the Zanu PF party branch in South Africa, also known as the ANC, has been celebrating long and hard since Zanu PF coasted back to power.
Meeting his Zanu PF friends this week, he could barely hide his delight. He said: "We are very happy that Zanu PF has emerged victorious here in Zimbabwe because the victory of Zimbabwe signals one thing, the defeat of puppets; it's signalling one thing, the defeat of imperialists puppets (on) our continent.
"The will of the people must be respected, South Africa does not run Zimbabwe and the same as Zimbabwe cannot run South Africa and we respect everybody. The ANC subscribes to the sovereignty of countries. The ANC is against regime change agenda," he added.
Of course, these statements were welcomed by Zanu PF. The party hates it when foreigners pronounce themselves on Zimbabwean politics.
That is, unless, of course, those foreigners are interfering on their side.
Tit for tat
There were no prizes for guessing how the opposition has reacted to the ANC man's support of their friends in Zanu PF. "Mbalula has lost his mind," said Promise Mkwananzi, the spokesperson of the CCC.
"He was given money to do the bidding in the region in their futile attempt to reverse the Southern African Development Community (Sadc) report that condemned the sham election." Of course, if Zanu PF is allegedly paying its friends to speak on its behalf, we patriots have no problems in encouraging the CCC to find their own interfering friends. They need not look far.
In South Africa, the opposition Democratic Alliance came out to strongly speak out against the ANC and Zanu PF.
We are sure that Zanu PF will, likewise, soon accuse the DA of being paid by the CCC to pick a side in the Zimbabwe circus.
Whiling up time
It has been a tough week for Nelson Chamisa and his party. After being out-cheated in the election, some know-it-alls are shouting from the fences, telling the party that they should have prepared for all the rigging, violence and so forth.
The party itself has been threatening boycotts and telling the nation that Sadc will come and rescue us with a new election.
After promising their supporters that they have an anti-rigging mechanism, and after some of their allies told us they would be able to count the "real" votes within six hours, the opposition and his friends were left only with one option this week: spend days just marking the register of the number of high profile guests who turn up at the inauguration.
At least that was a consolation prize.
Related Topics