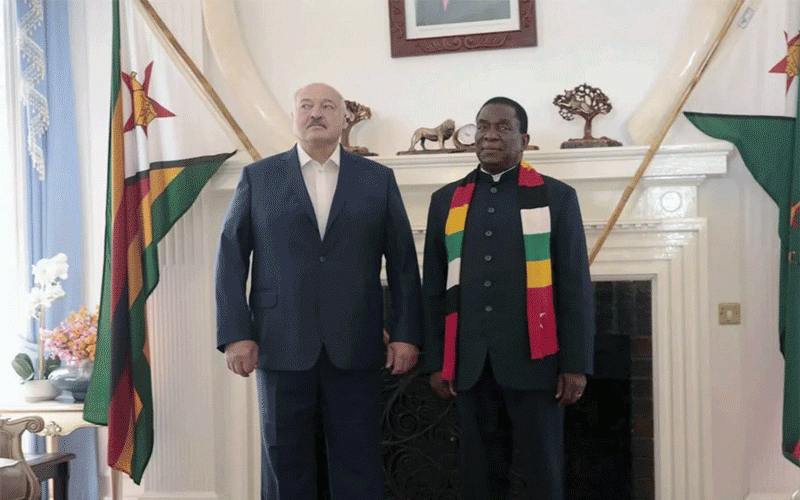 The nation was in a celebratory mood throughout this week as the country's re-engagement policy bore fruit with the arrival of one of the world's most well-known leaders. That he is well-known for stealing elections and shooting people is neither here nor there. He is well-known, full stop.
Aleksandr Lukashenko, the owner of Belarus, arrived in the country to see our own local owner, President Emmerson Mnangagwa. During their meetings, they exchanged notes on areas of mutual interest, such as how to listen as little as possible to one's own people, because poor people are generally annoying.
Lukashenko came bearing a lot of gifts, anything from tractors to election advice.
"Please, don't trust liars. There are no miracles. Good success and happiness can only be achieved through hard daily work. I'm sure that, in the election, you will make the right choice," Lukashenko said.
This was some shocking advice from a guest we had hosted with respect. Surely, if we are to take his advice and refuse to vote for liars who promise heaven on earth, we would be left with no candidates.
'Outposts of tyranny'
It is no surprise that there are a lot of enemies unhappy about Lukashenko visiting one of the most important countries in Africa. Some Western diplomats even went to the media to complain that they had not been invited to the State House to eat Belarusian bread and so forth.
Surely, you cannot impose sanctions on a leader and then expect them to feed you. Besides, do they think we have forgotten? Only a few years ago, the Americans wrote a long angry report that described Belarus and Zimbabwe as some of the world's "outposts of tyranny".
The Human Rights Watch, which watches human rights violations only in countries that the West does not like, also said in one report that Belarus was a "zone of repression".
"Over the past year, Belarusian authorities kept up a systematic and widespread crackdown on civil society and dissent, forcing more civic activists, journalists and other critics to flee the country," the organisation said.
Muckraker once read that Lukashenko arrested over 35 000 people during protests. This is exactly why he is our friend. How else can we learn how to efficiently incarcerate so many people at once?
Disappointing ranking
The latest Corruption Perception Index has been released, and the results are hugely disappointing.
According to the report, which is released every year by Transparency International, a boring NGO, Zimbabwe is number 157 out of 180 countries in terms of how people view the country to be. The bad news is that we are still being beaten by small countries like Somalia, South Sudan, Equatorial Guinea, Burundi and Comoros in terms of stealing. The good news is that we now beat Nigeria, which some think is the poster child of thievery on the continent.
It is clear that we need to work a lot harder. We cannot be beaten so easily by all these countries. We have professionals among our ranks who are clearly not pulling their weight. By next year, we should be topping this chart. We should steal more and stop acting like amateurs.
Eat in silence
Still on this report, the local chapter of Transparency International Zimbabwe said the latest corruption index shows that we need more effort to fight corruption.
The boss of the outfit, Tafadzwa Chikumbu, was quoted as saying: "The Government of Zimbabwe should address corruption holistically and address threats that corruption poses to peace and security".
He went on: "Anti-corruption agencies, including Zimbabwe Anti-Corruption Commission, National Prosecuting Authority and the Zimbabwe Republic Police, and other oversight institutions, must have sufficient resources and independence to perform their duties."
Some people should be careful what they wish for. If we start investigating corruption in the Zimbabwean NGO sector, the rot that comes up would make people at Jongwe Headquarters green with envy. Can you NGO people just eat in silence, please?
Noise over Tshinga Dube
There was some noise this week after it was announced to the nation that one of our longstanding patriots, Tshinga Dube, had been appointed to the board of the National Railways of Zimbabwe. Some are saying that at 81, he should not take up such a post. He should allow younger comrades to also eat.
"I don't work on my feet, but I use my brains, and my brain is still stable," Dube was quoted as saying.
Felix Mhona, the Transport minister, came out in support of the appointment, saying: "It is surprising that some people from outside the country are concerned with his appointment while overlooking what he is bringing to the organisation. Cde Dube served as a board member at CMED and he will come with great expertise. He is fit and has the experience."
Clearly, the record of CMED as a successful parastatal is there for all to see. That the Auditor-General regularly flags corruption and theft at the company is neither here nor there.
In fact, this is the sort of experience the country needs at such parastatals.
UK learning from Zim
Muckraker wishes to congratulate the people of Britain for learning from Zimbabwe. As strikes spread across the muddy island this week, some British leaders proposed a law to ban such unpatriotic action.
"Under the Bill, some employees, including in the rail industry and emergency services, would be required to work during industrial action — and could be sacked if they refuse," according to one report by the British Broadcasting Corporation, which is the equivalent of our own widely trusted ZBC.
It should also be remembered that the United Kingdom owner is also coming up with laws to make it illegal to hold "disruptive demonstrations", the same sort of discipline we have been sanctioned by Britain and her allies for imposing in Zimbabwe. All this shows how well Zimbabwe is leading the world.
Only recently, we came up with a law to make it illegal to be unpatriotic if you are a doctor or a nurse. You are not allowed to strike for a long period. You are only allowed to be angry about poor pay for a couple of days, and we expect you to be back at work soon after.
There was a lot of brouhaha over this law from the usual quarters. Now we wait to hear what they will say now that Britain is copying us.
Related Topics