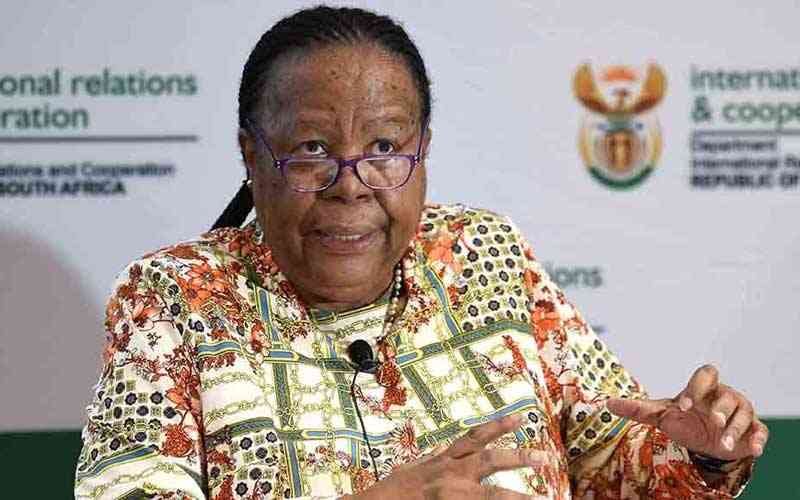 This week Russian foreign minister Sergei Lavrov visited South Africa and was warmly greeted by his counterpart Naledi Pandor. The purpose of the visit is to host a "friendly" display of naval exercises with Russian warships off the coast of Durban. Pandor reminded audiences that South African sovereignty will not be questioned, and "she" (the country), has the right to engage with any foreign government without dictation from the West.
Coated words of unsociability while embracing the enemy of the Western world will only serve to hark back at this southern African nation. Pandor is making a very bold statement which is likely to be viewed as audacious by Western governments. Ukraine ambassador to South Africa Liubov Abravitova was quoted to have said that she could not comprehend why South Africa would conduct such exercises with "an army of rapists and murderers". What an incendiary environment for the US Secretary of the Treasury, Janet Yellen to arrive under, as she landed in the country on Tuesday?
The "Scramble for Southern Africa" is afoot. South Africa and its neighbours have mostly united to state they will maintain a neutral position in the war that Russia has initiated against Ukraine. Russia knows the reasons all too well. Russian arms and Russian support are historically laid in the pre-independence support of most southern African countries.
The ANC and the former Soviet Union have ties going back almost 100 years, and support came in the form of military training as well as weaponry and military aid. So how do you forget or condemn the peoples of a nation that have supported you in your plight to win independence and the right to govern your own and appease those peoples that colonised your country?
The answer to that question is a code that has yet to be deciphered by many an African foreign secretary, or government because at the end of the day, African nation states are beholden to something, and the carrot and stick is always dangling from somewhere else.
The West doesn't respect our right to self-governance and the East wants to "use us" in this geopolitical feud. The leaders of our continent want their populations to advance, to achieve and to create the factors for economic empowerment, but always at the cost of support or pledges at the United Nations Conventions that do not hear our voices but only record and log our abstentions.
South Africa and its neighbours need to be mindful of one important, significant factor and this is that Russian President Vladimir Putin is a moral-less compass swinging to capture and kill anything in his righteous-minded path – power grabbing, and corruption. The tides of time remind us of such creatures of leadership, as they rise and fall, it's the cascade that is always comparable to others of their ilk.
Africa owes its loyalty to its liberators without doubt, but not its future. The chords of dependence must be severed when the moral integrity of who you are dealing with places the future of your people under duress.
It is a quote from American President Ford who said, "history and experience tell us that moral progress comes not in comfortable and complacent times, but out of trial and confusion". Ford inherited the presidency after the infamous "Watergate" scandal of Nixon and questioned his specific next steps. Those specific steps that South Africa takes are where the moral interrogation must take place. Can it endure or survive the scathing back-lash of the Western world, under its current economic impairment while the impact of Russian invasion is affecting the world's poorest? Can it justify the relationship to a questioning international arena without strain or intimidation?
I have admired Pandor and her career for a long while; she has an impressive record of service and has been a six-time cabinet minister. She is highly articulate, a primed intellectual and seasoned politician who is in command of the media. Not much gets past her office. Pandor commented last year on South Africa's relations with the US and Russia. She mentions the tones of dialogue at an interview to quote: "The tone of South Africa's rebuke of the United States is very different from the tone that we hear even with the Russian invasion of Ukraine. The principle may be the same but the tone of when the US went into Iraq, for instance, was extremely sharp and clear from South Africa, where it seems to be more muted with Ukraine-Russia".
Taken into context, Pandor refers to the way US conflict operations remain unquestioned; relates to the damage of its absence of accountability which it felt was not required yet the US demands from other lesser economic powers, and I suppose she imagines in her patriotism that she is defending southern Africa, and particularly her own country's policy and stance. Yet I offer a reminder of another famed author who said that "crime is contagious. If the government becomes a law breaker it breeds contempt for law: it invites every man to become a law unto himself: it invites anarchy". Putin's Russia cannot be condoned, and if you didn't support the US in its invasions of Iraq then do not make the mistake of thinking that the arms of Lavrov that embrace you are not contaminated with the destruction of more than Ukrainian lives. Human freedom is at stake, democracy is at stake, and South Africa's position as an influencing nation will be challenged in this frosty scramble if our politicians' reasoning does not overcome their overwhelming reverence to historical ties.
While the moral compass swings, and naval exercises become exhibitions, the ceremony exposes our insecurities. Janet Yellen will likely remind Pandor that her words will cost her country dearly.
Related Topics