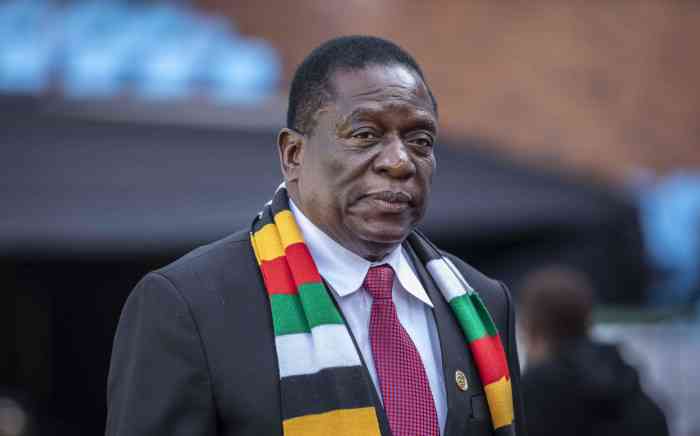 YOUR Excellency, my take on the national state of affairs is that your Presidency has symptoms of post-traumatic stress disorder.
It is under the weather following the airing of the Al Jazeera exposé Gold Mafia.
It has long been apparent that your promise to save the Zimbabwe citizenry was a mission impossible.
Even an elementary observer can conclude that investment and development were unattainable, given the attendant corruption and political violence.
Methinks there have been portentous indications that your Presidency was destined to gather more chaff than wheat.
It is common knowledge that investors frown upon environments that are fraught with corruption and politically-motivated violence, as did Africa's richest man Aliko Dangote.
Given the trend of acquittals of the Zanu PF ruling elite on corruption charges, it is evident that graft is ingrained in the party's DNA.
It was in clear tolerance of corruption that a cadre facing corruption charges was cleared to contest in the recent Zanu PF primary elections.
As if the two military onslaughts on citizenry soon after you assumed power were not sufficiently disdainful, politically-motivated violence also claimed the lives of two opposition members.
One was killed in your provincial town, Kwekwe, and the second one in Chitungwiza.
Your Excellency, the campaign period for the by-elections was no fair weather for the opposition.
State institutions, notably the police, were thoroughly disruptive towards the opposition. Its constitutional rights to freely gather and associate were interfered with at will.
It was unbecoming of a President when you alluded to the cutting short of the lives of the leadership of the opposition political party that advocates for secessionism.
Addressing some Zanu PF cadres, you invoked the Sharia law on the opposition in a manner that was unlike the political maturity which you displayed when you were delivering your New Year's Eve message.
With all due respect, in my estimation, the party members who applauded you when you were making threats to the opposition epitomised what Peter Tosh described as fools dancing to calamity.
Their applause was of seekers of private gain at the expense of communal welfare.
Despite your plea for peace in your New Year's Eve message this year, prospects of violence, nonetheless, loom in the horizons.
It was to your credit that you interrupted your annual leave to deliver the speech. Yet, its essence was diluted by the culture of politically-motivated violence.
It was in word only, and by no means by deed, that you said in your speech: "We will be holding the general elections mindful of the fact that we are a diverse, but one people, united by one flag.
I urge each of us to continue being peace-loving and politically mature citizens."
Your Excellency, soon after you resumed leave, a video footage taken in Murehwa, Mashonaland East province, went viral. It showed elderly people being interrogated and beaten for allegedly attending an opposition meeting.
Yet, the Zanu PF Mashonaland East provincial chairperson, Daniel Garwe, had the audacity to claim that the assault was stage-managed by the opposition in order to discredit his party.
He defended the assailants, arguing: "It is presumptuous, hasty and even sinister to rush to brand them as Zanu PF members, given that we are in an election season often fraught with all sorts of chicanery."
Ironically, you are yet to lead by example in displaying the political maturity and peace-loving you preached in your New Year's Eve message.
Thanks to Amnesty International deputy director for East and Southern Africa, Flavia Mwangovya, he probably heeded the moral counsel of Romanian-born American writer, professor, political activist and Nobel laureate Elie Wiesel who said: "What hurts the victim is not the cruelty of the oppressor, but the silence of the bystander."
He denounced the assault on the elderly as outrageous. He called for an end to violence that has repeatedly marred Zimbabwe's political landscape in the past, thereby threatening the rights to freedom of expression, association and peaceful assembly.
Your Excellency, what was needed in the immediate post-deposal era of the late former President Robert Mugabe was to avoid replicating his ways.
The elevation of his wife to the politburo was dictated from the bedroom. So was the awarding of her a university degree she least deserved. His refusal to facilitate succession is likewise traceable to the insistence of his wife. She assumed influence in government and party. Many careers were ruined, including your very own, at her behest.
Initially, when you stated that your wife will not be involved in politics.
My response was to award you the benefit of doubt, mindful that time would tell.
Now, contrary to your word, she is a politburo member and even signing bilateral agreements with other countries.
Your Excellency, it suffices to state that the former First Lady did not go as far as the incumbent has gone. With you averse to succession, as did Mugabe, despite having a foot in the grave, history is destined to repeat itself.
Granted, Gold Mafia aside, methinks a revolt fanned by her angling for power is imminent.
Related Topics