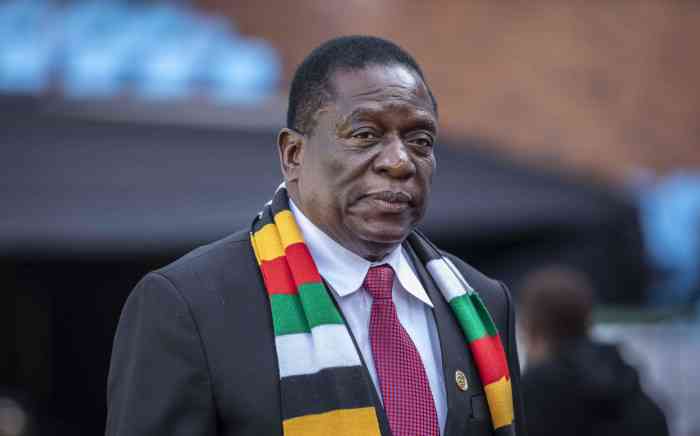 GOOD day President Emmerson Mnangagwa,
Your Excellency, Equatorial Guinea and Zimbabwe are less developed countries.
They failed dismally on United Nations millennium development goals at the turn of the century. Since then, poverty has been palpable.
As I see it, time will ultimately tell the essence of the presidential villa that was presented to you by your counterpart, President Teodore Nguema Mbasogo of Equatorial Guinea. Apparently, citizenry of both nations are an embodiment of dire deprivation.
It is my fervent conviction that there is more to the said Villa Zimbabwe than meets the eye.
Considering that his country is dogged by human rights abuses and a weak economy, among other challenges, it is hardly plausible that Mbasogo would afford to lavish you in this manner. Rather, it is your oppressive governance culture that bonds you.
Fundamentally, it is no cause for celebration that the fully furnished reserved villa signifies the cordial relations between the two nations.
Contrarily, it is an embarrassing flaunting of loot amid citizenry impoverishment that the villa even has a full staff complement.
Yet, the villa symbolises self-serving inclinations. It reminds me of former South African President Jacob Zuma who presided over resource plunder, commonly referred to as State capture.
He also splashed millions of State funds in the construction of his rural home, Nkandla.
Your Excellency, I am not persuaded to buy the notion that the villa was a token of friendship between the two nations. I vehemently refute the postulate that there have been the so-called cordial relations that warrant this sort of gift.
Essentially, Equatorial Guinea is little known to Zimbabweans. Most people would tumble if they were to be asked to locate it on the map.
It rarely featured in our local news. It became topical owing to your recent visit with a huge entourage which included your son.
Save for being mentioned here and there in the context of continental football, with all due respect, Equatorial Guinea does not have the kind of relations with our country that would warrant reservation of a villa for you Your Excellency.
After all, the Zimbabwean ambassador who caters it is resident in neighbouring Nigeria.
Your Excellency, given that you came to power on the back of a military coup, as I see it, the said Villa Zimbabwe is most probably your strategic haven of last resort should you be stripped of power as per Zanu PF leadership change modus operandi.
I am reluctant to congratulate you for being presented with the villa. It is shrouded in multiple shades of grey.
If it were genuinely a friendly gesture, the gift should have been for the benefit of citizenry at large, not a preserve for you individually.
Assuming that the villa was an authentic token of friendship, it must have been a first in international relations history for a visiting head of State to be presented with this sort of gift. Also, you could be contemplating reciprocation.
Be that as it may, time will tell. Meanwhile, methinks the hefty loans you lavished ministers and parliamentarians with are beginning to make sense.
Although the loans initially appeared to be outlandish, most probably they were the leftovers from the villa project expenses.
Your Excellency, in view of the fact that you stormed to power with the promise to deliver mega deals, among others, it has emerged that all you were pedalling were, after all, mirages. Apparently, poverty, corruption and injustice are rampant, running wild.
As I see it, Pope John Paul spoke a verity when he said: "A society that is not socially just, and does not intend to be, puts its own future in danger."
Granted, Zimbabwe is a society that is not just, but one that is facing the grave risk of putting her future in danger.
There are no ways she could ever be safe and prosperous in the absence of equitable and transparent distribution of resources and observance of the rule of law.
Truly, the urgent need for the Presidency to inculcate a culture of transparency is plainly evident.
Methinks the future of Zimbabwe is imperilled by want of a level-headed Presidency that influences international relations.
What the country needs most is a leader who is incorruptible.
Essentially, lives of multitudes of citizenry living in squalid conditions that lack planning basics are gravely endangered. It is dehumanising that peripheries of Harare and all other urban centres are teeming with houses built on undesignated areas.
Yet, the First Citizen unashamedly prides himself in receiving the said reserved Zimbabwe Villa. As I see it, the opportunity cost of the villa is the squalid conditions in which citizenry are subjected to. It boggles the mind to imagine the foregone infrastructural development.
Apparently, government does not intend to be socially just. Given the continued pretrial detention of an opposition parliamentarian for allegedly inciting violence, prospects of an equitable society are diminished, if not altogether non-existent.
As he languishes in prison, we are mollified by the declaration from a prison cell by the recently assassinated human rights campaigner, Thulani Maseko.
"One thing is clear: we may not know how long we will be in these jails. Nevertheless, we will defeat, not only imprisonment, but our jailers as well. We will walk and the prison door will open. We will return, and return we will, alive. And we will sit at the table of brotherhood with our jailers to negotiate the future of Swaziland."
Your Excellency, as the harmonised elections dawn, so is a new era. It is no longer pertinent to announce that you have been presented with a villa. As I see it, Zimbabwe anticipates transparency, accountability and reforms ... perestroika and glasnost.
Cyprian Muketiwa Ndawana is a public-speaking coach, motivational speaker, speechwriter and newspaper columnist. He writes here in his personal capacity.
Related Topics