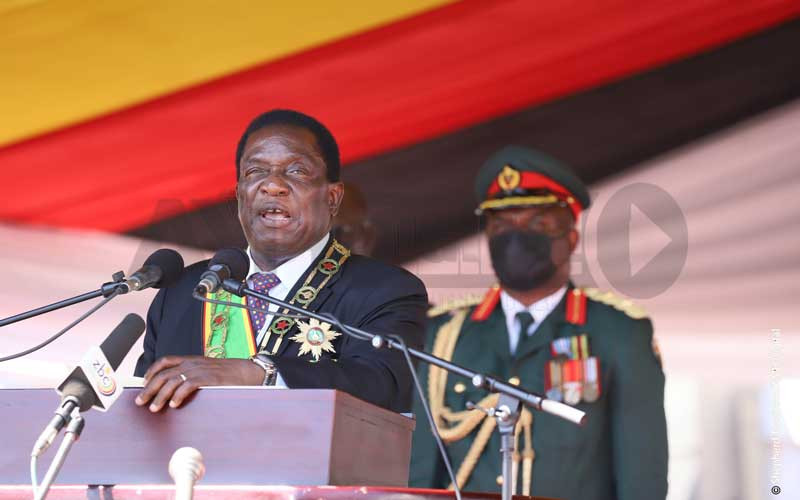 GOOD day President Emmerson Mnangagwa,
Your Excellency, the refrain of the song Remake the World by Jimmy Cliff aptly portrays the magnitude of destitution that is prevalent among citizenry.
Although his song pleads for equitable reconfiguration of the universal socio-economic order, it, nonetheless, has a particular relevance to Zimbabwe.
Given the perpetual grinding poverty, anyone with a conscience commiserates with Zimbabweans on listening to the song.
Too many people are suffering, too many people are sad. Too little people got everything, while too many people got nothing. Remake the world, remonstrates Cliff. Notwithstanding the poverty in other countries, Zimbabwe is crying out for political remaking.
Your Excellency, considering the vast deposits of mineral resources in Zimbabwe, methinks citizenry is supposed to be in perpetual merriment.
They should be all-round joy and contentment. Granted, nationals could be happy, healthy and wealthy.
They could be the envy of the world; joyous, admirable like a flower garden in its summer finery. Yet, it is for want of democracy that poverty and misery abound.
No sooner had independence been attained in 1980 than some farsighted citizenry began trickling out after perceiving the impending socio-economic mayhem. Fast forward to the said new dispensation, it is characterised by the exodus of multitudes to the diaspora.
Your Excellency, the notion of Vision 2030 is altogether a mirage. It is a fallacy to think that the country is on a progressive build-up towards an upper-middle class society by the year 2030.
Essentially, it is fraudulent to peddle this fallacy as a vision.
It is a premise that is not derived from a strategic roadmap. It is not based even on faint hopes of a miracle. Truly, there is order in the madness of the outpouring of the citizenry. There is not even a shred of evidence in your so-called economic recovery.
Granted, Zimbabwe is richly endowed. She has an assortment of natural resources which other countries can only but marvel at from a distance. All things being equal, her citizenry is supposed to be swimming in pleasantries and merriment, with minimal burdens to bear.
Aptly described as the jewel of Africa by the late African icon Julius Nyerere, one of the founding continental Statesmen, Zimbabwe has enormous potential. It is precisely for the largesse of her riches that she earned the crown the regional breadbasket.
Most countries, regionally and further afield, dream about the prospect of having even a fraction of the human resources, mineral deposits, wildlife, sceneries and climatic conditions that are bountiful all over this southern African nation. Little wonder, our human capital is on demand globally.
Yet, Zimbabweans are wallowing in poverty. Methinks the amnesty for whatever transgressions citizenry committed, severally and collectively, that are punishable by having their affairs presided over by a government that is impervious to the suffering of citizenry, is taking eternity to be granted.
Your Excellency, the country is in the throes of a socioeconomic meltdown. It is my fervent conviction that all the hype about devolution and the said National Development Strategy 1 are merely gassy.
Despite branding your government in adjectives that signify newness, reality is that you devoutly subscribe to the governance style of the former dispensation. Apparently, you conform to the old; your said new dispensation is, indeed, a perpetuation of the former.
A replay of Nero fiddling while Rome was burning was played out on your assumption of the Presidency.
It is lamentable that you hit the ground running to establish the inconsequential Political Actors Dialogue (Polad) at the cost of attending to rampant corruption afflicting the country.
What is particularly outrageous is that you avoid constructive dialogue.
Your Excellency, you introduced your tenure on the grounding of being a new dispensation, led by a "listening" and "soft as wool" President, which gave me the impression that you would be open and tolerant to views, particularly dissenting voices.
As your Presidency inches towards its end, methinks you demonstrated the reason why Jesus did not appoint Pharisees as his disciples. He knew that it was impossible for them to unlearn their former principles.
He called fishermen to be His disciples, cognisant that they were unschooled in the law of Moses and religious matters. As writer Stephen Covey stated: "The ability to learn, unlearn and relearn with open and flexible minds is one of the prerequisites of leadership."
Throughout scripture, the Pharisees were untransformable. They even added some laws to the ones Moses gave them. They held on to the obsolete, even as the New Testament was emerging.
Considering that the deposed late former President Robert Mugabe was to you what Moses was to the Pharisees, it was imperative for you to recalibrate. It was inevitable for you to unlearn and relearn the art of Statecraft. It should have been your number one goal to stately address the impasse on targeted sanctions and Gukurahundi massacres, and to run credible, free and fair elections.
Methinks the promised land of milk and honey could have been achieved had you invested in learning, unlearning and relearning with an open and flexible mind, as Covey implored.
Your Excellency, Andile Mngxitima, leader of South African party, Black First Land, might as well have been speaking about Zanu PF when he said the ruling African National Congress (ANC) had lost the ability to bring meaningful change and progress. It is old and tired with no vision or vitality. What was said about your sister revolutionary party, the ANC, is equally applicable to your party, Zanu PF.
Cyprian Muketiwa Ndawana is a public-speaking coach, motivational speaker, speechwriter and newspaper columnist. He writes here in his personal capacity.
Related Topics