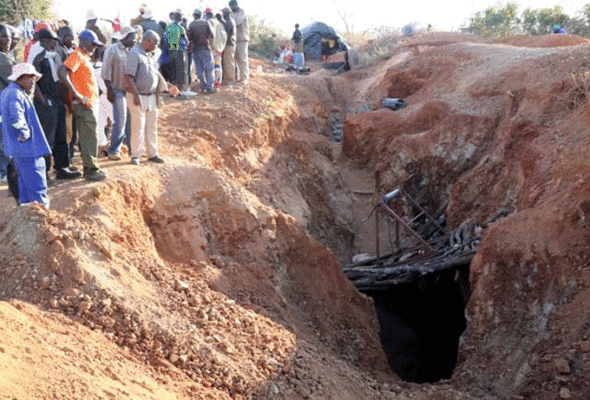 ZIMBABWE is losing one miner every week to workplace accidents because of dangerous working conditions, according to statistics provided by the Zimbabwe Diamond and Allied Minerals Workers Union (ZDAMWU).
ZDAMWU general-secretary, Justice Chinhema said the regrettable statistics exposed the need for policies ensuring occupational health and safety for mine workers.
"In Zimbabwe, nearly one miner dies every week and that is quite a disturbing trend. This is regrettable as it is expected that every mine should have the appropriate measures and expertise to enhance health and safety," Chinhema said.
"Close to 75 000 mine workers globally have died and more than one million have been seriously injured because of the accidents in the mining sector. It is estimated that many more have lost their lives as a result of tuberculosis silicosis and other poor health conditions in the mines," Chinehma said.
In 2020, a total of 182 mine workers died from 116 mine accidents in the country.
In 2021, the country recorded a decrease in both accidents and fatalities as compared to the previous year with 121 accidents and 139 fatalities.
As of September 30, 2022, the country had recorded 125 accidents and 139 fatalities.
"We urge the Ministry of Mines' compliance departments responsible for enforcing the provisions of the Mine Health and Safety Act to ensure the achievement of the objective of zero harm. The extraction of the mineral wealth of our country should be done without killing, maiming, or causing any occupational ill-health and diseases," he said.
In his Workers' Day message, President Emmerson Mnangagwa said government was crafting a Bill on occupational health and safety.
"The strategy is envisaged to deal with lack of occupational safety and health with a view to providing a legal framework that addresses the challenges of occupational safety and health in our country," he said.
According to a report by the Zimbabwe Environmental Law Association (Zela), occupational health and safety issues are more compromised among artisanal miners.
"Working in confined places with poor ventilation using poor drilling technologies exposes the miners to upper respiratory diseases such as silicosis. Injuries, fatalities and disabilities have been reported among this category of workers," Zela said.
Related Topics