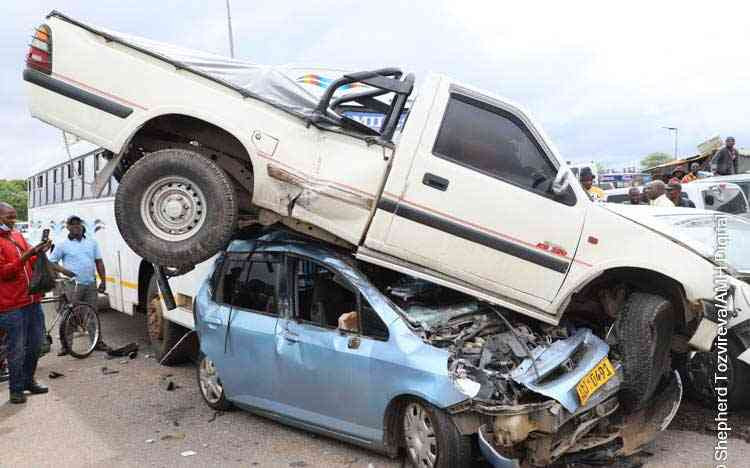 LATEST world statistics on road accidents have ranked Zimbabwe as one of the world's two countries with the most unsafe road networks.
According to the World of Statistics, 41 per every 100 000 people die of road traffic injuries in Zimbabwe.
The statistics shared under the category mortality caused by road traffic injury place the Dominican Republic on top with 65 in a list of 31 countries where Sweden has the least number with two.
According to statistics released by the Zimbabwe National Statistics Agency last month, 8 897 people died in traffic accidents between 2019 and 2022.
Approximately 2 079 people died in 52 585 road accidents recorded last year alone.
National police spokesperson Assistant Commissioner Paul Nyathi said most roads were as a result of human error.
"Most road accidents in the country are caused by human error, but I wouldn't want to comment on the ranking before I see the data," he said.
Last month, 30 people died while 153 others were injured in 288 road traffic accidents that were recorded countrywide during the Easter and Independence holidays.
During the same period last year, 73 people died while 202 others were injured in 264 road traffic accidents.
Meanwhile, one person died on the spot while several others were injured when a Harare-bound CAG bus collided head-on with a haulage truck along the Harare-Chirundu Highway.
Mashonaland West provincial deputy police spokesperson Inspector Ian Kohwera confirmed the accident.
Witnesses told the NewsDay that the bus driver tried to overtake two trucks and failed, leading to a head-on collision with an abnormal load truck.
The injured people were ferried to Karoi District Hospital while others were transferred to Chinhoyi Provincial Hospital. The bus was coming from Chirariro under Chief Mujinga in Hurungwe and the accident occurred just outside Karoi town.
A witness, Saul Mudare, who arrived at the accident scene a few minutes after it had happened, said the bus driver appeared to have tried to overtake on a blind side.
Passengers who survived the accident called on government to tighten laws on speed limits, especially on public transport vehicles.
Related Topics