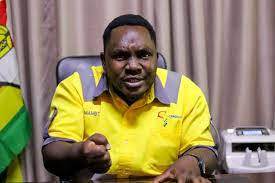 ZANU PF youth member, Danmore Mambondiyani, allegedly duped a Harare company fuel worth thousands of dollars.
Mambondiyani appeared before Harare magistrate Ruth Moyo facing charges of theft of trust property as defined in section 113(2) of the Criminal Law Codification and Reform Act.
Prosecutor, Tafadzwa Jambawo, told the court that Mambondiyani had previously been issued with a warrant of arrest after failing to attend court sessions.
Mambondiyani will be back in court on Friday for trial.
It is the State case that on August 7, 2021, Liquid Cargo Africa being represented by Mambondiyani entered in a deal with Whilstone Energy for the supply of 4 800 litres.
Whilstone Energy had no transport to ferry its fuel and hired Liquid Cargo Africa where Mambondiyani is the director.
It is alleged Mambondiyani converted the fuel for personal use.
Mambondiyani is participating in the Zanu PF primaries and is eyeing a youth quota position in Manicaland.
Mambondiyani lost to Stanley Sakupwanya for the Zanu PF Manicaland youth leader position.
Sakupwanya is also vying for the youth quota position.
Other candidates are Law Tiengani and Simba Mtomba.
Related Topics