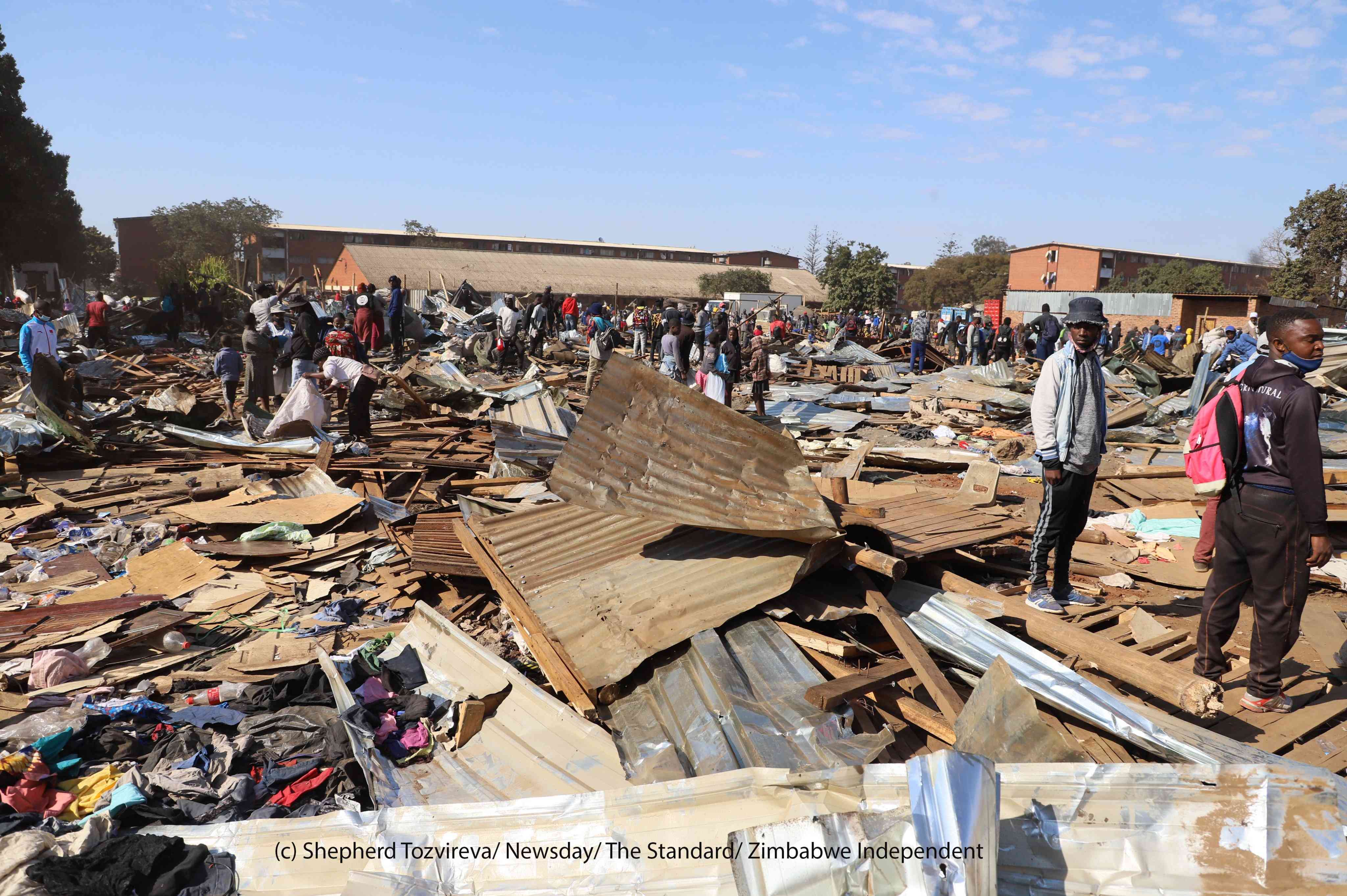 A-SNAPSHOT into 2022 whose curtains come down tomorrow (Saturday) shows that local authorities have been struggling financially amid claims that devolution funds were not disbursed on time, which affected service delivery.
During the year 2022, there were reports that some local authorities failed to pay their employees outstanding wages, while the local authorities also complained of failure by residents to pay outstanding bills. Some of the highest-owning institutions actually turned out to be government departments and parastatals.
There were also issues of poor service delivery, corruption, and land invasions, as well as demolition of houses in cities.
Demolitions
In January 2022, Chitungwiza Municipality stopped the planned demolition of some property after Zimbabwe Lawyers for Human Rights (ZLHR) vigorously protested against the local authority's cruel actions.
Chitungwiza Municipality acting town clerk Evangelista Machona had on 30 December 2021 issued a Demolition Order stating that the local authority would on 2 January 2022 start demolishing some "buildings and durawalls" at Town Centre Unit D Shopping Centre, which it claims had been built or erected without its approval.
This incensed Chitungwiza Residents Trust, which engaged Tinashe Chinopfukutwa of ZLHR, who on 31 December 2021 wrote a letter to Chitungwiza Municipality asking the local authority to withdraw its Demolition Order as it was unlawful because it had not obtained a court order authorising it to demolish the buildings and durawalls as provided in Section 74 of the Constitution.
In August 2022, Harare City Council (HCC) demolished at least 10 houses in the high-density suburb of Budiriro 4, leaving families stranded without shelter.
In November 2022, Harare Metropolitan Provincial Secretary Tafadzwa Muguti ordered a 45-day operation to demolish illegal structures on wetlands in and around the capital.
The exercise, codenamed Operation Zero Tolerance to Environmental Crimes, was carried out concurrently in Harare, Chitungwiza, Ruwa and Epworth with the assistance of the police.
Muguti said: "This provincial blitz will target institutions, shop owners, companies, vendors, public transporters, the actual passengers and the general citizenry who violate statutory requirements."
In a notice, Chitungwiza acting town clerk Evangelista Machona had said the municipality had been asked to provide 80 municipal police officers for the exercise.
Mupedzanhamo Mbare, Harare
In January 2022, Harare City Council with the aid of police demolished Mupedzanhamo illegal structures and stalls at Mbare, Harare to bring order to the area.
This was after space barons were also causing havoc I the area, selling illegal space to desperate vendors.
In October 2022, council said Mbare's Mupedzanhamo flea market was overpopulated due to high unemployment that has pushed citizens to informal trade.
Zanu PF and opposition Citizens Coalition for Change activists fiercely fought over control of the market.
Police had to barricade the area after the clashes.
Glenview Complex Harare
In October 2022, Glen View Area 8 Home Industry was gutted by fire for the umpteenth time, resulting in property worth thousands of United States dollars being destroyed.
To solve the crisis at Mupedzanhamo and Glenview 8, Women Affairs, Small and Medium Enterprises Development minister Sithembiso Nyoni said there is need to renovate and refurbish the facilities before reoccupation and to clean the markets and construct toilets to match 1500 traders.
She said in addition to Mupedzanhamo and Glenview furniture complex, Chishawasha Grounds and Coca-Cola corner in Harare would be earmarked for development of space to address workspace challenges for vendors.
Harare mayor Jacob Mafume said a register of vendors will be compiled as the city moves to formalise the markets to protect from land barons.
Mbudzi roundabout demolitions
In September 2022, vendors and other business operators around the Mbudzi interchange area said they were not informed about plans to construct the Mbudzi interchange by authorities, and were forced to vacate the area.
The multi-million-dollar project is expected to ease congestion at the intersection of the busy Harare-Beitbridge and the Chitungwiza-western suburbs and road intersection.
Police descended on the area and destroyed their stalls and products to make way for construction of the interchange.
In November 2022, Transport Minister Felix Mhona said 46 owners of properties which were demolished to make way for the multi-million dollar Mbudzi Interchange in Harare have been compensated.
"We have close to 51 property owners with title deeds, while we had close to 135 people who had settled here through the Harare City Council. The rest had settled illegally," Mhona said.
Pomona Waste Management issue
Harare City Council (HCC) and Government spent a good part of 2022 in mudslinging over the controversial Pomona Waste Management deal between Netherlands based Geogenix BV and HCC which was to run for 30 years, with the company pocketing US$240 million at US$22 000 per day for collecting waste in Harare.
After Mafume opposed the deal and refused to pay, Presidential spokesperson George Charamba threatened him with arrest for opposing Cabinet's decision to endorse the deal for the city.
In October, Local Government minister July Moyo said efforts by HCC to block the Pomona deal were null and void as government had guaranteed the project saying it is of national interest.
In October, government announced that it will settle the US$780 000 bill for the Pomona project to Geogenix BV.
Councillor recalls
In March 2022, Kariba mayor George Masendu and two other councillors, Farai Magevha (ward 3) and Pedzisai Munhuweyi (ward 8) were recalled from council by the Douglas Mwonzora-led MDC Alliance.
Corruption at councils
In February 2022, Gweru councillors clashed with council management after they were barred from travelling outside the Midlands capital on business.
Councillors were not amused after acting town clerk Vakai Chikwekwe told them that they needed clearance from the Local Government ministry whenever they travel out of the city. The councillors, led by mayor Hamutendi Kombayi, described the move as discriminatory.
In February, the Combined Harare Residents Trust (CHRA) reported that unbridled corruption at council clinics has rendered many children "nameless" as some health personnel are demanding bribes in order to issue out birth records to newborn children, and sadly those who can't comply with the bribery demands are not given the record. Birth records are a prerequisite for acquiring birth certificates.
Reports from women who gave birth at council clinics in high density suburbs of Glenview, Mabvuku and Highfields alleged that the health personnel demanded bribes ranging from $US5-US$10 in order to issue out birth records.
In April 2022, Chegutu residents appealed to President Emmerson Mnangagwa to intervene and stop massive corruption by top executives at the local authority.
They also asked the Zimbabwe Anti-Corruption Commission (Zacc) to audit council books after Zacc arrested council's human resources manager George Kasamu and revenue accountant Blandina Kavhayi on charges of abuse of office, sexual harassment, nepotism and tax evasion.
Residents also demanded that the municipality's top executives, including acting town clerk Jacob Chikuruwo and other council directors must be suspended to pave the way for investigations.
In August 2022, a report by Zacc said corruption was increasing at the country's local authorities. Further categorising these complaints, Zacc noted that of the corruption related complaints received during the year under review, a total of 711 reports were against public officials.
"Of the 711 complaints received against public officials, 348 were against public officials in local authorities," the report said.
"Most of the reports against officials from local authorities were reported in Harare (93), Mashonaland East (30), Bulawayo (18), Midlands (16). On analysis, most of the allegations against officials from the local authorities relate to the illegal sale of land or residential stands. These corrupt tendencies were worsened by the emergence of land barons."
Devolution funds
In August, The Harare City Council and Bulawayo City Council complained that government was stalling service delivery in cities by not disbursing their allocated devolution funds.
Harare mayor Jacob Mafume said: "We have been allocated just about 15% of our devolution funds, yet we are supposed to get at least $2, 3 billion. We only received just over $100 million. For us, this is clear sabotage.".
In July, Bulawayo's ward 17 councillor Sikhululekile Moyo claimed that central government interference has affected council's development and service delivery programmes.
Water challenges
Throughout the year Harare, Bulawayo Chitungwiza and Gwanda Town Council have also been struggling to adequately provide water to residents.
As water sources dwindled in Bulawayo, the city introduced 72 hour water rationing schedules.
A situation report (Sitrep) on the availability of treated water for Harare published in August showed that the capital was running on empty stocks for treatment chemicals, posing a prolonged shut down for its 2.5 million residents.
Chitungwiza suffered the consequences as it relies on HCC for water
Although Gwanda was fortunate to receive a water treatment plant from the Zimbabwe National Water Authority (ZINWA) in July together with Beitbridge Town Council, it emerged that the two owed the authority $270 million and $240 million in debts respectively.
Chinhoyi council had its electricity supplies to municipal water treatment and pump stations cut by the Zimbabwe Electricity Supply Authority (Zesa) over a debt close to $40 million.
Ironically, Zesa owed the council $250 million in water supply arrears and had its supply cut in retaliation.
Related Topics