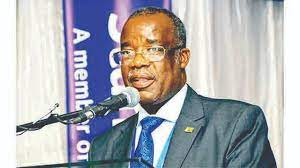 BY DESMOND CHINGARANDE
FORMER secretary for mines professor Francis Gudyanga who was jailed four years after he was convicted for criminal abuse of office has filed notice to apply for extension of his restitution period.
Gudyanga (75) who appeared before magistrate Taurai Manuwere said he is seeking extension date of his restitution saying it had already lapsed but no one advised him on the date of payment.
He was remanded to today to make his formal application.
He was jailed by Harare magistrate, Barbara Chimboza, who suspended part of his sentence on condition he restitutes the Minerals Marketing Corporation of Zimbabwe (MMCZ) a total of US$25 228.
Gudyanga was convicted on charges of fraud after receiving US$28 910 board member fees from MMCZ for three years despite its absence.
Guyanga is serving two and half years after 18 months of his sentence was suspended.
Early this year Gudyanga filed an appeal against his conviction and sentence saying the magistrate erred in convicting him.
Gudyanga was charged alongside former mines minister, Walter Chidakwa, who was however acquitted at the close of the State's case.
Related Topics