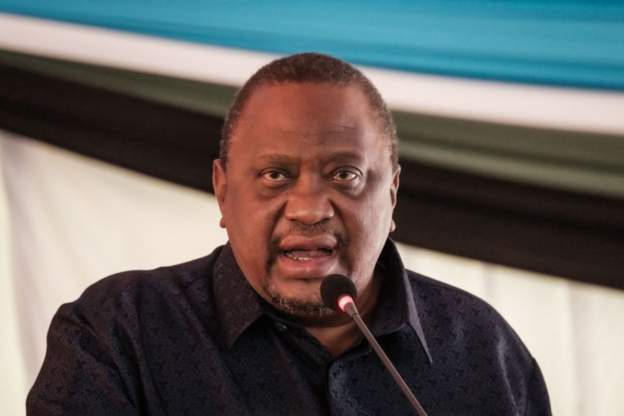 Kenya's foreign ministry has been accused of being "unprofessional" over the "leaking" of information about former President Uhuru Kenyatta and his family's trip to the UK on Wednesday.
It came after a blogger linked to the government on Monday shared on social media what appeared to be a letter from the ministry to the British high commission seeking assistance for entry visas for 16 Kenyatta family members.
The blogger claimed in the social media post that they were taking a holiday "to chill away from the pressure that's Kenya" following a "disturbance" on their family.
Last week, the former president accused the government of harassing his family.
He told local media that he was ready to protect them after an attempt by security officers to raid his son's residence to confiscate guns.
He said his two sons had applied for and legally acquired three guns each when their security was withdrawn after the current government took over power last year.
Mr Kenyatta is also reported to have told journalists last week about the upcoming trip to the UK, following the incident at his son's residence.
"In fact, I want to go on vacation with my children and grandchildren. Do not say I have run away. I need rest and they need me," he is quoted by K24 TV website as saying.
Kenya has in recent weeks been gripped by deadly opposition protests over the rising cost of living. The government has accused the Kenyatta family of funding the protests, which they have denied.
The government and the opposition coalition have since agreed to talks to resolve their differences "amicably".
Related Topics