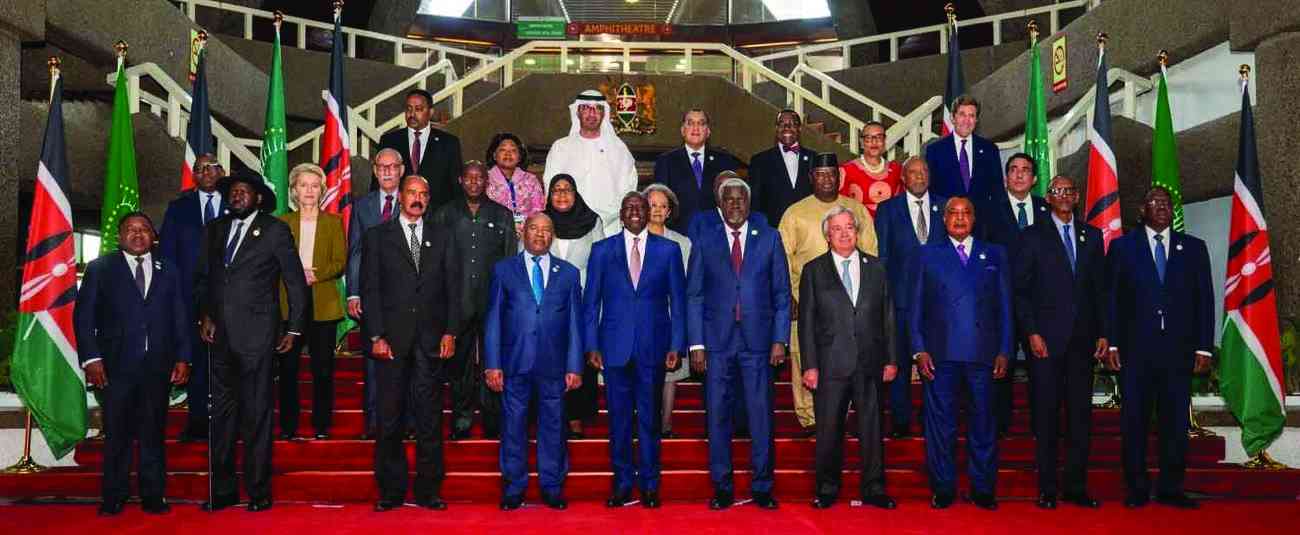 THERE has been a wider criticism of the way, in which the climate change debate has been largely adjudicated and guided by the developed world and yet the effects largely affect the developing world more.
The largest system of and platform for the discourse on climate change, loss and damage and mapping the way forward has been the COP system, which has until the Africa Climate Summit 2023 in Nairobi, Kenya has been criticised as being elitist and out of touch with the reality especially of Africa.
The bulk of the criticism has been that Africa has been a taker throughout the years and not a giver in terms of shaping the discourse and narrative of the global climate future and communicating its vulnerability rooted in history and development disparities. Something had to give.
In Nairobi, Kenya between September 4 and 8 2023 a first of its kind climate summit was organised by African and global institutions, such as the African Union, Global Centre for Adaptation and the United Nations amongst others to increase Africa's chances and role in the global effort to reduce greenhouse gas emissions and inspire a youth led economic transition that is supported by clean energy and collaboratively financed.
The African Development Bank committed US$1 billion to funding Africa's Climate future from a previous commitment under half as much.
The United States through its climate envoy — John Kerry led a discussion on praising Africa for taking charge through the Summit and leading an honest and collaborative conversation on how industrial actions outside the continent need to find more collaborative rhythm with the effects of greenhouse gases on Africa's future, which is predominantly agro–based.
The summit in my view took on an urgency approach instead of an emotional one to allow for friendly, collaborative and outcome-oriented discussions to ensue provided that the climate debate is often marred with geopolitical, historical and political tensions.
The first half of the summit at the Jomo Kenyatta International Convention Centre focused predominantly on the role of the youth in climate finance, innovation and adaptation with a key emphasis on innovation and asset-based approaches for young people to build viable, profitable and eco – friendly businesses.
I took part in the Green Africa Youth Organisation's African Climate Innovation Challenge on the 3rd day of the week. Youth initiatives across Africa had an opportunity to showcase their innovations in reducing greenhouse gas emissions, waste management and digitising their economies to improve efficiency in agriculture and industries.
Solar energy is proving to be a progressive and viable energy option to power Africa's agricultural, household and industrial needs and some of the winning innovations demonstrated how with Africa's powerful stock of approximately 11 terabytes of sunlight, which overshadows any other continent, our economies could really benefit from solar infrastructure and democratisation.
We competed against these leading innovations and unfortunately fell short of the top five winning innovations from the competition. This for me, provided an insight into how innovation hubs and platforms like the Harare Institute of Technology and national STEM programmes need to be funded generously as an outlet of youth innovations to stand toe to toe with the world, which seems to be evolving really fast with the advent of Artificial Intelligence and other technologies.
The competition emphasised youth centred conversations around the role that young people can play in helping reduce greenhouse gas emissions, contribute to the clean energy transition and build businesses and initiatives that tap into Africa's vast natural resource base and benefits the world and the communities they are placed in.
It is through this session that President William Ruto and the African Development Bank President Dr Akinwunmi Adesina pronounced the following:
The biggest risk for Africa is not investing in its youth.
The conversation of "empowering the youth "cannot be a success without "investing" in African youth.
The best way to invest in Africa's future is to finance agriculture.
The increased funding commitment by the African Development Bank and the Global Centre for Adaptation to increase funding for youth led initiatives across countries ideally has to be accessible through local "Green Banks''.
This is a welcome gesture, which as queried by youth during the interactions can only work best through transparent and accountable financial systems, which connect with the global economy and create a healthy lifeline for youth initiatives. Zimbabwe can connect!
Africa has to find its footing on climate finance as an emerging frontier with Kenya having just recently passed into law its Carbon Credits Act the week before the summit and Zimbabwe also recently creating a Carbon Credits Framework.
This is both exciting and concerning, as we then need to have more articulate, inclusive, accountable policy mechanisms and frameworks that reduce the concerns of 'greenwashing' and instead benefit grassroot communities who live with the harsh reality of climate change every day.
The second half of the week was the high-level dialogue that shaped an agenda for collaboration between the developing and developed world in loss and damage initiatives and finances to unlock Africa's true potential as the continent for the future.
John Kerry — The United States of America's climate envoy present at the event led a conversation on admitting that Africa as a lower polluter deserved support and that highly industrialised countries like his had a big responsibility to help in its mitigation and adaptation efforts.
He spoke about how it was only right that through the inaugural Africa climate summit, 'Africa was speaking, leading and deciding its course' in the global effort to mitigate the adverse effects of climate change.
This was a theme prevalent throughout the presentations of Heads of State from South Sudan, Somalia and Ethiopia.
Key takeways
Climate innovation stretches beyond mere advocacy work to include social entrepreneurship that is able to build profits and contribute to economic development that exploits the natural environment in a sustainable and regenerative way. Initiatives along these lines dominated the African Climate Innovation Challenge Pitch Day.
Transparency and accountability cannot be overemphasised at all levels in the global fight against climate change as it helps build trust and flow of investments to initiatives at all levels.
Africa is endowed with a vast natural resource base that needs to accommodate more youth led innovations.
Asset based innovation has vast potential across Africa.
Equitable representation in decision-making. The Maasai dominated the high technology environment in their simplest forms and offered insights on low — cost nature inspired adjustments and climate resilience mechanisms they have adopted in their pastoral day to day life.
Follow-up action
As Rima Africa Zimbabwe, we will be building an innovation library that provides access to all exhibitor QR Codes for youth led innovators to simply scan and have access to almost all of the leading innovations that were showcased at the Summit.
We are looking for partners and collaborations to organise a climate related hackathon in Zimbabwe to create an outlet for youth led innovations that seek to break barriers in climate finance, technology access and information gaps.
Mafa is an agricultural economist, co-founder Rima Africa Trust Zimbabwe, alumni at Community Solutions Programme and Climate Technology and Finance Lead at Food Justice Network Zimbabwe. — [email protected]. These weekly New Perspectives articles, published in the Zimbabwe Independent, are coordinated by Lovemore Kadenge, an independent consultant, managing consultant of Zawale Consultants (Pvt) Ltd, past president of the Zimbabwe Economics Society and past president of the Chartered Governance & Accountancy Institute in Zimbabwe (CGI Zimbabwe). — [email protected] or mobile: +263 772 382 852.
Related Topics