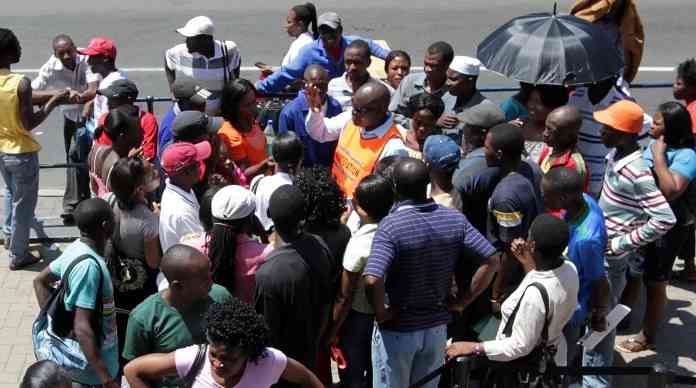 DEBATE on the number of Zimbabweans based in South Africa has been raging for years, but reached a crescendo when President Cyril Ramaphosa's cabinet resolved to cancel special permits for the migrants this year.
In cancelling the Zimbabwe Exempt Permits (ZEPs) while encouraging Zimbabweans to either regularise their stay through normal visa applications or risk deportation, the South African government said only 200 000 would be affected by the directive.
ZEPs were supposed to expire this coming December and there are court challenges to the South African government resolution. The matter is going to court between October 5 and 7 this year.
The deadline of the ZEPs has since been extended to June next year.
The question, however, remains on the number of Zimbabweans who ditched their struggling country to call South Africa their home.
The Zimbabwe National Statistics Agency (Zimstats) recently announced that the number of emigrants has been increasing since 1980 with a highest number being recorded in 2021.
According to Zimstats, there was a steady increase in the number of emigrants between 2001 and 2015 and thereafter, there has been a sharp increase that reached a peak in 2021 with a total of 908 914 leaving Zimbabwe. It further indicates that during the census period held from April 21-30 this year, 84% of Zimbabweans in South Africa were seeking greener pastures.
South Africa emerged as the major destination of choice for Zimbabwean emigrants, accounting for 85%, while 5% were residing in Botswana and 3% in the United Kingdom.
The statistics have, however, become a source of debate in Zimbabwe and across Africa with many disputing the figures.
Interestingly, a senior official from the United Nations Economic Commission for Africa (UNECA), William Muhwava said Zimbabwe's immigration story has been misconstrued and criminalised.
Muhwava, the UNECA chief of demographic and social statistics, was speaking in Addis Ababa, Ethiopia where he noted that the media's narrative on Zimbabwe's migration lacked science and factual data.
"Zimbabwean migration story has been written by others. The story has not been written properly. Unfortunately, our perspectives on migration have been set on television screens and possibly read in newspapers. The media has shaped the narrative in a way that lacks science or data. It is sad that migration has been criminalised," Muhwava said.
UNECA estimates that regular migration constitutes more than 90% of movements in SA adding that "small bits of movements seen going under the fence is not a reality".
South Africa's 2016 statistics say it hosts about 574 047 Zimbabwean-born nationals.
Muhwava further bemoaned the issue of reportage as Zimbabwean migration has been portrayed as an uncontrollable crisis.
"That is not true. Migration is a natural human phenomenon. If you think about it, everybody needs to move. Who wants to be stuck in one place? Everybody needs to move in their lifetime. They need to get economic opportunities and so on.
"This has led to spread narratives focusing on Zimbabweans being a predominant migratory nation in Southern Africa. This is not true again. We are equally migratory compared to any other country in the region," Muhwava said.
He also noted that the media was missing the number of people who are immigrants to Zimbabwe.
"If you balance the two, what we are receiving and what we are sending out. We are not just a sending out nation. The migration issue has been handled through emotions rather than evidence-based responses," he added. "Zimbabwean migration is intra-Africa and we need to promote orderly circulation of skilled Iabour. There is a need for proper engagement between Zimbabwe and its neighbours on promotion of orderly migration."
However, academic and social commentator Alexander Rusero argued that ZimStats was informed by scientific enumerations, further arguing that the migration story has been exaggerated and amplified to suit a certain political narrative.
"Although UNECA's comments cannot be dismissed; it should be noted that UNECA has never been a fan of Zimbabwe. Majority of damning reports on Zimbabwe between 2000 and 2008 when the country's economy underwent a veritable meltdown originated from UNECA (check its 2004 report).
"We can only validate or invalidate Zimstats through availing alternative data and alternative scientific studies more than pronouncements on press conferences," Rusero said.
He, however, dismissed fears that South Africa will deport hundreds of thousand Zimbabweans stuck in the neighbouring country.
"Migration is not the crisis. In essence it is a symptom of the bigger complex crisis in those countries that people emigrate to en masse.
"Every State has an obligation to create an enabling environment for its citizens, precisely for the youths to thrive and secure a future. When that is bleak they will also migrate in droves," Rusero said.
He said the crisis was indicative of the state — the sending state — undergoing a veritable economic meltdown and trapped in between weak and failed states.
Political commentator Taisa Tshuma said Zimbabwe's migration issues were a matter of political contention with people fleeing economic dysfunction.
"The government is in denial of this dysfunction. The rebuttal of socially evident patterns and trends is to be expected from ruling party and government sympathisers who view this as an unfair indictment on the administration.
"There is an inclination to deny any semblance of a crisis in Zimbabwe for fear that it would be caused by a chaotic land reform programme, corruption and the futility of standing up to the West," Tshuma said.
"For this reason, many extremist or radical pan-African proponents latch on any narrative that attempts to neutralise the crisis without proper analysis."
Tshuma noted that the Zimstats figures only reflect immigrants with existing ties to enumerated Zimbabweans while neglecting those without immediate family members who left in Zimbabwe.
"It ignored rampant irregular migration which causes people to withhold information from officials. The census shows that the population of Bulawayo and Matabeleland provinces is less than half of the projected figures from the 1992 census.
"This is easily near two million people. It is common knowledge that the bulk of relocations from Matabeleland to South Africa have always been high and covert," Tshuma added.
Related Topics