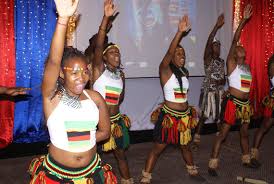 BY AGATHA CHUMA National Arts Council of Zimbabwe (NACZ) will on Tuesday launch culture month for Harare Metropolitan province at Nyatsime Cultural Heritage Centre in Chitungwiza.
Speaking to Standard Style, William Ndinde, the NACZ Harare Metropolitan provincial arts manager encouraged members of the public to come in their numbers and be part of the celebrations so that they will be reminded of Zimbabwe heritage and celebrate it in style.
"This day is merely a celebration of what we have been doing the past years as it had been declared as culture month," Ndinde said.
"Culture is identity, way of life and our living so, we have been celebrating this day in different communities and this time around we are doing it in Chitungwiza because we are a community based initiative.".
Ndinde said the event, which is running under this year's theme Celebrating Cultural Diversity: Leaving no one behind, is going to be free for everyone.
"The show is for free because one cannot pay to celebrate his/her own identity," he said.
"It is not a commercial show but merely a celebration of culture which we should preserve for posterity.
"The difference with culture week is only that we have elevated the event from a week to a month.
"May 21 has also been declared by the United nations through UNESCO as the world day for cultural diversity for dialogue and development and in Zimbabwe we cannot celebrate our culture in a single week hence a culture month."
Ndinde said there was nothing amiss from moving from culture week to culture month and it is going to be a unique way of celebrating culture as Zimbabweans in a diversified manner.
May 21 has also been marked as the day of celebrating development within a cultural context, so here in Zimbabwe development is taking place in every aspect and it  has to conform with culture.
To complement the cultural celebrations, there is going to be a showcasing of traditional dances, culinary, attire, music, poetry, tools amongst others.