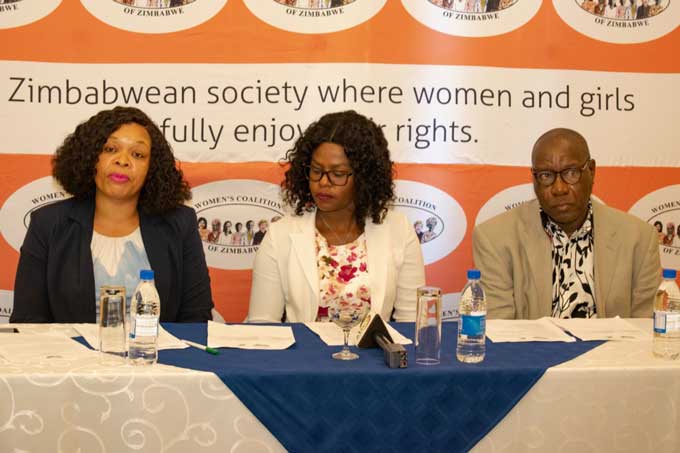 By Takemore Mazuruse Following a petition by the Women's Coalition of Zimbabwe (WCOZ) to recognize unpaid care and domestic work (UCDW), the Parliament of Zimbabwe through the portfolio committee on women's affairs, community small and medium enterprises development will be holding public hearings from August 29 to September 2 around Zimbabwe aimed at gathering views on how government can develop policies and ensure support towards this ideal.
The move has been commended by the Oxfam supported WCOZ which is part of the Working Group on UCDW comprising 22 civil society organisations among them Padare Enkundleni Men's Forum on Gender, Vendors Initiative for Social Transformation (VISSET), Action Aid International, Shamwari Yemwanasikana, Women's Academy of Leadership and Political Excellence (WALPE) to name a few.
Speaking at a press conference held at a Harare hotel on Friday morning, WCOZ National Coordinator Sally Ncube said her organization welcomes the Parliament of Zimbabwe's decision to hold public hearings around Zimbabwe as this will help gather input from citizens around recognition of unpaid care and domestic work.
"We welcome the decision by the Parliament of Zimbabwe to mandate the portfolio committee on women affairs, community small and medium enterprises development to conduct public hearings on the petition from the Women's Coalition of Zimbabwe regarding the recognition of unpaid care and domestic work as an economic and development issue.
This decision reinforces the work of civil society organisations that, for years have been monitoring and raising awareness about the negative impact of the inattention to care policy and unequal distribution of unpaid care and domestic work which has stalled gender equality in every country globally," she said.
According to WCOZ, the public hearings will focus on barriers created by UCDW to sustainable development in Zimbabwe at the same time providing an opportunity for public input to how quality and affordable infrastructure can address UCDW and enhance attainment of Sustainable Development Goals (SDGs).
WCOZ's sentiments were echoed by Oxfam Gender Justice and Women's Rights coordinator, social norms advisor Regis Mtutu who congratulated all We Care partners on the great influencing achievement.
"Oxfam has been working with 8 partners in dealing with the question of unpaid care and domestic work and the hope is that we can lessen the burden of care work that happens within the household, community and society," he said.
"Care work looks at all work that is done to maintain society, communities and households such as looking after children, the sick, day to day cleaning of the house, laundry, fetching water, fetching firewood and cooking both in urban and rural areas. This is a heavy load on women and it takes lots of time particularly for poor women and girls which hinders them to participate in other economic, social and political spheres of life."
Mtutu said what they are pushing for through the working group is to recognise care and domestic work as an economic and development issue that enables women to fully participate in all spheres of life at the same time lessening the drudgery of care work through redistribution of care work to men and young boys given that it largely falls on the shoulders of women and young girls.
"We want to make sure that we recognise, reduce, redistribute and represent unpaid care and domestic work and working with our partners we have been pushing to make sure that government recognize UCDW as an economic, development and policy issue," he said.
We have been trying for quite some time to get parliament to begin to debate and raise motions that are supportive  of the recognition, reduction, redistribution and representation of care work and we are happy that the recent move by parliament is a commendable step towards the desired ideal where this becomes a policy issue."
Some of the major challenges in recognising care work has been the effort to make it visible because it's not recognised and rewarded. It's often seen as part of the day to day lived realities hence most men, private sector and for government; they see this as a private matter. The Working Group partners are therefore pushing UCDW into the public sector  and hope  to get all stakeholders to put more efforts and priority on it.
"Besides the challenges related to recognition of care work where it is largely seen as part of everyday realities, UCDW is also a cultural issue and considered as a social expectation that women must live up to and for Africans once one pays lobola they believe the woman and girl child has signed a lifelong contract to perform these duties," Mtutu said
"Culture and tradition is problematic in this regard and equally challenging is the issue of narratives, which is very closely tied to culture.
"The narratives says this is women's work and men that try to embrace UCDW are either mocked, laughed at and seen with disdain.
"Women that do not do this work are considered as social misfits an anomaly which needs to be corrected from here on."
Padare national director Walter Vengesai said as the nation gears for the public hearings starting tomorrow, his organization is joining women in the fight for social justice.
"Padare commits to bring our own experience, expertise and networks as we contribute to policy, practice and towards the vision of a prosperous Zimbabwe that is at peace with itself through conducting research and amplifying data, lobbying and advocacy, intensifying efforts and ensuring understanding towards the recognition, reduction, redistribution and representation on unpaid care and domestic work.
"We urge government, private sector, civil society and academic institutions and multilateral partners and donors to fully integrate and recognise and document stories, roles and contributions made by women and girls with regards UCDW," he said.
"Equally important is the need to ensure and strengthen the institutionalisation and implementation of gender equitable policies necessary not only for women's empowerment but for the holistic transformation of social and gender norms that reinforce inequality.
Girls and Women Empowerment Network national director Kumbirai Kahiya said it was imperative that government puts in place policies that recognises unpaid care and domestic work.
Padare programmes development and fundraising manager Thando Makubaza said they had made sure that men and boys from the Padare community will be part of the public hearings so that they also contribute to the UCDW discourse.
Vendors Initiative for Social Transformation (VISSET) Monitoring, Evaluation and learning Officer Edward Kapodogo said his organisation embraces the public hearings because they are an important undertaking in ensuring recognition of unpaid care work given that over 60% of the population work in the informal sector.
"As partners to the Working Group on UCDW, we are happy that government is taking the necessary steps towards policy that recognizes unpaid care work," he said.
"Most of the women in the informal sector are exposed to UCDW with no social security whatsoever including maternity leave and raising children in the streets hence we believe this new development will result in a policy shift that births the right infrastructure for their support and recognition."
The public hearings will be held in Marondera, Mutare, Masvingo, Bulawayo and Gweru from August 29 to September 2.
Related Topics