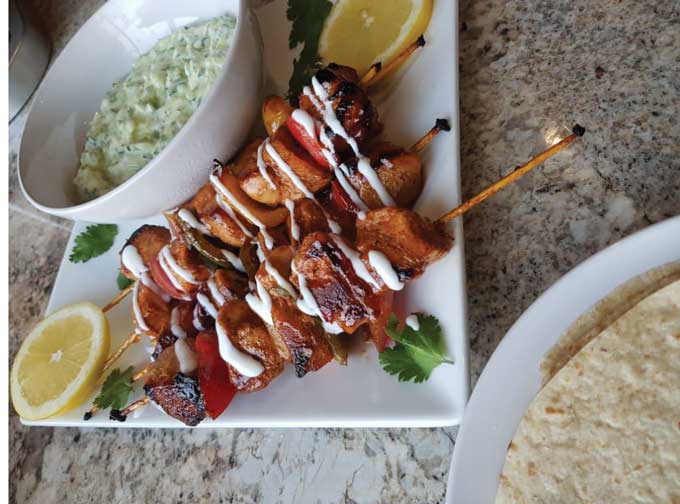 By Raymond Millagre Langa Everyone has an appetite; and we all like to eat good and well. A great many a times the way food is cooked and presented is something which is aligned with an art and a lot of creativity attached to it.
But in our African culture a woman's place has been perceived as the kitchen, yet in our current modern lives we are now witnessing the rise of male chefs or culinary artists. In fact, most of the world's celebrity great chefs are male.
Bulawayo-based chef LouieJohn Ndebele can make food so colourful and appetising. For Ndebele, cooking is a passion, and an art.  What is interesting about Ndebele is that he is a self-taught chef who has managed to grow his talent into a brand called "Food Mafia Chef".
His brand also includes beverages, in what he also terms "The Liquid Mafia".
"I call my brand Food Mafia Chef because the word "mafia" resonates with dominance.  As a chef I have sought to dominate the industry and bring a new approach which promotes the potency of food and nutrition as an art, and also as a lifestyle. Many chefs; especially those from the culinary school still focus on  'bookish mentality', where they use outdated syllabuses and recipes that overlook the power of creativity and an inventive mind.
While training is very imperative for people to be experts in their trade, others are very creative despite being self taught.
"I did not go to school to train to become a chef.  I did work at restaurants, and that is where I gained all the experience that I have.  The practical experience has made me to become a seasoned chef," Ndebele said.
"A great many a times the "chef" is seldom appreciated yet he remains the one who plays the pivotal role of preparing, or cooking the tasty food. In many hotels and restaurants, the waiter is the one that is appreciated and tipped, and people forget of the chef who works in the background.  Without a chef the food is not prepared or presented in a lovely artistic manner. A chef is therefore very central in the food industry."
"Chefs play a critical role in the kitchen. Their role extends beyond managing other cooks. They plan the menus, ensure that presentation is on point, and even develop new, creative recipes for those unique meals everyone always craves for," he said.
Chefs must be considered as artistic individuals who use different ingredients to come up with tasty, well arranged and colourful food. They need accuracy in the manner they measure their ingredients.  This also includes the need for an accurate presentation of the food that has been cooked by the chef when it is being served to a client.
"Learning to cook helps people to understand world cultures, customs and flavors. It also assists one to have a healthy diet, and to learn about cleanliness and cleaning as chefs need to work in a clean environment. Being able to prepare good dishes also saves money used to pay for food at restaurants.  I also run a mini culinary school where I groom young kids to be little chefs," Ndebele said.
For several people in the African society, we tend to engender different roles like preparing food.  Cooking has always been viewed as a woman's job, yet some men who have ventured into the catering industry are now making a living through it.
"No matter how much we try to deny it, men are perfectionists and are very creative when cooking. They are a little more adept to taking risks as compared to women. So, when it comes to cooking, men apply all their creativity and knowledge on the subject and try to invent something new, or modify a tried-and-tested dish.  I can also say that a man's place is in the kitchen," he said.
Chef Louie added: "I am not insinuating that women are not hardworking, but men do tend to put in few more hours when it comes to learning something that they enjoy doing. The funny thing about cooking is that if you enjoy what you are making and the entire process of creating something new, your dish will always be a masterpiece, no matter how simple it is".
He said one of the most important aspects of being a chef is promotion of nutrition and health.
"A healthy diet promotes healthy pregnancy outcomes, supports normal growth, development and ageing, helps to maintain a healthy body weight, and reduces the risk of chronic disease leading to overall health and well-being," Chef Louie said.
It is worthy to note that smart nutrition and good food choices can help prevent diseases. Eating the right foods can help the body cope more successfully with an ongoing illness. Understanding good nutrition and paying attention to what you eat helps you to maintain or improve your health and hence many chefs remain conscious of that to ensure their cuisine envelops a balanced diet.
"I am also involved in a 'Catch them young" initiative where I work with children, grooming them to become chefs. Once a person has skills, they can monetize that skill through entrepreneurship.  Skills are critical for children to learn.
"Being a chef is a high paying profession especially in well developed countries.  In essence, being a chef needs discipline because food is the essence of our survival.  So, as a chef I take the chance to also mentor children to learn skills so that they avoid being idle and engaging in drug abuse, and risky sexual behavior.
"We also do food drives during Christmas seasons where we give food to the homeless.  This is a serious charity event and we do not take pictures or make it public.  I encourage other chefs to be mindful of the poor in our society and also give food to the needy," chef Louie said.
He says there is a lot to learn in culinary arts and the food industry.  While he is now using his skills to run a business, Chef Louie says he still faces challenges.
"I face challenges in getting ingredients for sea food.  Products for sea food need to be fresh and diverse.  Zimbabwe is a landlocked country and it is difficult to find different varieties of sea food.  The harsh economic environment has also severely affected the culinary industry.  One needs a lot of capital to remain viable in this industry.  If well supported, culinary art can market our indigenous dishes and promote food tourism."
Looking at some of Chef Louie's dishes, it is obvious that being a chef is an art and needs a lot of creativity.  It also needs good communication skills, the ability to develop new recipes, plan menus, and ensure that the food is attractive, tasty, and is the best quality.
Young people can learn a lot from Chef Louie who uses his cookery skills to make a living in a country where most of the youth are unemployed.
Raymond Millagre Langa is a musician, poet, writer, orator and founder of Indebo Edutainment Trust.  Please follow Raymond Millagre Langa on Facebook, Instagram @Millagre Ray L.  You can e-mail Raymond Millagre Langa on [email protected] and [email protected]