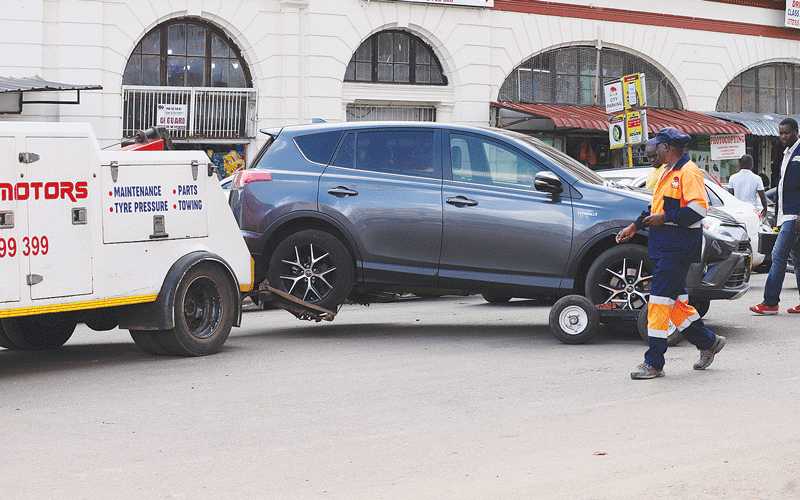 HARARE City Council will slash its parking fines following an outcry from residents, who felt that the charges by the local authority are not justified.
Council charges fines of up to US$132 for non-payment of the $900 per hour parking fee.
A Harare resident Reason Mupanga last week approached the High Court seeking an order declaring the practice of impounding vehicles over the parking fees unlawful.
On Friday, Harare councillors led by mayor Jacob Mafume met Citizens Coalition for Change (CCC) leader Nelson Chamisa where the review of the fines and management of the parking system was discussed.
The CCC leader is said to have ordered his councillors to review the fines.
Mafume yesterday confirmed holding a meeting with Chamisa, but refused to disclose the details of the meeting, only to refer the paper to the council's Facebook platform.
"Yes (we met with Chamisa). We have resolved it," he said.
On the council Facebook page yesterday Mafume wrote: "We have listened to what the motorists are saying and we will reduce (the fines) to levels that are reasonable in the current context."
In a statement, council said motorists who did not have arrears exceeding five hours would just have to clear their arrears.
Addressing journalists on Thursday Mafume said council was merely enforcing laws which were already there to bring sanity to the central business district .
A fortnight ago, Local Government minister July Moyo gave local authorities the greenlight to implement traffic by laws and reclaim bus termini from the state owned Zupco.
Political analyst Kudakwashe Munemo said the widely condemned council stance on traffic fines would "definitely" discount CCC's electoral support in Harare.
"This is an issue, which their opponents, in particular Zanu PF, will ride on to try and get some council and parliamentary seats in Harare ahead of the harmonised elections," Munemo said.
"The party should have been proactive enough because the issue has been topical for a while. Now that it has affected some senior influential people like Nigel Chanakira who has spoken out, we get to see the party coming out and doing some damage control."
Another political analyst Maxwell Saungweme told The Standard that the opposition had the tendency of being reactionary either to its own or Zanu PF wrong moves.
"It's a party reacting to an act or commission by its officers in council who are losing the meaning of a social democratic movement and the ideals, which were there for the MDC when it was formed before it transformed into various formations including the CCC," Saungweme said.
"More importantly, one of the things which people have asked about opposition parties not only CCC is lack of policies, practices; alternative programmes to what Zanu PF is doing."
Saungweme added that opposition-dominated councils lacked party roadmaps that govern their operations.
"A party ready to govern does not convene councillors and react to public outcry but it calls its councils to stick to its roadmap for running them," he said.
Last week, the Local Government minister appointed a six-member team to investigate the outcry over the parking fees.
Related Topics