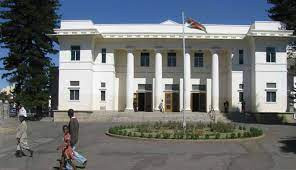 THE City of Bulawayo has declared that traders who used to operate from Egodini before its shutdown for renovations in 2018 would be given first preference when it comes to allocation of vending bays once construction of the new mall is complete.
In a notice yesterday, town clerk Christopher Dube said the decision was based on an agreement reached with informal traders who used to trade at Egodini before its re-development.
"The city agreed with the traders that those who were trading at Egodini and 6th Avenue site will be given first preference in the allocation of vending bays once re-development is complete," Dube said.
"Any individuals or groups who are purporting to be registering informal traders for the Egodini Mall informal trading site are not working with the City of Bulawayo," he said.
Traders who were trading inside Egodini were relocated to new sites during the construction period.
"Furthermore, council will forward the names of these traders to Terracotta (Pvt) Ltd for consideration. Thereafter, those informal traders who are registered at council's Dugmore offices shall be given second preference on the remaining vending bays at Egodini."
Dube said there will not be any on-going registration exercise for the allocation of Egodini vending bays outside the current system of registration at the Dugmore Vending Offices (formerly Dugmore Clinic) along Basch Street and 6th Avenue.
Last December during a full council meeting, Bulawayo councillors suggested that Egodini must be opened despite it being incomplete as the project continues to drag on.
They said the prolonged closure of the trading site had caused chaos in the city as vendors keep invading street pavements.
Transporters and traders are expected to start operating from Egodini in two weeks as road surfaces are being finalised.
Egodini was closed in March 2018 to pave way for the construction of a state-of-the-art mall, a taxi rank and informal traders' stalls by private contractor Terracota (Pvt) Ltd.
Related Topics