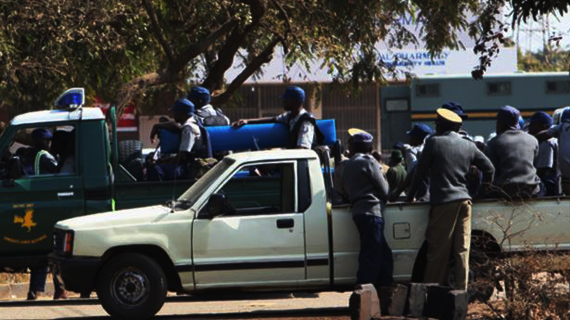 POLICE have placed some parts of Bulawayo's high-density suburbs under lockdown with residents complaining of unwarranted harassment and beatings by members of the force.
NDUDUZO TSHUMA STAFF REPORTER
Bulawayo police last Thursday launched an operation code-named Zvanyanya (it's too much) in an apparent response to a surge in criminal activities that include murder, forced entry, rape and muggings, among others.
The cops have reportedly pounced on unsuspecting Nkulumane 12 and Cowdray Park residents with some claiming they were severely beaten for no apparent reason last Friday.
A resident from Cowdray Park doing final year at a local university was allegedly assaulted by a group of police officers around 7:30pm on Friday.
"Usually, after school I pass through my sister's place before proceeding home," the student said yesterday.
"On the day, I was walking with my younger brother and as we drew closer to home we met a group of officers ordering some people to sit down.
"We passed and they did not say anything. We met another group and one of them speaking in Shona asked where we were coming from before ordering us to sit down saying we were under arrest."
The student said the police inquired what they were carrying in the bag his brother was holding and they told them it was clothing. "One of the officers said we thought we were smart and forced us to sit down.
"He said I was rude responding to him in Ndebele yet he spoke to me in Shona.
"I told him that I could understand Shona, but could not speak the language and he became furious.
"Another officer kicked us on our backs before we were ordered to lie on our stomachs.
"As we lay on our stomachs, they hit us with batons on the buttocks saying they were teaching us a lesson.
"It was so painful because we did not commit any crime and there is nowhere in the Constitution where speaking of Ndebele is criminalised."
The student said it was only after the intervention of one of the officers that they were set free, but witnessed other residents being beaten.
Ward 24 councillor Gideon Mangena said he had not recorded any incidents of police brutality in his ward.
"Here we have not heard of any incident, but we heard of cases in Nkulumane 12 where the two bodies of murdered people were discovered recently," he said.
Ward 22 councillor Rodney Jele said they had not recorded any incidents of brutality in their area, but said they had a meeting with the police where they urged the law enforcement agents to increase patrols in the area to curb crime.
Ward 20 councillor Ernest Rafemoyo also confirmed that they held a meeting with police.
"I spoke to the officer-in-charge about the need to boost security. He said they would increase patrols, but I have not heard of anyone who has been harassed by the police," he said.
"People should carry their national identity particulars. We invited the police because we had a problem. However, we expect the job to be done peacefully."
Habakkuk Trust chief executive officer Dumisani Nkomo said his organisation had recorded cases of residents being roughed up in Lobengula a week ago and in Nkulumane's Sekusile shopping centre at the weekend.
"I can confirm that we handled such a case in Lobengula last week and Sekusile at the weekend," he said.
"It seems the pattern is that when they find people at night, they order them to lie down and assault them.
"I do not think it's tribally motivated, but the manner it is done evokes memories of Gukurahundi.
"People are ordered to lie down in Shona and beaten for reasons they don't know. Some victims said they wished they could at least be told why they were being assaulted."
Bulawayo provincial police spokesperson Inspector Mandlenkosi Moyo denied claims that police were assaulting people.
"The police are conducting a stop-and-search exercise in the afternoon and at night following the upsurge of crime at alarming levels in the city, especially murder and unlawful entry," he said.
"The police are making an effort to fish out criminal elements in society and expect support from members of the public.
"In the exercise, hundreds of people were arrested, including wanted criminals; some who have been sent to court and convicted.
"Police arrested 693 people in the exercise; 12 specified knives were also recovered, implements for crime like iron bars were forfeited as well as drugs, mostly mbanje. The operation will continue until sanity prevails," Moyo added.