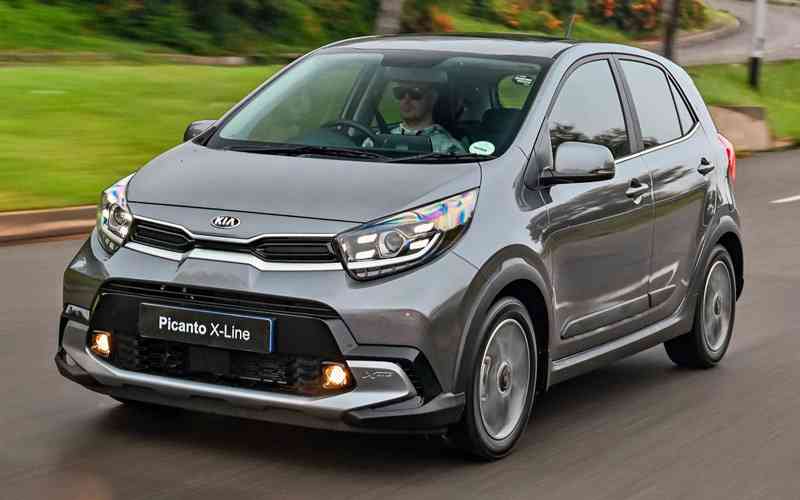 My heading should read living within your means with Kia Picanto X-Line but that is not the case. It's a cute car that should be sold locally at a reasonable price but alas that is not the case.
This is one car that would appeal to those that want to live within their means with a fuel saver. Price wise it will not fly off the show rooms because prices in Zimbabwe are distorted. The government has to decide whether they want to develop the transport sector by reducing duties and taxes or collect more taxes to feed its appetite for other services.
A reduction in duties and taxes will see prices of most cars go down by at least 40% or so. The challenge our government faces can be looked at in isolation. To get rid of the distortions in the motor industry a holistic approach is needed.
Now imagine owning a car that gives you 20 kms out of a litre. Most of all it will give you a reasonable amount of comfort. The Kia Picanto ticks that box.
Budgeting is becoming a reality in Zimbabwe since so many people have experienced financial hardship. Finding automobiles that are both fuel-efficient and economical has gotten more and more difficult, and A-Segment vehicles appear to be benefiting from this trend. Of course, the Kia Picanto, if marketed well, could become a hot seller on the local market. It will be a popular option for first-time purchasers and will rule the sales charts. A new Picanto X-Line model and a revamped brand identity were among the changes Kia hinted at last year. I recently had the opportunity to spend time with the most recent Picanto X-Line, and I am delighted that it has taken the place of the previous SMART variant with aplomb
Design
Compared to its siblings, the Picanto X-Line is unquestionably more attractive. It seems wider and higher than the rest of its range due to its larger size and bulkier appearance. The radiator grille in the front has been revised and is modelled after KIA's well-known "tiger nose" style. The front bumper immediately gives the impression that KIA does seek to appeal to a more sophisticated audience because it is undoubtedly sportier than anything we have previously seen on the Picanto line. Modern additions like LED headlights and taillights make the Picanto X-Line easy on the eyes. The Picanto X-Line comes in a variety of colourful colours and rides on 15-inch alloy wheels.
Drive
Despite having a sportier stance than the standard Picanto, the Picanto X-Line retains the same amount of power.
The Picanto X-Line is powered by a well-known 1.25-liter gasoline engine that produces 61 kW and 122 Nm of torque. It has a four-speed automatic transmission or a five-speed manual transmission as standard equipment.
The Picanto X-handling Line's turned out to be rather good, letting one feel comfortable on the road. Even with its modest power output, the Picanto X-Line occasionally felt fairly cool. A good transmission always wins no matter the size, as evidenced by how smoothly the gear shifts were.
The Picanto X-Line does offer a lot of interior space, with the front passenger seats being the largest. The new 8-inch colour touchscreen infotainment system is the centrepiece of the interior's more contemporary look. Additionally, the steering is now much bulkier than previously and gives off a larger-than-life image, making it difficult to remember how small the car actually is.
The seats were quite cosy and provided excellent support. The Picanto X-Line does, in many ways, offer a range of features that one may discover in a B-segment market, as evidenced by finishing touches like its two-tone faux leather interior and available sunroof.
Safety
The Kia Picanto is a better choice than many other entry-level vehicles should you become a bit too exuberant or are abruptly met by a driver who wasn't paying enough attention. The engineering that increased the Picanto's torsional rigidity and structural integrity to make it more resistant to accident damage, rather than the quantity of airbags (two are standard on all versions), is what makes it a game-changer.
Verdict
Despite its small dimensions, the Picanto X-Line proves to be a lot of car overall. However, Zimbabweans might not connect with it as well as they would with a B-segment vehicle at the same price because of its high price tag. It's a small car and it could cost over US$20 000. It must come in at least US$12 000 for it to be reasonably priced.
Despite this, there is no doubt that this new baby will undoubtedly give consumers a whole different idea of what a Picanto can be, even raising the standard a little for A-Segment cars. Even if there may be problems going uphill with it, this does not negate how great of a car the X-Line is.
Related Topics