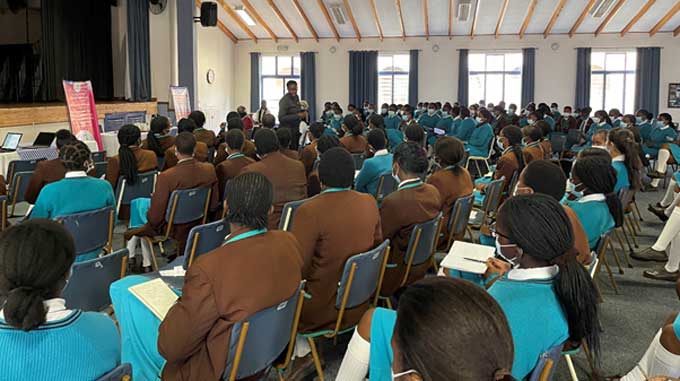 By Fungayi Sox Having been raised by a single mother as the only child, she mastered solitude at a young age and had no idea that this would set precedence and establish her as a bold, determined and independent young woman in later years.
Fast-forward to today, she is one of the most sought-after content creators and fitness trainer with a solid track record and a strong digital footprint.
Michelina Chindiya, better known as Miss Chindiya, is a young professional woman with a passion for fitness and boasts of over six years of experience in the financial service sector.
She is a holder of a BSc in Banking and Finance with University of Essex in Britain and is one of the youngest female private wealth managers at one of the fastest growing financial advisory services firm on the African continent.
Chindiya is probably reaping fruits of her consistency and hardwork which were sown during her early days.
"Being an only child taught me confidence, independence and made me comfortable with solitude," she said.
"I would easily entertain myself and as a child I was happiest playing by myself.
"I grew up as an only child, and as a result, I was always extremely independent and enjoyed my own company.
"Even now, I can be alone without feeling alone. I guess I was more of a "tom boy" so I wasn't really the kind of girl that played with Barbie dolls.
"I was busy building things with Lego blocks, riding my bicycle through the neighbourhood, skateboarding and roller skating, always challenging the boys to races on our bikes. It's safe to say that I was an active child, who enjoyed keeping herself busy with outdoor activities."
One striking observation I quickly made with regards to her work is not just the rhythm but the poetic coincidence of her two central passions and that being "health and wealth". She has become a force to reckon in the world of fitness and financial services.
Chindiya has indeed truly built a formidable social media brand that passionately uplifts women and girls through fitness with the hope of inspiring them to take control of their health and finances and overall well-being as demonstrated by the content she creates.
She recently took part in a leadership development programme that was held at Arundel High School in partnership with Girls Up Zimbabwe — a United Nations Foundation campaign that advocates for the rights of adolescent girls globally. The campaign focuses on mentorship and leadership programs, gender equality as well as getting girls into sports amongst others.
Over the years, Chindiya has earned several accolades and worked with several big brands such as Meta Africa (Facebook), Philips Africa, Mukuru, CIMAS (as the face of their national iGo Wellness Campaign), Stanbic Bank, Vaya Africa, Econet (as the face of the 2020 Vic Falls Marathon which was held virtually for the first time in history), Old Mutual and SECZim.
Chindiya is also an economic contributor for BBC Africa and has been interviewed on their various shows such as Focus Africa, Money Daily and What's New.
I commended her for her current work in empowering girls and women by getting them involved in sports and enquired what her future prospects would be.
"One day I will hopefully own a fitness and wellness space (not necessarily a gym) and run my own large-scale fitness bootcamps for women" she said.
Chindiya's current work could be her way of turning her early solitude years into mentorship that is targeted at empowering young girls through sports.
"Girl Up campaign aims to create influential leaders who become positive role models first in their classrooms and at their school, social media, and even in their community.
"And as a youth who is doing well in her career, I wanted to help better prepare these young girls to tackle their future with confidence and imagination."
The overall goal of the campaign is to groom the next generation of fearless active leaders who are able to harness different skills and capabilities to influence their lives and make changes in their communities.
Fungayi Antony Sox works at TisuMazwi — a social enterprise which specialises in book publishing and storytelling projects, including book editing and printing, autobiographies, ghost-writing, content creation and digital media. He writes in his personal capacity. For feedback contact him on 0776 030 949, follow him on Twitter @AntonySox, or connect with him on LinkedIn on Fungayi Antony Sox
Related Topics