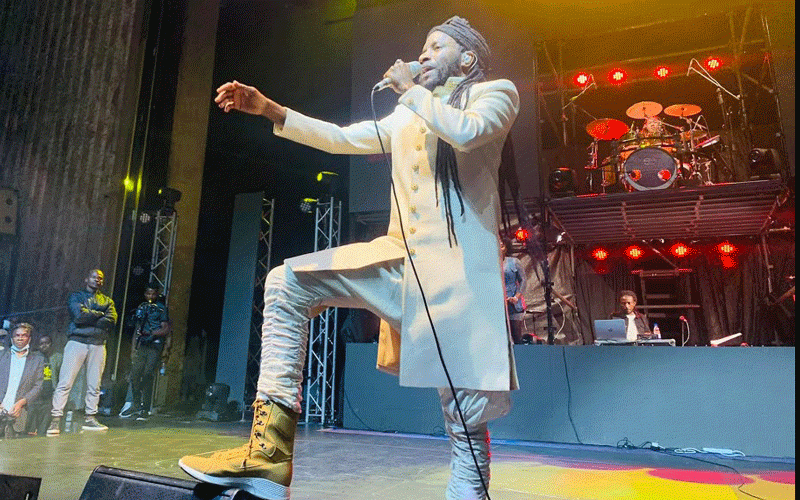 EXILED music legend Thomas 'Mukanya' Mapfumo has claimed that Winky D's life is in danger from Zanu PF after his recent show in Chitungwiza was shut down by the police for no apparent reason.
Performing at Damview in Chitungwiza in his first public appearance after releasing the album that contains lyrics against social and political injustice, corruption, and the economic meltdown in Zimbabwe, Winky D's moment was crushed by police officers, some in plain clothes, who surrounded the star before dragging him offstage just after 10pm, whilst performing his politically charged song Ibotso.
Commenting on Winky D's harassment from his base in the United States of America, Mapfumo alleged that President Emerson Mnangagwa's government and Zanu PF are capable of killing Winky D.
"Zimbabweans don't understand or they underestimate the person (Mnangagwa) that they are dealing with. These people are used to killing and they have been killing throughout their lives and they are capable of killing Winky D for his social commentary packaged in the form of music.
"I warn you. Don't underestimate what Mnangagwa and Zanu PF can do to anyone in Zimbabwe. They will use their low life thugs to hurt Winky D and this is not the first time his life was in danger,
"I sang against the Ian Smith regime and went on to sing against Mugabe's rule, which Mnangagwa was part of. I am in exile because of this, I know what they are capable of, if they wanted to end my life then they can also end Winky D's life," he said.
Mapfumo urged citizens to unite and fight for their rights and protect their artistes.
"Winky D was harassed in front of everyone, a packed venue it was, but no one lifted a hand to help Winky D from the oppressive police, he had come to entertain you, but you did nothing, you watched as the police harassed him," he said.
Last year, Mapfumo failed to attend his brother Lancelot Mapfumo's burial in Zimbabwe claiming that his life was in danger from the Mnangagwa regime.
Lancelot, a percussionist, was one of the founding members of the Blacks Unlimited, an outfit that Mukanya fronts.
Pre-independence, Mapfumo was imprisoned without charges under the Ian Smith Rhodesian regime.
He later went on to be a fierce opponent and critic of the Robert Mugabe regime before being forced into exile.
Mapfumo named his style of music Chimurenga, aptly meaning a "little flame", the name of a previous revolutionary movement in the late 19th century which fought colonialists.
Mapfumo's song Hokoyo caught the attention of the then Rhodesian government; aptly meaning "watch out". The song was banned on state-controlled radio stations and the Smith regime eventually threw him into prison without charges in 1979.
The imprisonment led to demonstrations against his arrest and the government was pressured to release him after three months.
After independence, Mapfumo would again criticize the government led by Mugabe that he helped bring to power.
In 1989, Mapfumo released a politically charged album Corruption, which criticised Mugabe and his government.
The singer became a target of the state and a regular receiver of harassment at the hands of the state.
He was at one time accused of theft of a motor vehicle.
The musician later moved to the United States in the late 1990s.
Related Topics