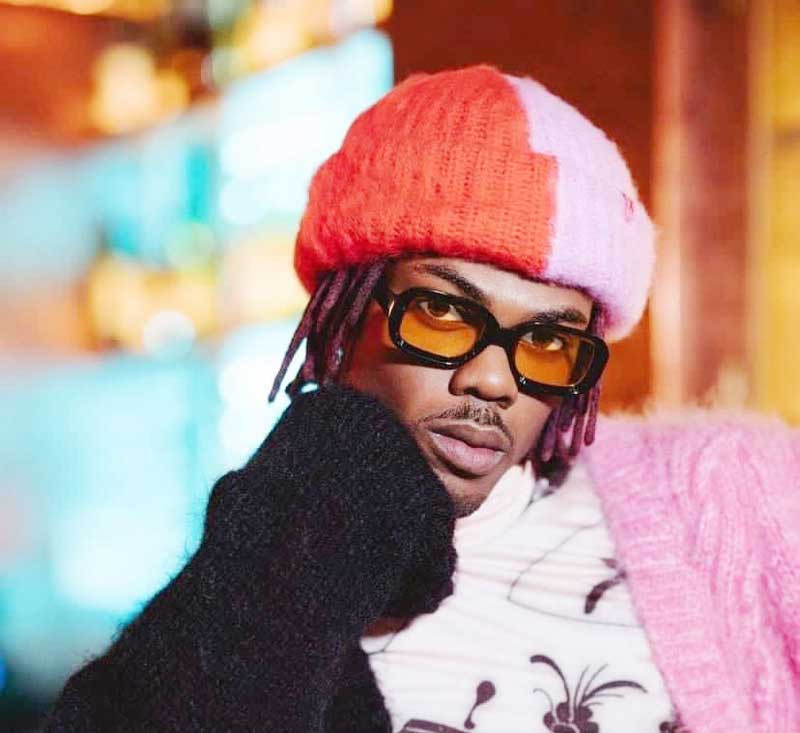 CKay is one of a kind! A pretty wide range of hard evidence of the gravity of what he is capable of, shows that his talent is fierce.
Buckling for a place within and beyond the African music fraternity — in the lead up to his galactic happy chance, winning was all he ever wanted.
Packing a fiery punch with Love Nwantiti — history was made on Shazam — an application that can identify music, movies, advertising and television shows, based on a short sample played and using the microphone on the device.
As one of the world's "most Shazamed songs of all time" (the number of times a user pushes the button to identify a song that is playing), this bonafide global Afro-beat sleeper banger has since become the important ditty that has made the Nigerian singer-songwriter and producer step out of the box on his way to making his — a boffo career.
Finding his feet and holding his own, besides spawning over 15 billion visual communication views on video-focused social networking service TikTok — CKay has wreaked over three billion career streams.
Regardless of the superb boost, sass about him riding off into the sunset on a crest of wave doled out by his purple patch — is definitely not on the cards, as it is still prime time for the high flying performing artist.
Singing audiences from a place of low vibration to the pinnacle of the sun — clearly this 12-month the Emo Afrobeats ace has distinctly shown how he can bait music enthusiasts in a heartbeat. Roaring in radio rotation and streams, CKay's hits — Emiliana, Watawi and You — have stood their ground, securing solid positions on the local and global charts.
Navigating in the heart of his voice, this soaring star is once again filling up the buzz after latterly hatching Sad Romance — his much hoped-for debut album.
While CKay, born Chukwuka Ekweani, dropped his debut single called Nkechi Turn Up in 2016 and delivered his first project #WTFiCKay EP (extended play) the following year — over the years he has tapped into different parts of his musicality.
Taking an engaged approach in his auditory communication as a writer, producer, and performer in most of his projects, he surely knows his cue. Totally on everybody's radar, on his up-to-the-minute musical offering — Sad Romance — CKay's touch of class sent sparks on half the beats, including Emiliana and Love Nwantiti, firmly continuing his reign behind the boards in his capacity as a producer.
Looking to score hearts and ears — as a body of work, Sad Romance accentuates a much poised, emotionally heterogeneous CKay who goes back and forth between adoring and unloving.
The album is a personal narration wherein the musician drifts back to his most impinging romantic relationships, showing how he has frequently granted and received love. Putting everything on the line, the daintiness with which CKay approaches lyric, composition, and singing — helps him tell a credible as well as powerful story, highlighting just how contemplated as well as deliberate this work is.
The album boasts 12 tracks which differ in feel, rhythm, and motive. Releasing musical pieces that push the envelope, the opening track called You is palmy in how it unifies Rhythm and Blues, Afrobeats, and Amapiano. Exhilarating seduction, track two titled Mmadu — returns to a more orthodox Afrobeat formula.
Breaking the barrier by letting his emotions speak on track three — CKay calls on American rapper, singer, and songwriter Post Malone to add his midas touch on the production of this tune, while engaging music producer Charlie Handsome, to deliver an "emo-Afrobeat tour-de-force" with the banger Leave Me Alone. The latter is followed immediately by the ballad You Cheated, I Cheated Too, which boasts a matched back, pop-influenced get-up-and-go vibe.
Perfected in his routine — the narration then advances into one of bilateral impairment with Soja and Come Close as point-blank thematic annexes dovetailing into Watawi (What Are We?) — the refrain being a mastered encapsulation of the upheaval plaguing complex relationship kinetics, underpinning the album thesis.
Fired up, CKay then moves on to a duet with Cape Verde-born vocalist Mayra Andrade on Samson & Delilah, speaking on morbidness in relationships and the pair teeter-tottering over their passionate, deathless flame.
Transitioning softer and cautioning the wind — By Now, the penultimate track, moves listeners mildly towards the other side of pain and heartbreak.
Sure to have CKay's new and old fans swooning, track 10 called Emiliana — leaves audiences completely bunched and carved in their sensitivity.
The album closes off with 'Lose You' featuring bubbly Cape Verde French urban pop singer-songwriter Ronisia, which ushers us into an orchestral arrangement of Love Nwantiti (bonus) — where the story behind the album is set about.
Not so long ago in a post on Instagram — an American photo and video sharing social networking service — CKay expressed how kayoed he is at his own good fortune, reflecting on "how big, small beginnings can become".
For the self-defined Emo-Afrobeat ace, Sad Romance is a diary written account, which touches on galore parts of his experiences and is a sonic universe where 'sad boys worldwide' unite.
But, more interestingly, this a la mode musical composition is CKay's statement of Africa's latent, outlook, and power to clasp space and assume its posture as a now-continent.
Putting his gas foot forward along with other Nigerian musicians of this genesis, CKay sits at the vanguard of the Afrobeats canon — widening Nigerian multi-instrumentalist Fela Kuti's vision of the euphony's potency and the ever-expanding reach of the African auditory sensation personage.
Grant Moyo is a prolific writer, innovative media personality, entrepreneur and a creative artist who is passionate about using his creative mind for the betterment of society. Follow him on Twitter: @TotemGrant
Related Topics