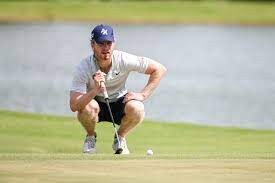 RISING Zimbabwe golf star Kieran Vincent is set to carry the country's hopes of ending the 23-year-old Zimbabwe Open duck at this year's tournament set for Royal Harare early next month.
The 2023 FBC Zimbabwe Open, which carries a US$150 000 purse will run from May 4 – 7.
Mark McNulty is the last Zimbabwean to win the biggest golf competition in the country when he achieved this feat in 2000.
But a lot will be expected from Vincent, who is on a high after winning his first Asian Tour title at the International Series Vietnam on Sunday.
Only in his second year of professional golf, he sunk six birdies on the final day of the International Series at the Cam Ranh seaside resort to win US$360000 prize money, carding a six-under-par 66.
The 25-year-old rising star has reportedly confirmed his participation at the FBC Holdings sponsored golf event and is expected to challenge for the title on familiar territory.
Zimbabwe Professional Golfers Association president Simon Mangena feels it is going to be a good tournament for Zimbabwean golfers this year.
"We are expecting one of our guys to be in the top 10 or give it a go for the championship itself. I think the guys are ready. We had a couple of events during the season and the winning scores themselves were showing that we are heading in the right direction," he said.
"This is a big event for us the locals and everyone is always looking forward to the Zimbabwe Open so when it finishes every local professional golfer starts working towards the next one because it is the biggest of all our events," he added.
Last year Ryan Cairns was the highest placed Zimbabwean golfer at the Zimbabwe Open after he tied for 14th place on 2 – Under – Par 286, eight strokes behind South African winner Albert Venter.
Venter is also expected to defend his title this year.
Another Zimbabwean expected to put up a fight is Robson Chinhoi, who has done extremely well on the Safari Tour over the past 12 months.
Recently Chinhoi won the National Aids Council (Nac) HIV and Cancer Prevention Drive Pro-Am golf tourney following a playoff victory over Visitor Mapwanya, after the two players were tied on 11 – under – par 205.
Ben Follet-Smith has also been playing well and has won on the Sunshine Tour.
The only other Zimbabwean to have won the Zimbabwean Open is the legendary Nick Price, and is the record winner along with McNulty with three titles each.
At least 15 professional golfers are going to be representing the country at the Zimbabwe open.
"We do have our quota of 15 players as the ZPGA but apart from the 15 players some will have to go to the pre-tournament qualifier. What it means is that there is going to be a large number of Zimbabwean professionals and amateurs playing," Murungweni said.
Related Topics